Producing vocals can be the most fun yet arduous stage in a production. I find myself using a plethora of different vocal processing tools for the various sections of a song to make the vocals stand out and provide a unique sonic impact to the overall track. It is always difficult to find the right tools for this, in the box. iZotope has once again come to the rescue with their vocal processing multi-effects plugin, VocalSynth. So let's see what this plugin is capable of.
VocalSynth has 4 main vocal processing modules, Polyvox, Vocoder, Compuvox & Talkbox. Besides this, there is a Voices section that can be used to create up to 3 harmony voices.
Before the signal is sent through these modules, the audio is processed by a Pitch Correction module which you can use to subtly tune your vocals or be more aggressive and create that AutoTune style effect. The Pitch Correction section also has a musical scale selection option which is very important as all the other modules will use that information too. To top it all off there is a effect section that has 5 processors (Distort, Filter, Transform, Shred & Delay)
One of the most amazing aspect of VocalSynth is that with just a click of a button, you can enable MIDI control of all these modules. No need to route in a carrier signal (you can if you want to), just use the built-in wavetable based synth and control it via MIDI.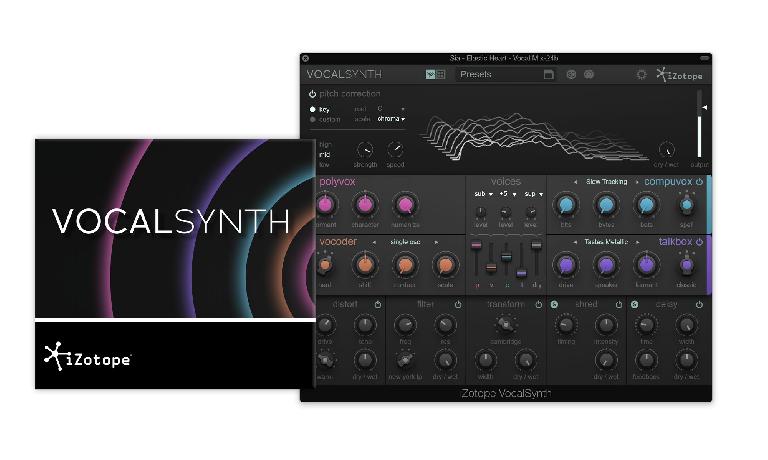 Polyvox
This module can give you that gender-bender effect where a female vocal can be pitched down to sound more like a man or even Darth Vader-ish, or on the other extreme make it sound like a chipmunk. I find this module to be more useful when in MIDI mode. You can create really nice harmonies for the voice by just playing in the respective MIDI notes. The vocals in Hide & Seek by Imogen Heap would be a good example of what you could create with an effect like this.
Check out the following audio example where the vocal is processed by Polyvox & the harmonies that you are hearing are all generated based on the MIDI notes that were played in.
Vocoder
If you have listened to music by Daft Punk or Kraftwerk, you've definitely heard the vocoder effect. But the use of vocoders is not limited to dance music artists, you will hear vocoders in Phil Collins' "In the Air Tonight", Stevie Wonder's "1-2-3 Sesame Street" or even in the opening of the Boney M track, "Nightflight to Venus".
I've used many software vocoders, including those that come as a standard module in DAWs like Ableton Live & Logic Pro. At one point even Native Instruments made a vocoder (called Vokator), which for some reason they decided to discontinue in 2007. The biggest issue with most of these vocoders is that they are a bit hard to use, and sometimes the routing can be confusing. In VocalSynth, iZotope has taken care of that by giving a very simplified vocoder experience. There's a built-in wavetable based carrier signal that listens to the pitch of the incoming audio and generates a signal. So you don't even need to enter in notes. There are 3 controls for tonally shaping the sound of the vocoder. You also get three different modes for the vocoder which again give you more tonal options.
Check out the following example where the vocals are processed by the vocoder and no MIDI input signal was used to track the carrier. The carrier tracks the modulator's pitch and does a pretty good job.
Compuvox
This module uses the Linear Predictive Coding (LPC) algorithm to process the voice. This technology may sound alien to you but the sound is something that I'm sure you have heard, at least if you were born before the year 2000. LPC is a speech analysis technology used to synthesize the human voice. If you have ever heard a Speak & Spell toy, or the voice on early 1980s Texas Instruments home computers, or the voice in the 1980s game Parsec or even Stephen Hawking's voice (technically not really LPC), you have then heard what LPC sounds like.
In Compuvox, you again get a very simple looking module with just a few controls to transform your vocals with. Similar to the Vocoder, here again you get a wavetable based internal carrier signal. There are a couple of controls to add digital artifacts and reduce the intelligibility of the vocals and a very interesting 'Bats' control that can make anyone sound like Batman!
Have a listen to this speech clip processed by Compuvox using a couple of different wavetables. The last one features the Bat effect.
Talkbox
One of the earliest examples of the talkbox being used in music production can be heard in Pete Drake's Forever album back in 1964. He used the talkbox with his lap steel guitar which was dubbed 'The Talking Steel Guitar'. Since then the talkbox was used by Peter Frampton, Daft Punk, Herbie Hancock, Bon Jovi, Stevie Wonder and many others. Of the 4 vocal effects we have seen so far, the talkbox is the most performance friendly device which lends well to genres like Rock & Jazz.
The Talkbox in Vocal Synth is probably my favorite of the 4 modules. I have always been on the lookout for a good software based talkbox but haven't come across a useable one, until now. Following the theme of simplicity, Vocal Synth's Talkbox module has 3 controls and a mode dial. This too uses an internal wavetable based carrier signal which can track the incoming signal's pitch.
Here's an example of a vocal being processed by Talkbox with the internal wavetable carrier signal.
The Mixer Section
One of the most powerful aspect of this plugin is the fact that all the effects can run simultaneously. The mixer section has faders for each of the 4 modules as well as a dry signal fader. If you do choose to use all 4 modules, you should be aware of the CPU usage. One instance of VocalSynth with all modules engaged can take up a significant amount of your CPU usage, though this will also depend on the output buffer size.
Effects Section
On top of all the vocal processing modules, you get 5 general audio effects that can further process your vocal tracks. You get a Distort module to add subtle or extreme distortion to the audio, depending on which of the 4 modes you select (warm, analog, edgy & fuzz). A Filter module with 4 modes (low pass, high pass, scream & combo). A really cool Transform module that uses convolution to recreate 8 different devices like guitar cabinets, speakers, a radio and other strange devices. A Shred module that creates stutter repeats which can be synced to the project tempo. Finally, you also get a Delay module with standard delay based controls.
Since these effects process the incoming audio from the main modules in series, iZotope have also included a Dry/Wet control on each. So you can tone down the amount of processing from each of these modules.
XY Pad
Vocal Synth features an XY pad for modulation of any two parameters from all the main vocal processing modules as well as the effects section. You get two drop-down menus to make the assignments to the X & Y axis respectively. Modulating the level of different modules can create some interesting changes over time. Personally I like assigning the formant controls from the Polyvox & Talkbox to the XY pad to get some really dramatic vocal changes over time.
Side Chain Mode
It's really helpful to have built-in carriers for the Vocoder, Compuvox & Talkbox but if you specifically want to use an external audio signal as the carrier, you can enable Side-Chain mode. The way audio comes into the plugin varies from DAW to DAW but once that is setup, any audio signal can work as a carrier.
Conclusion
Vocal Synth is a great all in effects processor for vocals, especially when you want those robotic vocal effects like Vocoding, LPC processing, Talkbox voices & synthetic harmonies. There isn't extreme detail when it comes to tweaking controls on the modules in Vocal Synth as iZotope has simplified things to just 3 or 4 controls on each module, which is not a bad thing as the result is still very good. It's hard to compare this with other plugins in the market as there really isn't an all in one solution like this.
iZotope has done well to address this with Vocal Synth and should eventually become a staple in the music production world just like their other products have.
Price: $149/$199 USD | £104.95 GBP
Pros: 4 classic vocal effects in one plugin, Easy MIDI control over all 4 modules, Built-in Pitch Correction
Cons: In-depth tweaking of modules not available
Web: iZotope | Time&Space