I'll admit it, I'm an app junkie. My Apple App Store bill is likely higher than yours, and often makes my wife cringe as we do the monthly bills. I'm always on the lookout for apps that approach music on the iPad a little differently, and with fluXpad from MoMinstruments 'different' doesn't do it justice. I tested out this sequencer for iOS and I think it's definitely worth checking out.
What is fluX?
fluXpad is a sample sequencer for iOS that works by letting you 'draw' in the sounds. It makes sequencing fairly complex beats an incredibly intuitive and immediate task. Often, I'll stumble upon an app that falls into the category of 'I can make music that sounds like this already, but this is insanely faster'. fluXpad fits that description to a T.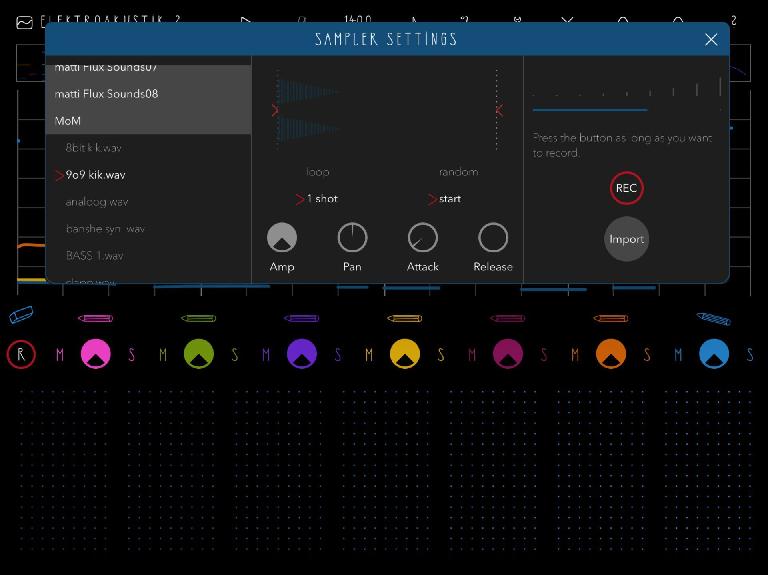 Imagine a traditional step sequencer, only underneath it there is a drawing canvas. You can use your finger to paint on this canvas as the playhead goes by and cycles through your sequence. As you draw, the x-axis of your 'line' will control how long the chosen sample sustains. The y-axis of your drawn line will control the pitch of the sample. This allows you to control so many parameters of each individual sample all at once, immediately upon creation.
Imagine not having to 'program in' the pitch of a snare drum going up and down after you've already programmed in the actual instances of the snare. Or, call up a bass sample and 'play' it simply by drawing your finger around the screen. It's fun, but don't let the fun overshadow the usefulness and efficiency in which you can create some really cool backbeats in fluXpad.
Sounds Cool, What Else?
The good folks at MoMinstruments really thought of just about everything. You can quantize your gestures so that everything falls on a grid of your choice. You can even quantize your melodic elements of sorts—you're allowed to limit your note range to major and minor scales for bass and melodic samples.
As if that weren't enough, fluXpad includes a fully functioning sampler for building your own custom kit. You can import WAV files, adjust the samples right in fluXpad, and even record using the built-in mic (or a lightning compatible interface) on the iPad! The paradigm here is immediacy of creation, and it is within that paradigm that fluXpad shines. I found it incredibly simple and intuitive to simply add sound samples I found in the world around me, and then modify those sounds by 'painting' them into my sequence.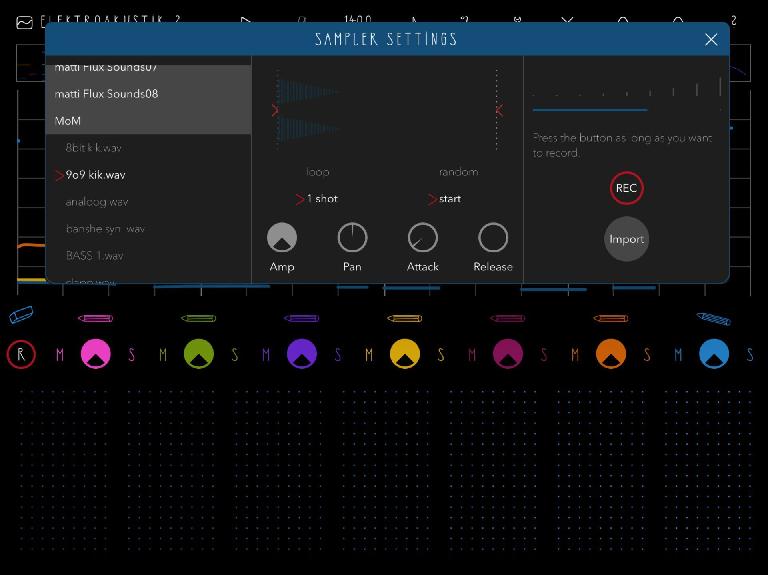 Conclusion
There's a lot to like about fluXpad. It's definitely an app made to take the knobs, buttons, and technical aspects out of sequencing and help put the 'aesthetic' back into electronic music making. It's a unique tool that definitely falls into the category of 'super fun' and at the same time 'unique creative instrument'. Some of the UI elements can be a little odd to figure out now and then, but once you've got the hang of fluXpad, you won't want to put it down.
Price: $7.99
Pros: Super fun, intuitive interface, combines visual and audio elements well, immediately usable for beginners, deep features for pros
Cons: Some UI elements could be a little more clearly labeled