I'll admit it, I'm an audio geek and I get WAY too excited when a new reverb comes my way. When I was asked to review UltraReverb from Eventide, I immediately thought about all of my current projects in the mixing stage that I could try it out on and couldn't wait to get back to the studio and take it for a spin.
Way More Than Reverb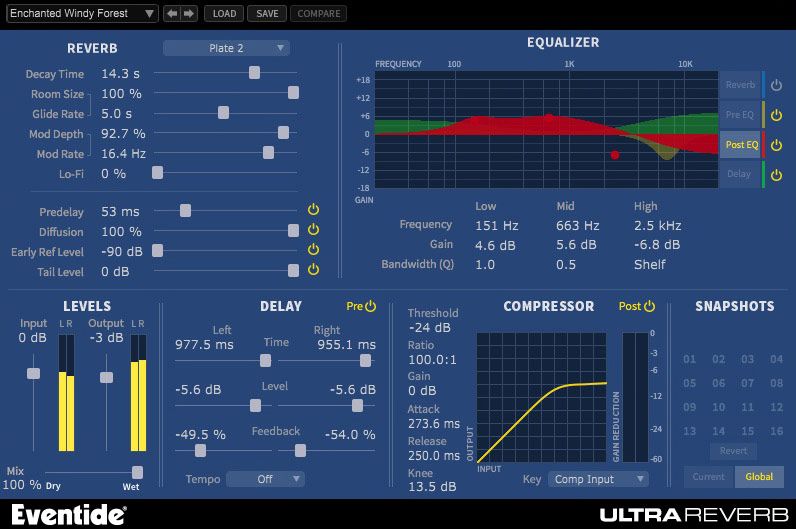 Eventide UltraReverb has a lot on its plate! (pun intended)
The first thing I noticed after installing this plug-in is that it includes far more than just a standard reverb. There are stereo delays that can be pre or post reverb, a compressor, 4 independent EQs (pre, post, reverb and delay), Modulation and Depth control and LoFi control for some serious bit crushing.
For you reverb history buffs there are a lot of controls, settings and algorithms derived from the truly awesome H8000 UltraHarmonizer and the H949 Harmonizer. There are a bunch of presets designed by a handful of engineers and recording professionals to choose from (Gary Hall's 'Nightmare Bedroom' was my favorite), as well as presets designed in-house by Eventide.
The Downtown Sound
I have to be honest, I found UltraReverb tough to 'tweak'… because the presets were so awesome! I almost felt guilty straying from them. You can tell a lot of thought went into designing them, and preset after preset just sounded terrific. I didn't run into any presets that had the tinny echo or glitchy tail that I've come to associate with poorly-designed algorithms. These presets are varied and really make use of all the modules that come with UltraReverb.
An Edgy Bonus
I was only too happy to discover that the delay engine was flexible, simple to use and very full-sounding. It didn't thin out my sound one bit and I was able to get everything from '50s style slap-back to arena-sounding Dublin dots. In fact, all of the included effect modules were well-designed. The compressor and EQ are both clean and easy to use. The compressor is particularly transparent and something I really appreciate to have on my reverb bus.
Storage to Spare
In addition to the factory presets, you have the ability to save your own settings into the preset folder/menu. There's also a 'snapshot' area that allows you to store 16 different pre-configured settings for a particular preset and quickly toggle between them. The 'compare' function is also convenient and helps you to dial in your perfect sound quickly.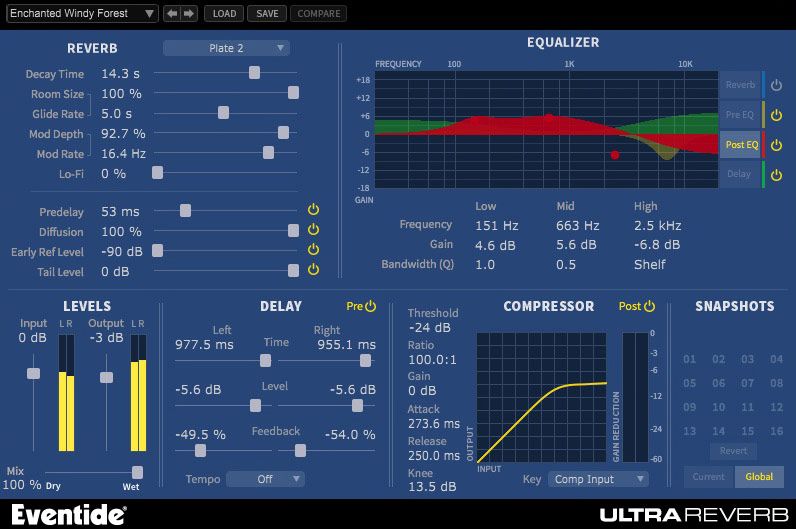 Conclusion
There's a lot to like about Eventide UltraReverb. The algorithms are fantastic, the sound is lush and never harsh, the effect modules are plentiful and the presets load quickly and efficiently. At the fairly competitive price of $79 if you are ready to move on from your standard factory reverb plug-in, this one is a good bet. I have a hunch I'll be using it for delay as well on quite a few upcoming mix projects.
Price: $79 USD
Pros: Lush sounding reverb. Included effect modules like EQ, delay, compression. Efficient and quick-loading.
Cons: None
Website: https://www.eventide.com/AudioDivision/Products/PlugIns/UltraReverb.aspx