Trying to get that "Most High" Bass Guitar tone hasn't always been the easiest feat for me over the years, especially since I use a Midi keyboard for my Bass Guitar sounds. Luckily I've been graced with IK's Ampeg line of bass modules, you will be floored at how very good these sound. The New Custom Shop AmpliTube 3 is some serious bang for the buck as they say. In fact, you can't do better since, as of the time of this review, the AmpliTube 3 software package is free to download. There are a great number of super cool built-in sounds that already come with the free download and you can add on using the Custom Shop store. I am focusing on the Ampeg line in this review, but there are a good deal of great brands and guitar amps for the taking if you are so inclined.
Just a quick tidbit about the name, Ampeg. When founder Everett Hull started out, he was an avid Jazz Bass enthusiast. His original method of amplifying the stand up bass, as they didn't have bass guitars at that time, was to put the amplifier transducer into the bass instrument via the "peg" which was inserted into the bottom of the instrument to all the player to hold it upright. Thus, the amplified Peg was called, Ampeg for short.
Cool Features

First off, the Amplitude module is 64 bit, a very refreshing sight for Logic users who are running 64 bit mode (your's truly). Secondly, if you are remotely interested in browsing what is available from IKs Custom Shop selection, you can do your browsing right from the module window itself. No need to jump into your web browser. All downloads work directly within the unit itself, which is really handy if you in session and just need to bring in something cool sounding and or different.
Next, the AmpliTube 3 can run stand alone, or as a plugin with your DAW. Both 32 and 64 bit. As for the internal features, there are many ways to use this software but for our purposes, I want to make it easy to see how fast and simple it was to do the deed of creating an authentic Bass Guitar tone, Classic Ampeg tone no less, while doing it via my Midi Keyboard.
Setting Up Your Sound
If you do happened to play bass guitar, you can drive Amplitube with an instrument via your I/O unit, in my case, I just used my Midi keyboard. To make it sound like a bass, I pulled up Logics EXS24 software instrument.
Now, I used the EXS24 to create a bass guitar triggered by my Midi keyboard. I chose a factory setting, Liverpool Bass. This is a very un-colored bass sound but it does sound like a guitar, as is should. Just to be safe, I lowered the output form the EXS24 to -17 db, and removed the compressor and EQ from within the channel strip that normally comes included as part of the channel strip setting..
These are the settings I used: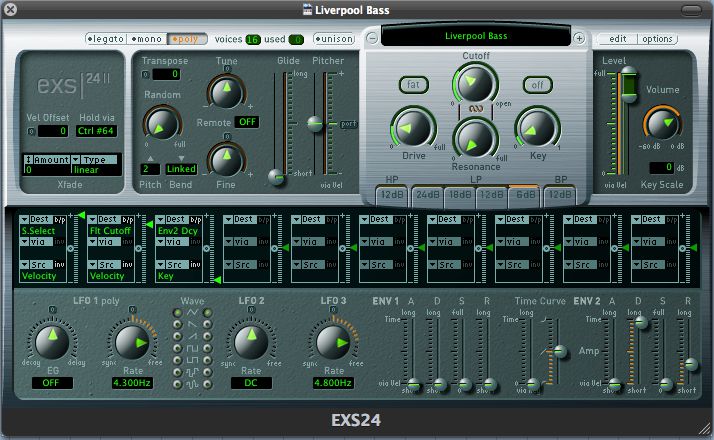 Note: I also turned off the Fat and the Filter section.
Here is the Track with the Ampeg SVT Module activated:
Here is the same track with only the Liverpool bass and the Ampeg SVT de-activated.
I did do some poking around to see how I might find a bass tone which I've always admired, The early Geddy Lee tone was my favorite. I checked around the net and as it turns out, Geddy used two rigs, One set to a brighter tone and one set to a fatter warm tone. These two in combination gave that distinct sound which was very Ampeg and Rock sounding.
With the IK AmpliTube, I was able to do this by selecting two amplifiers and matching cabinets. I set each one for a similar tone and was able to mix them for the result in the clip. Here are some screen shots of the AmpliTube Module settings.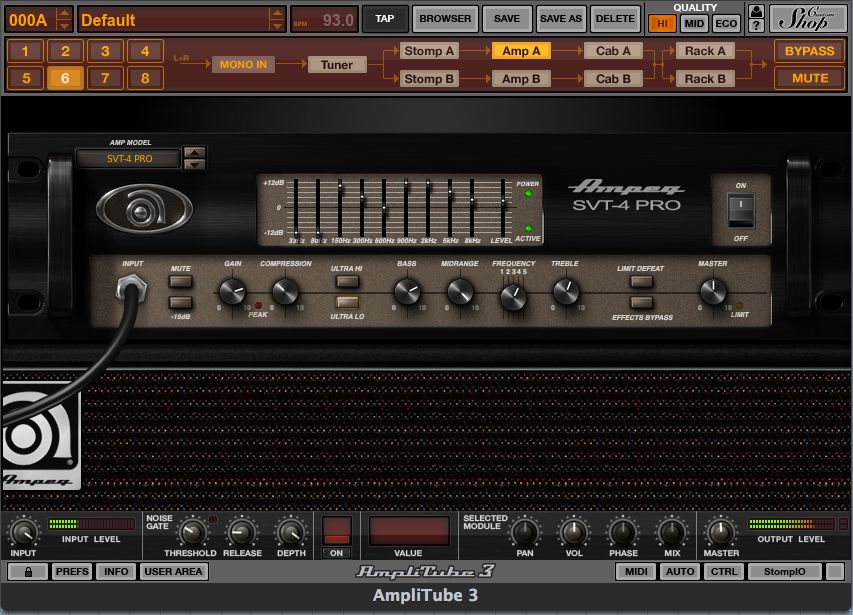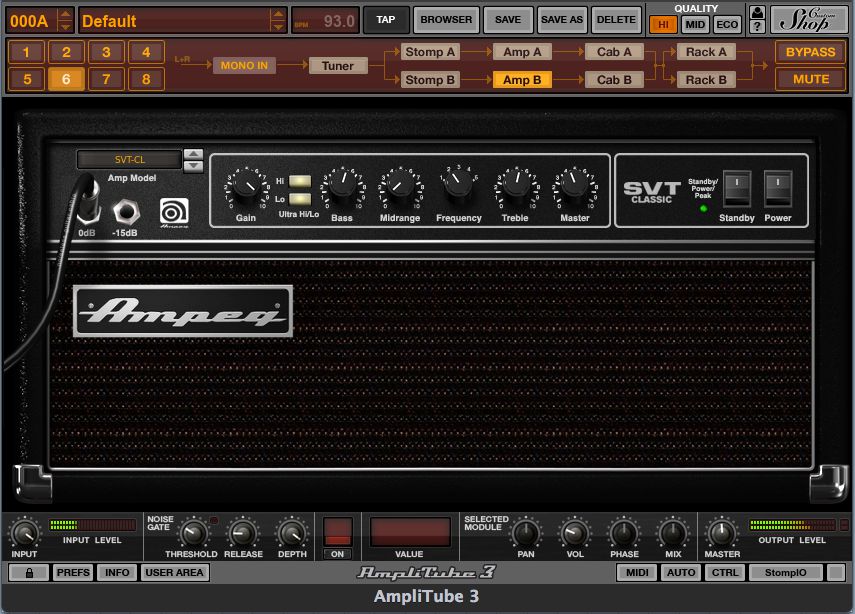 Conclusion
Amplitube is an excellent way to up your game on a great authentic bass tone for very little expense, if any. It's a great compliment to the EXS24 which is built into Logic. Very easy and intuitive to use. Finally, it's also a 64 bit plugin and works great in Logic 9 or stand alone.
Take it from me, I have serviced and repaired more Ampeg SVT heads then I can count. The tone is right on and the best part, they don't weight 80 pounds like the original tube heads did!
To get a good handle on MIDI, check out MIDI 101, Midi demystified by Peter Schwartz. And learn more about the EXS24 with Logic 102, Exploring the EXS24 by David Dvorin.