Tentando fazer com que esse tom guitarra Altíssimo Baixo hasnt sempre foi o mais fácil feito por mim ao longo dos anos, especialmente desde que eu use um teclado Midi para os meus sons de guitarra Bass. Felizmente Ive sido agraciado com
Apenas um rápido petisco sobre o nome, Ampeg. Quando o fundador Everett casco começou, ele foi um entusiasta ávido Baixo Jazz. Seu método original de amplificar o stand up bass, como eles não tinham guitarras baixo naquela época, era colocar o transdutor amplificador no instrumento baixo através da âncora cambial, que foi inserido na parte inferior do instrumento, para todos os jogadores para segurá-la na posição vertical . Assim, o Peg amplificado foi chamado, Ampeg para breve.
Características legal

Primeiro, o módulo A amplitude é de 64 bits, uma visão muito refrescante para os usuários que estão executando Logic modo de 64 bits (sinceramente). Em segundo lugar, se você estiver remotamente interessado na navegação que está disponível a partir de IKs seleção Custom Shop, você pode fazer o seu direito de navegação a partir da janela do módulo em si. Não há necessidade de pular em seu navegador web. Todos os downloads trabalhar diretamente dentro da própria unidade, que é realmente útil se você na sessão e só precisa trazer algo que soava legal e ou diferentes.
Em seguida, o AmpliTube 3 pode rodar stand alone, ou como um plugin com o seu DAW. 32 e 64 bit. Quanto às características internas, há muitas maneiras de usar este software, mas para os nossos propósitos, eu quero torná-lo fácil de ver o quão rápido e simples era fazer a escritura de criação de um tom de guitarra autêntica Bass, clássico tom Ampeg não menos , ao fazê-lo através do meu teclado Midi.
Configurando o Som
If you do happened to play bass guitar, you can drive Amplitube with an instrument via your I/O unit, in my case, I just used my Midi keyboard. To make it sound like a bass, I pulled up Logics EXS24 software instrument.
Agora, eu usei a EXS24 para criar uma guitarra baixo desencadeada por meu teclado Midi. Eu escolhi uma configuração de fábrica, Liverpool Bass. Este é um som de baixo muito un-colorido, mas soa como uma guitarra, como deveria. Apenas para ser seguro, eu baixei a forma de saída do EXS24 a -17 db, e removeu o compressor e EQ de dentro da faixa de canal que normalmente vem incluído como parte da definição de faixa de canal ..
Estas são as configurações que eu usei: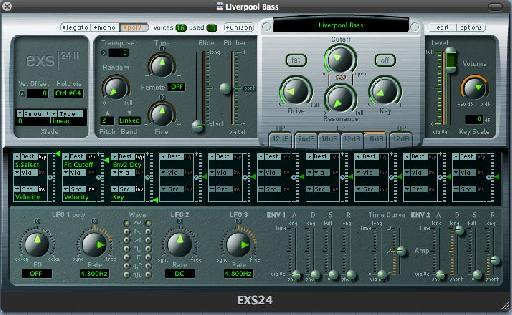 Nota: Eu também desligou o Fat eo
Aqui é a via com o SVT Ampeg Módulo ativado:
[Audio id = "7089"]
Aqui é a mesma pista com apenas o baixo Liverpool eo Ampeg SVT desactivada.
[Audio id = "7091"]
Eu fiz alguns picar ao redor para ver como eu poderia encontrar um tom baixo que Ive sempre admirei, O início Geddy Lee tom era o meu favorito. Eu verifiquei em torno da rede e, como se vê, Geddy utilizados dois equipamentos, um conjunto para uma tonalidade mais brilhante e um conjunto para um gordo tom morno. Estes dois em combinação deu esse som distinto que era muito Ampeg e Rock soando.
Com o AmpliTube IK, eu era capaz de fazer isso, selecionando dois amplificadores e gabinetes de correspondência. Eu definir cada um para um tom semelhante e foi capaz de misturá-los para o resultado no clipe. Aqui estão algumas capturas de tela das configurações do módulo AmpliTube.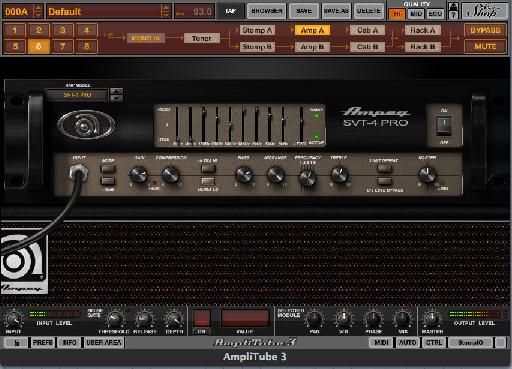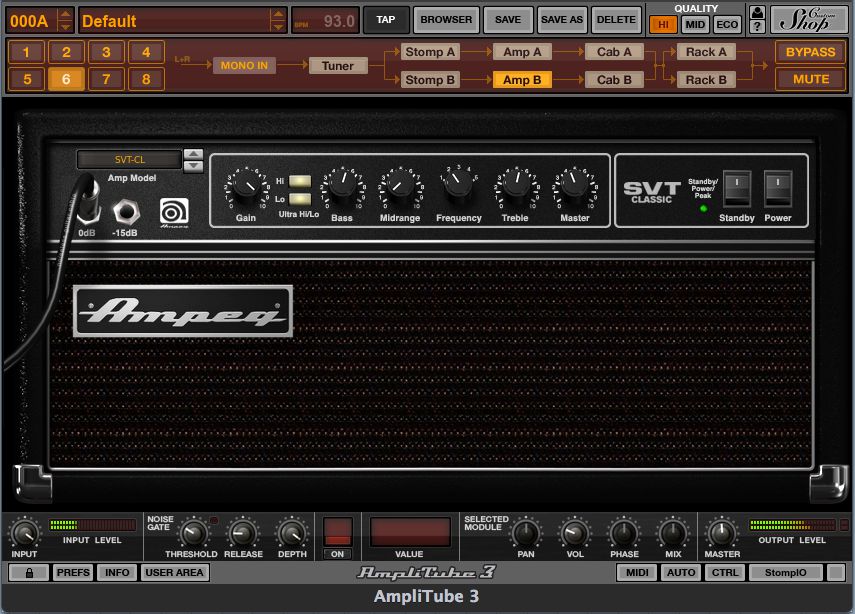 Conclusão
Amplitube é uma excelente maneira de o seu jogo em um tom baixo grande autêntico para muito pouca despesa, se houver. Seu elogio tão grande para o EXS24 que é construído em Lógica. Muito fácil e intuitivo de usar. Finalmente, a sua também um plugin de 64 bits e funciona muito bem em Logic 9 ou
Levá-la de mim, eu tenho mantido e reparado mais SVT Ampeg cabeças então posso contar. O tom é direito sobre ea melhor parte, eles não peso £ 80 como as cabeças tubo original fiz!
Para obter um bom controle sobre MIDI, confira MIDI 101, Midi desmistificada