Cercando di ottenere che l'Altissimo tono Bass Guitar hasnt sempre stata la più facile impresa per me nel corso degli anni, soprattutto perché io uso una tastiera MIDI per suoni Bass mia chitarra. Fortunatamente Ive stato abbellito con
Solo un bocconcino veloce sul nome, Ampeg. Quando il suo fondatore Everett Hull iniziato, era un avido appassionato di Jazz Bass. Il suo metodo originale di amplificare la alzarsi basso, come non avevano chitarre basso in quel momento, era di mettere il trasduttore amplificatore in strumento di basso attraverso il piolo che è stato inserito nella parte inferiore dello strumento a tutti i giocatori per tenerlo in posizione verticale . Così, il Peg amplificato è stato chiamato, Ampeg per brevità.
Caratteristiche fresco

Prima di tutto, il modulo di ampiezza è di 64 bit, uno spettacolo molto rinfrescante per gli utenti di Logic che eseguono 64 modalità di bit (il sottoscritto). In secondo luogo, se si è minimamente interessato a navigare ciò che è disponibile dalla selezione Negozio IKs Personalizzata, è possibile fare bene il proprio navigando dalla finestra del modulo stesso. Non c'è bisogno di saltare nel browser web. Tutti i download lavorano direttamente all'interno della stessa unità, che è veramente utile se in sessione e solo bisogno di portare a qualcosa di fresco e dal suono o differenti.
Successivamente, il AmpliTube 3 può funzionare stand-alone o come plug-in con la vostra DAW. 32 e 64 bit. Per quanto riguarda le caratteristiche interne, ci sono molti modi per utilizzare questo software, ma per i nostri scopi, voglio rendere più facile vedere quanto veloce e semplice è stato quello di fare l'atto di creare un autentico tono Bass Guitar, Classic tono Ampeg non meno , mentre lo fa tramite la mia tastiera MIDI.
Configurazione del suono
If you do happened to play bass guitar, you can drive Amplitube with an instrument via your I/O unit, in my case, I just used my Midi keyboard. To make it sound like a bass, I pulled up Logics EXS24 software instrument.
Ora, ho usato la EXS24 per creare un basso innescato da mia tastiera Midi. Ho scelto una impostazione di fabbrica, Liverpool Bass. Si tratta di un suono di basso molto poco colorati ma suona come una chitarra, è come dovrebbe. Giusto per essere sicuro, ho abbassato il modulo di uscita del EXS24 a -17 db, e rimosso il compressore e EQ dall'interno della striscia di canale che viene normalmente incluso come parte del setting channel strip ..
Queste sono le impostazioni che ho usato: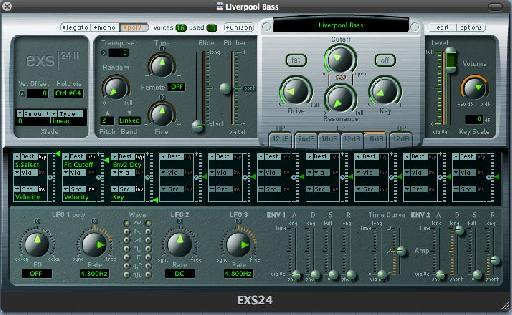 Nota: Ho anche spento il grasso e la
Ecco la traccia con la SVT Ampeg Modulo attivati:
[Audio id = "7089"]
Ecco la stessa traccia con solo il Liverpool basso e la SVT Ampeg disattivato.
[Audio id = "7091"]
Ho fatto fare un po 'frugando in giro per vedere come avrei potuto trovare un tono basso che Ive sempre ammirato, I primi Geddy Lee tono era il mio preferito. Ho controllato giro per la rete e come si scopre, Geddy utilizzati due impianti, uno impostato su un tono più luminoso e un set di un tono più grasso caldo. Questi due in combinazione ha dato quel suono distinto che era molto Ampeg e Rock suono.
Con l'IK AmpliTube, ho potuto farlo selezionando due amplificatori e armadi di corrispondenza. Ho impostato ciascuno per un tono simile ed è riuscito a mescolare per il risultato nella clip. Ecco alcune schermate delle impostazioni del modulo AmpliTube.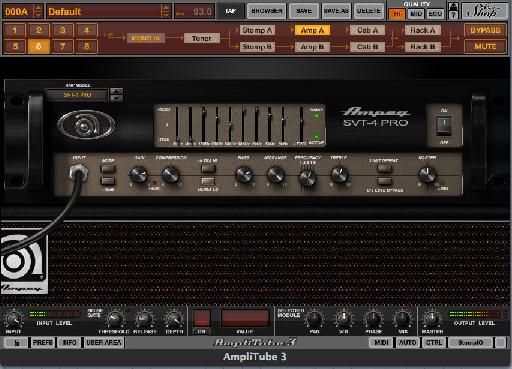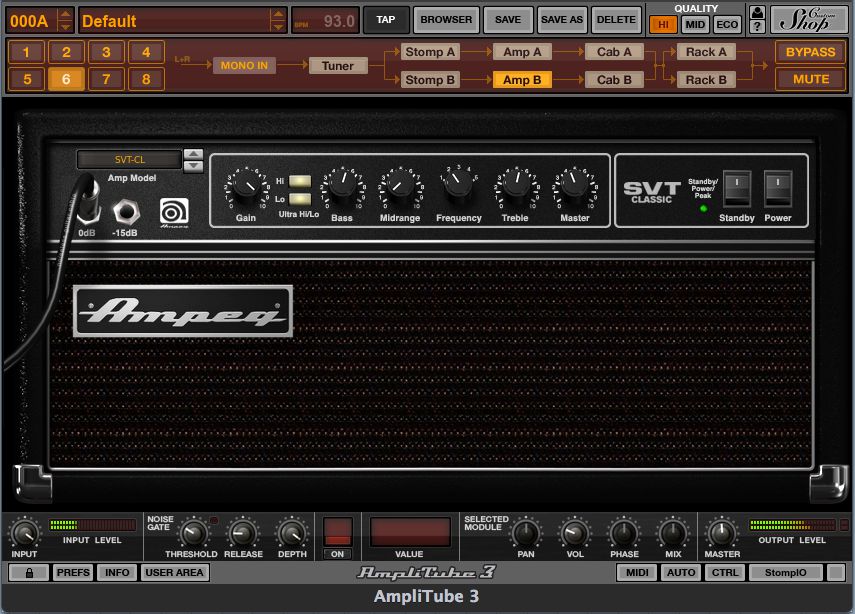 Conclusione
Amplitube è un modo eccellente per il vostro gioco su un tono molto basso autentico per un prezzo molto competitivo, se esiste. Il suo un grande complimento alla EXS24 che è costruito in Logic. Molto facile e intuitivo da usare. Infine, la sua anche un plugin a 64 bit e grandi opere in Logic 9 o
Fidatevi, ho assistenza e la manutenzione Ampeg SVT più teste allora posso contare. Il tono è proprio sulla e la parte migliore, che Non peso 80 £, come le teste tubo originale fatto!
Per ottenere una buona maniglia sul MIDI, check out MIDI 101, Midi demistificato