The QX61 is the 61 note version of the Alesis QX series, which includes the QX25 and QX49. The 49 and 61 both have eight sliders, four drum pads, eight rotary knobs, transport controls and an advanced section for creating and managing up to three keyboard zones, as well as the usual pitch bend and modulation wheels.

The keys are unweighted with a firm springy feel, typical of keyboards this price (aprox. $199 US / £129 GBP), and felt a little rough around the edges when stretching for octaves and beyond - however this is no worse or better than its rivals!
The controls feel a little on the more economical side of the spectrum, and it was actually quite tricky to get more than a rudimentary difference in velocities when playing the drum pads, but at least all the buttons and pads have a red light so you know when they have been activated!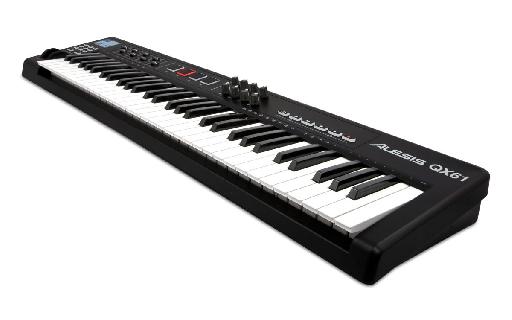 Connections
The QX61 connects and is powered by USB (lead supplied) when using it with a computer. It will also work with an iOS device, but you need a camera connection kit and keyboard power supply (not supplied) if you want to use it this way. The back panel also contains two MIDI out sockets (from the computer, so technically a MIDI THRU, and the keyboard itself) plus a socket for sustain pedal (not supplied).

The QX61 can, not surprisingly, be used as a control surface for your DAW. Assigning the controls in Logic Pro is a piece of cake following the directions supplied on the Alesis website, but still needs setting up, one button at a time. The QX61 is supplied with a copy of Ableton Lite, and, if you download the Ableton Live Controller Map from the product page on the Alesis website, is much quicker to set up as a control surface with this DAW. A shame that controller maps are not supplied for other major DAWs...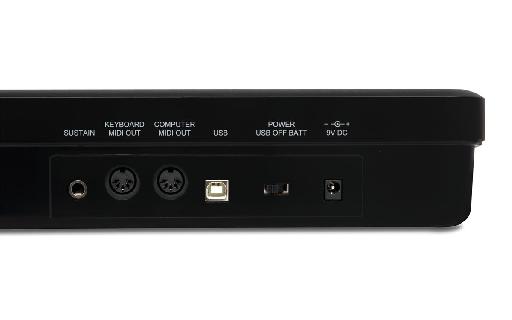 The Competition
So how does it compare with its rivals? Well the M-Audio Oxygen 61 has one more slider than the QX61, but no drum pads. It has a very similar keyboard feel, but works with iOS devices without the need for an external power supply, and is slightly cheaper.
The Novation Launchkey 61 also has no drum pads as such, but it does have sixteen smaller pads allowing it to integrate tightly with Ableton, using the pads to launch scenes and trigger clips. It has also been specifically designed to work with Novation's iPad apps and DAW plug-ins. It does however currently carry a street price of around £20-£30 ($50-75 US) more than the QX61.

Conclusion
The Alesis QX61 is a competent and well featured MIDI controller keyboard, with the ability to be used as a control surface. At its competitive price of $199 US, it's well worth checking out for those in the market for a low-priced 61 key MIDI keyboard/control surface with drum pads.