The Akai Advance has been receiving a lot of coverage since its introduction at NAMM, and rightfully so. What Akai is attempting to do is a huge step forwards for users of virtual instruments everywhere. Akai Advance and the VIP software it interfaces with is geared towards streamlining your workflow both in the studio and on stage. The seamless integration of hardware and software promises to revolutionize your workflow by giving you access to your sounds with the click of a mouse OR the touch of a button on the keyboard.
We here at AskAudio have kept a close eye on the Advance for you as it's been developed and presented'"and now we finally have one in the studio. I've taken it for a test drive for the last 3 weeks and I'm ready to tell you if it delivers on its promise.
The Keyboard
The keyboard itself is aesthetically beautiful. The keybed is responsive and feels very smooth to the touch. The sensitivity and velocity curves are adjustable, but feel incredibly expressive and natural in their default state. The body of the instrument is sleek and futuristic. I've been a fan of the Akai controllers since the MPK series was introduced and this latest iteration feels quite evolved. The pads are illuminated and the colors can be customized right down to each individual on/off state.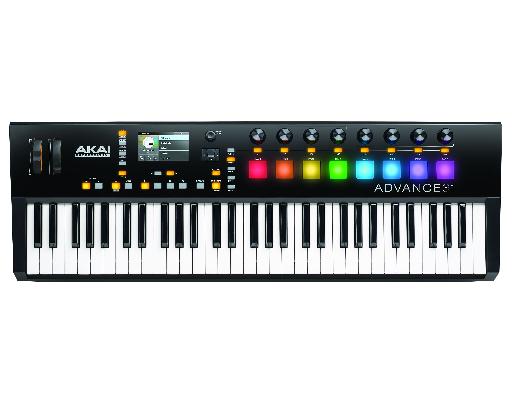 The 4.3 inch high resolution screen looks truly beautiful, and is wonderfully responsive with real-time displays of information about the controller as well as the connected VIP software. There are 8 HUGE controller knobs at the top which are unapologetically large and sturdy. You won't miss these knobs when you're reaching for them, and the larger size makes them quite a bit more precise when adjusting virtual instrument parameters.
The keyboard itself has MIDI in and out, as well as USB, sustain, and control pedal inputs. Akai Advance is USB powered, so while there is a power jack there is no need to use it with a standard computer setup. It may be a small feature, but it's a '