I've long been a fan of Guitar Rig, despite not being much of a guitarist. The reason is that it's an excellent multi-effect regardless of what you put it on, so it's just as good on beats, vocals and keys as it is on guitars. As the software has matured it's gained lots of new modules that make it even more flexible for a range of uses, especially thanks to its controller modules. One of the things I use it for most often is processing drum loops, which can really be livened up by the addition of some crunch, delay and other effects. You can start with presets of course, or build your own rigs from scratch.

Step 1 '" Load a loop
Load a loop into your DAW and call up an instance of Guitar Rig. You can load a loop into Guitar Rig's own looper module, but for our purposes it's easier to do it from a DAW track. You can start from a preset with the rig, but we're going to start from scratch.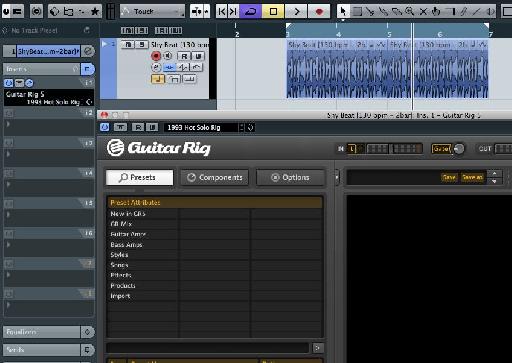 Staring from scratch lets you customize your processing rig.
Step 2 '" Start to build
Go to the Components menu in Guitar Rig and choose your first module. I'm starting with a Van 51 from the Amplifiers section, since this also comes with a matched amp. Once loaded, I lower the amp Pre Gain knob from the section to the left of the front panel, which reduces the hard crunch to a more subtle level. I can also play with the EQ and crossfade between the mics in the speaker section to shape the sound so it's a little more immediate and less treble heavy.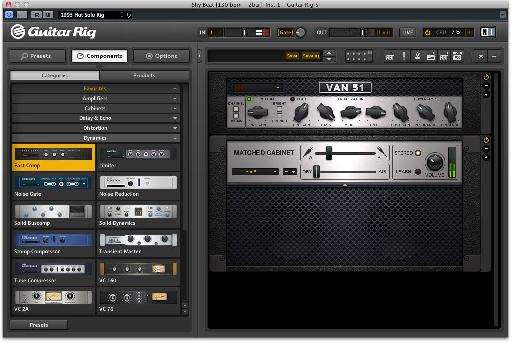 An amp and speaker combo are great ways to start a rig, though you can connect anything in any order if you prefer.
Step 3 '" Add compression
Drum loops can sound good when you pump and squash them a bit, and for this we can go into the Dynamics section of Guitar Rig's modules and choose a compressor to drag and drop intop the rack area. I have gone for the fast Comp unit and then driven both the input and the makeup gain knobs a little to push the signal pretty hard until it sounds raw and urgent.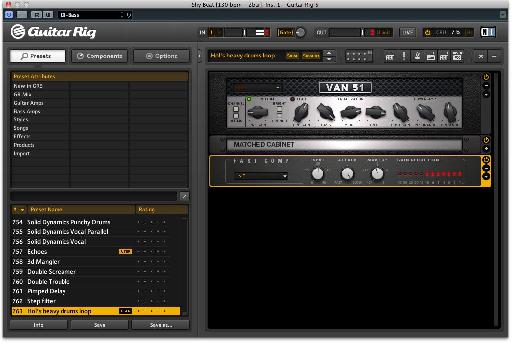 A little compression can pump up drum loops and make them sound great.
Step 4 '" Add a delay
Next up I will add a delay unit, and I choose the Traktor Delay with a dub preset, which sounds great. Initially it's a bit too much delay so I turn the dry / wet knob down low, but also the Feedback knob up quite high. This gives me quite a short but dense delay which sounds excellent.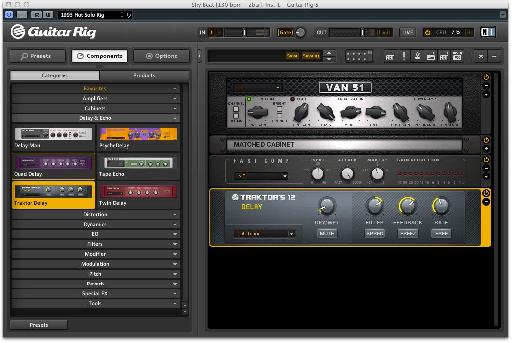 Tempo synced delay sounds amazing on beats, but use less rather than more for subtlety.
Step 5 '" Add a reverb
Finally I will add a reverb, choosing a Vintage Verb unit and dialling in a little spring reverb to add some space. A short reverb and a low dry / wet time will keep things nice and atmospheric without letting the overall sound get too loose. You will hear the difference that these few effects have made if you compare the results with our original dry loop. Pretty amazing stuff!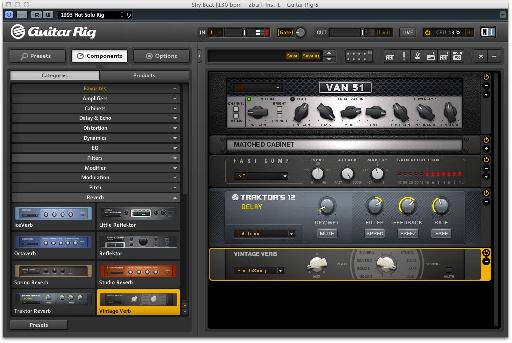 A touch of reverb can help a beat to sit in the mix more easily.