Just days before Musikmesse, the infamous Steve H and I were treated to an ultra-secret one-on-one preview of the new Akai Advance integrated hardware/software midi control environment. We were able to get some hands-on time with the instrument and its software, as well as have access to the lead developer and engineer behind the hardware/software system. Here's what we took away from the experience.
(Scroll down to see the video is at the end of this article)
The Hardware is Sexy
This is one VERY nice looking piece of kit. The assignable knobs are really huge, and this was a conscious design choice on the part of Akai. They wanted you to be able to grab these things in the dark in a high-pressure performance environment and feel confident about it. It's a choice that I definitely was on board with. I've had my share of little tiny knobs either fall off the keyboard entirely or just generally be a pain in the butt to find in a hurry. There's no way you'll miss these knobs.
The screen looks beautiful, too. It's clear, bright, and easy to read. There's been a trend with a lot of controllers lately to put out screens and LED readouts that are very dim. Perhaps it distracts the audience less, but I don't care—I hate it. I like bright, easy to see, easy to find without squinting. The Akai display is bright and clear. Obviously someone on the design team is a performing keyboardist and that makes me happy.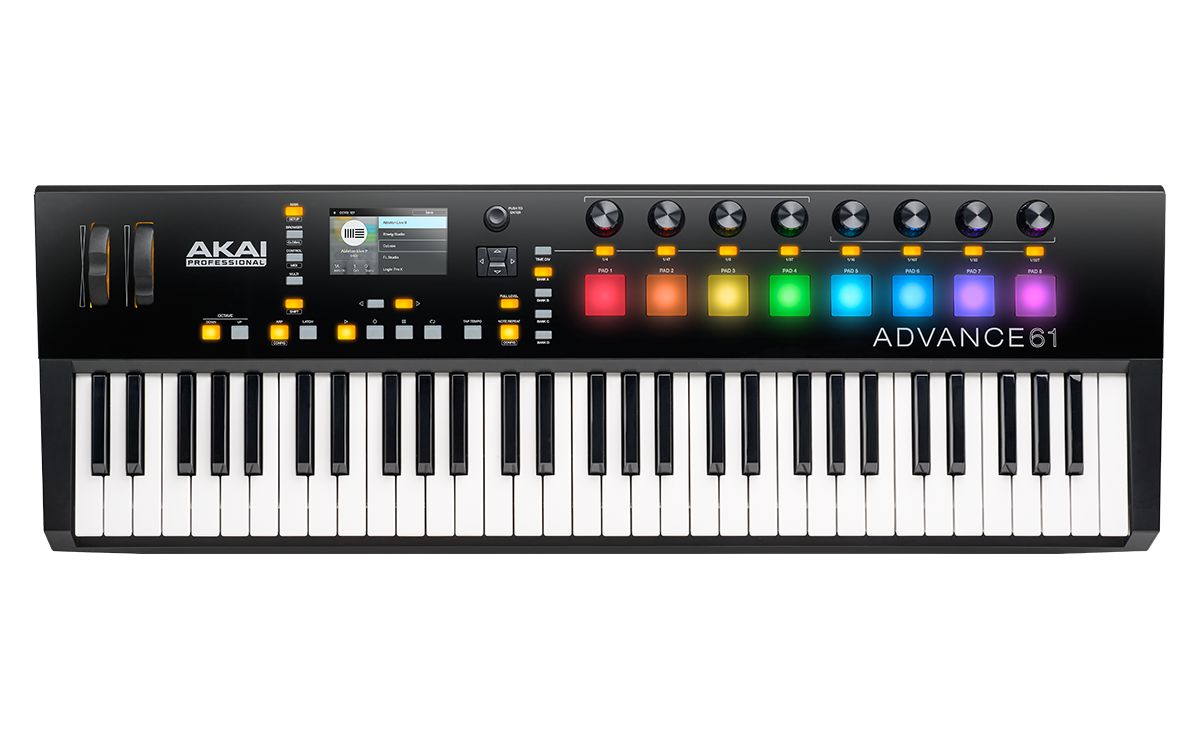 The Software Has a Lot of Potential
Basically, the paradigm here is that their software scans ALL the plugins installed on your system, reads the presets, indexes them, and allows you to access any instrument you own at a touch of a button… on the controller. That's right, you don't need to go to the computer at all. From Komplete to SONiVOX, you can load just about anything into their host right from your keyboard, and have access to your presets, metadata, and saved patches.
They've even gone through and made their own control presets for just about any major instrument that you can think of. This means if you load up a subtractive synth patch, one of those huge knobs will already be set to control your filter cutoff, the next one mapped to resonance, and so on. You can re-configure the knobs any way you like. You can't yet map multiple controls to a single knob, but that functionality is well into development and Akai assured us it is a top priority down the road as a software update.
One of the things that really impressed me about the software is that Akai is utilizing a 'secret sauce' method of plugin caching. What this means to us is that once you've run a plugin through the Akai advance, you can now open and close that plugin at lightning speed. Seriously, it loads up sounds from some virtual instruments FASTER than simply opening that virtual instrument's standalone app! I poked and prodded, but they wouldn't tell me how they did it, (but it's really cool!)
You Can Even Buy Sounds On It
Baked into the software is a store which allows you to augment your sound library without ever leaving the Akai Advance. You can purchase plugins, expansion instruments, presets, you name it. Download the plugin, let the software scan it, and you're good to go!
Check Out the Video
We spent quite a bit of time asking the good folks at Akai just about anything we could think of about this revolutionary new instrument. Check out our accompanying video for an exclusive and expanded look at the Akai Advance!
Stay tuned for video courses on the new Akai Advance at AskVideo.com