Editor's Note: Since this review was written, Serato DJ has been released for VCI-400.
The latest addition to the Vestax fleet of VCI DJ controllers is the VCI-400. Offering an upgrade to pro-level specs unavailable on their previous VCI models, does the 400 bring something new to a market practically flooded with all-in-one DJ controllers? Let's take a look at what appears to be the most full-featured digital DJ solution Vestax has issued to date.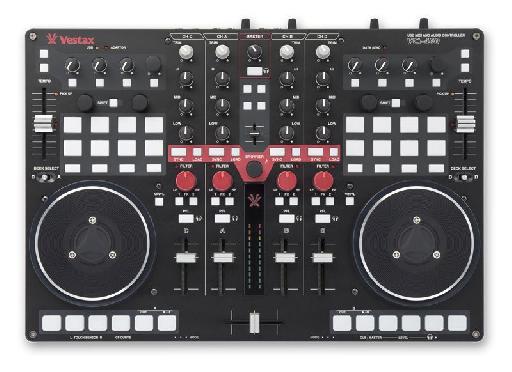 First Impressions
Boasting a solid metal chassis and the smooth line faders that Vestax built their reputation with, at first glance this appears to be a robust unit. The knobs and sliders all feel good, balancing silky glide with a satisfying degree of resistance. The big metal filter knobs are a nice touch, calibrated perfectly for expressive sweeps: twist them clockwise of center for high-pass, and counter-clockwise for low-pass. The multi-color backlit buttons and LEDs are helpful in the dark, while the multi-function endless encoders are a welcome addition for enhanced browser functionality and effect parameter modulation.
At first, the clear-edged Vestax jog wheels seemed too tight, but on further inspection I discovered that I could adjust their resistance via a central dial and had them spinning properly in no time '" while adjustable touch sensors allow for customizable sensitivity as per your needs. A pair of XLR-1/4' combo-jack mic inputs as well as balanced XLR outputs give the impression this unit would work nicely in a big club setting, while the standalone mixer mode clearly provides added value. The headphone output is a bit noisy at maximum volume, but otherwise the unit sounds clear and punchy while retaining dynamic range.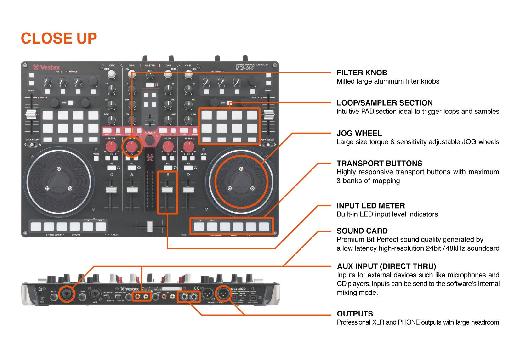 Plug In, Turn On, Mix Out
The VCI-400 comes bundled with two DJ software options: Virtual DJ LE and Serato Intro. Having some Serato experience under my belt, this was my first choice, and after downloading and installing the latest version from Serato's website as instructed on the included card, I was having fun mixing in minutes. The controls map perfectly to the software, and anyone familiar with a basic mixing set up should have no trouble getting started '" all the basic controls function precisely as one would expect. In fact, being able to navigate my crates through the central rotary Browser encoder and put tracks on deck via the Load buttons meant I didn't have to touch my computer at all. Of course, I had to glance at the screen occasionally while selecting tunes, but this sort of 'mouse-free' interface is exactly what a DJ hardware controller ought to achieve.
Serato's effects worked nicely, especially the Phaser and Flanger; the Reverb and Delay both seemed like they could use a bit of EQ, while the High- and Low-Pass filters are rendered rather redundant by the dedicated filter knobs on each channel of the unit. That said, these issues are clearly on Serato's end and can't be viewed as a shortcoming of the VCI-400. Even more fun were the live loop buttons, which allow you to seamlessly grab clean and accurate 1/4-note, 1/2-note, 1-bar and 2-bar loops on the fly. The four cue buttons work nicely as well for skipping between your favorite sections of a track, while the sample trigger buttons worked well enough. However '" and again, this is an issue with Serato Intro, not the controller '" the samples themselves afford little opportunity for modulation via EQ or effects, with only an editable start point and global volume for all loaded samples. Nevertheless, it's a nice feature to have, and the VCI-400 takes full advantage.
Beyond these relatively minor quibbles with samples and effects, the major shortcoming of Serato Intro is its failure to recognize all four decks available for control on the VCI-400, effectively rendering it as a two-channel system. In order to take full advantage of the unit, I switched over to the included Virtual DJ LE. While this allowed me to layer all four decks simultaneously, the low resolution interface was not very handsome or easy to navigate '" and worse, the re-pitching or time-stretching algorithm Virtual DJ uses to beat match the tracks ended up shaving crucial transients off half of my kick drums and other strong percussion, more or less ruining plenty of nicely produced tracks I ran through it. Couple this with the fact that the sync function in Virtual DJ is much less stable than in Serato, and it didn't take long to realize there's a reason Virtual DJ isn't regarded on the same level as Serato or Traktor.

As a final option, I downloaded a .tsi Traktor mapping file from the Vestax website and launched Traktor Pro 2.5. On its own, Traktor is a great solution for professional and hobby DJs alike, and once I imported the controller map and configured the audio settings for the VCI-400, it seemed to be working great at first '" except that the hard deck selection switches on the unit are somehow not recognized by Traktor, once again relegating it to two-deck usage only. In addition, launching the Traktor preferences window and changing certain other settings during playback caused audio dropouts in the onboard the sound card '" not something you'd want to encounter if you actually had to adjust any configuration settings on stage. So in the end, Serato Intro resulted in the best user experience with this controller by far '" I just hope they offer four-deck support for this unit sooner than later.

Very Cool Interface
Overall, the VCI-400 is a well-built unit which has all the controls you might need to have a lot of fun mixing tunes at home and beyond. The filters sound great, the three-band EQ works as it should, and, as one might expect from their long line of DJ mixers, the crossfader is butter smooth. In short, the whole machine feels good to use.
That said, the jog wheels can be a bit sensitive '" in Vinyl mode I often wanted to just nudge the edge of the platter to adjust the timing ever so slightly, but ended up accidentally scratching the platter and pulling the record completely out of time; disabling Vinyl mode of course solves this issue, but it might be nice to have a clearer physical differentiation between where to nudge and where to scratch with Vinyl mode engaged. With some creative MIDI-mapping, some of the many onboard buttons could be repurposed for tempo nudging control.
It seems Vestax also has a roadmap to resolve any issues with the unit, as they're advertising a unique firmware upgrade system for the VCI-400 which is designed to ensure functionality enhancements in due time. My primary issues were with the included software '" chiefly the inability to use all four decks with Serato Intro, as Itch doesn't support this model yet. But as soon as Serato Intro provides an update to take advantage of all four decks on the VCI-400, this unit will be more than a worthwhile investment for anyone looking for an all-in-one DJ controller and audio interface with professional output options '" and multiple inputs to work as a standalone two-channel mixer to boot.