In this Quick Tutorial, we'll do a quick comparison of the noise reduction capabilities of BIAS Peak's SoundSoap PL plugin and Apple Soundtrack Pro's built-in noise reduction. Let's get started.

Step 1 - Listen to the Noisy Track
Here's what our raw track sounds like:
It's a direct recording of an old lap steel guitar going into feedback, and as you can hear, it has a lot of pickup buzz. We want to remove that buzz while changing the basic lap steel sound as little as possible.
Step 2 - Launch Soundtrack Pro
I'm going to open Soundtrack Pro (STP) with our stereo file in place by dragging the file onto STP's icon in my dock. This creates a new stereo audio file project with our file loaded, rather than the default empty multi-track project.
Step 3 - Set the Noise Print
In Soundtrack Pro, removing noise from a track is a multi-step process. First, you teach Soundtrack about the noise you want to get rid of - this is called setting a noise print. Then you use that noise print in the Noise Reduction window to fine-tune the noise reduction. So, let's set the Noise Print.
Ideally, there will be a location in your file that contains only the noise you want to remove - the hum and buzz, in our case. Fortunately, for us there is, right at the head of the track. To set the Noise Print, select the area of the sound file containing the noise (preview that selection to be sure it's only noise):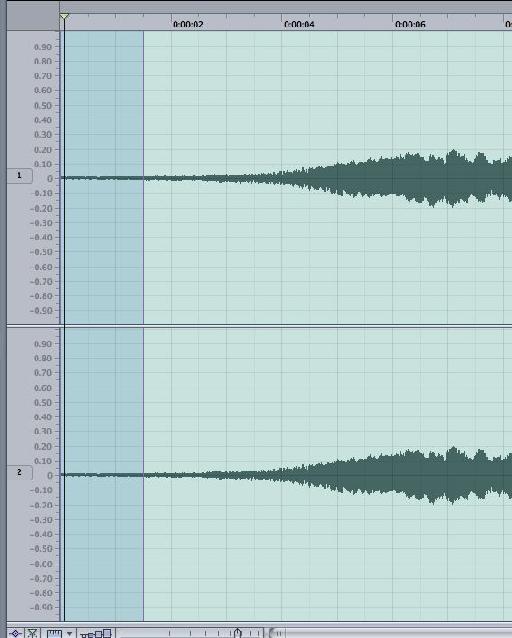 and choose Process > Noise Reduction > Set Noise Print.
Step 4 - Apply the Noise Print
Next choose Process > Noise Reduction > Reduce Noise... to open the Reduce Noise Window: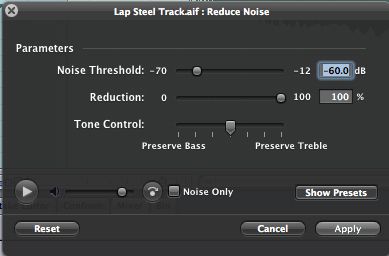 The first thing you want to do now is unselect your Noise Print selection, or you won't be able to preview the entire track. Click the play button on the left side of the window, and adjust the Noise Threshold and Reduction sliders until the noise goes away - the track will loop as you tweak.
You should also check the 'Noise Only' box next to the transport controls - clicking this will let you hear what's going to be removed from your track. Interactively adjust the Noise Threshold and Reduction sliders while listening to the noise to ensure that you don't remove too much of the track itself; going back and forth between Reduced Noise mode and Noise Only mode will give you the best results.
These are the settings that worked for me, but your mileage will vary, of course: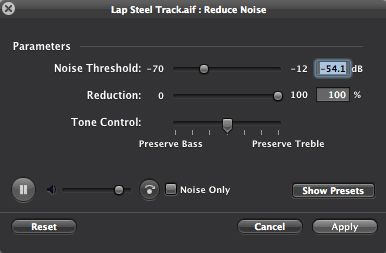 and this was the result - not bad at all:
Step 6 - Launch Peak
We'll drag our track onto Peak's dock icon to launch it as well. Peak doesn't require that you set a Noise Print before performing noise reduction; instead Peak provides a plugin called BIAS SoundSoap PL which runs in its own window and lets you set noise prints and reduce noise all at once. So, select the entire track and choose Action > Loop This Selection to let you loop the track while you're in SoundSoap. Then choose Plug-Ins > Insert 1 > BIAS > BIAS SoundSoap PL to open the SoundSoap window: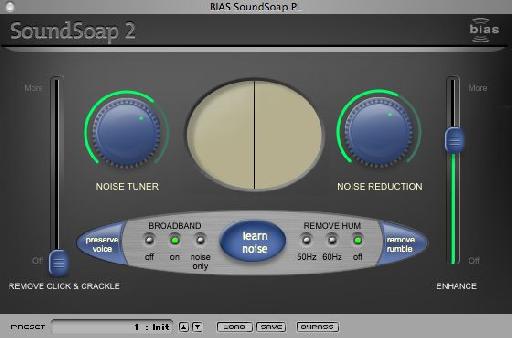 Step 7 - Noise Reduction in SoundSoap
Now, just hit your Spacebar to start Peak playing, and when you hear your noise area, click the 'Learn Noise' button in the center. Peak will listen to the noise and capture enough to work with, then stop the capture itself. Now, while the rest of the track plays, adjust the Noise Tuner, Noise Reduction, and Enhance controls to remove the hum and buzz and restore harmonics. As with Soundtrack Pro, clicking the 'Noise Only' button will let you hear'"and see'"only what's being removed.
The moving spectral display in the center is pretty, but also has some value in giving you a real time before-and-after spectral analysis of how the plugin is processing the audio.
Again, your own settings will vary, but here are the ones I came up with: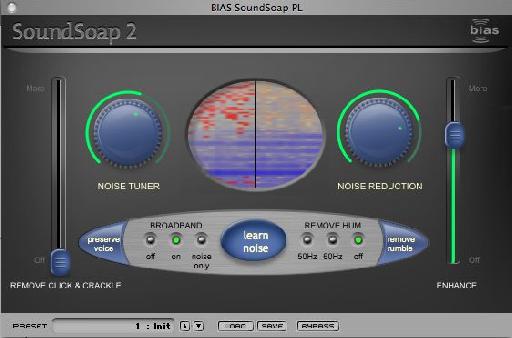 And it sounds like this:
Also a respectable job. SoundSoap may have preserved slightly more of the character of the sound. And SoundSoap is both more interactive and feature-rich than Soundtrack's Noise Reduction feature, so I'd probably use SoundSoap more often. But undoubtedly there are problems that SoundSoap can't handle that Soundtrack can, and vice versa. As a result they're both valuable tools to have available.
I hope you found that of use, and as always, listen, experiment, and have fun!
Want to learn more? Check out these links for more info about Soundtrack Pro and about Peak.