In diesem kurzen Tutorial, wir machen einen schnellen Vergleich der Rauschunterdrückung Fähigkeiten von BIAS Peak SoundSoap PL -Plugin und Apple Soundtrack Pro 's eingebaute Rauschunterdrückung. Lassen Sie uns anfangen.

Schritt 1 - Hören Sie sich die Laute Spur
Hier ist, was unsere Rohstoffe Track klingt:
[Audio-id = "6978"]
Es ist eine direkte Aufnahme eines alten Lap Steel Gitarre geht in Feedback und wie Sie hören können, hat es eine Menge von Pickup-buzz. Wir wollen, dass buzz entfernen, während die Änderung der grundlegenden Lap-Steel-Sound so wenig wie möglich.
Schritt 2 - Launch Soundtrack Pro
Ich werde Soundtrack Pro (STP) mit unseren Stereo-Datei an Stelle öffnen, indem Sie die Datei auf STP-Symbol in meinem Dock. Dadurch wird eine neue Stereo-Audio-Datei Projekt mit unserem Datei geladen, anstatt der Standard leer Multi-Track-Projekt.
Schritt 3 - Set the Noise Print
In Soundtrack Pro, das Entfernen von Rauschen aus einem Track ist ein mehrstufiger Prozess. Zunächst lernen Sie Soundtrack über den Lärm Sie loswerden - das nennt man Einstellung ein Geräusch zu drucken. Dann nutzen Sie das für ein Geräusch Druck in der Noise Reduction-Fenster für die Feinabstimmung der Rauschreduzierung. Also setzen wir den Noise Print.
Das Brummen und, in unserem Fall - Im Idealfall gibt es einen Ort in Ihrer Datei, die nur den Lärm, den Sie entfernen möchten, enthält. Glücklicherweise gibt es für uns, direkt an der Spitze der Spur. Um den Lärm drucken, wählen Sie den Bereich der Audio-Datei mit dem Rauschen (Vorschau, Auswahl, um sicherzustellen, es ist nur Rauschen):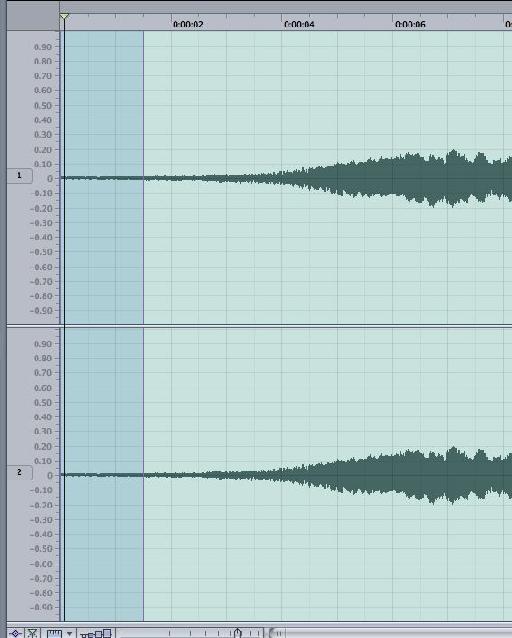 Schritt 4 - Apply the Noise Print
Als nächstes wählen Sie Prozess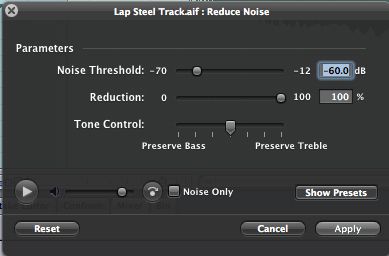 Das erste, was du jetzt tun, ist unselect Ihre Noise Print Auswahl, oder Sie werden nicht in der Lage sein, die gesamte Strecke Vorschau. Klicken Sie auf den Play-Button auf der linken Seite des Fensters, und stellen Sie den Rauschfilter und Reduction Regler, bis das Rauschen verschwindet - die Strecke in einer Schleife, wie Sie zu zwicken.
Sie sollten auch prüfen, die "Noise Only"-Feld neben dem Transport-Steuerung - Anklicken dieses wird Ihnen hören, was los ist, von Ihrem Weg entfernt werden. Interaktiv anzupassen, die Noise threshold und reduction Schieberegler beim Hören der Geräusche, um sicherzustellen, dass Sie nicht entfernen zu viel von der Strecke selbst, hin und her zwischen reduziertem Rauschen Modus und Noise Only-Modus erhalten Sie die besten Ergebnisse.
Dies sind die Einstellungen, die für mich gearbeitet, aber Ihre Laufleistung variieren natürlich: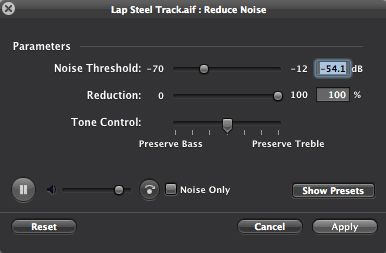 und dies war das Ergebnis - nicht schlecht:
[Audio-id = "6979"]
Schritt 6 - Starten Sie Peak-
Wir werden unseren Weg auf Peak Dock-Icon ziehen, um es so gut zu starten. Peak nicht erforderlich, dass Sie ein Noise Print gesetzt, bevor Rauschunterdrückung, sondern Peak bietet ein Plugin namens SoundSoap PL, die in einem eigenen Fenster läuft und lässt Sie Lärm Drucke und Rauschen zu reduzieren alles auf einmal. So wählen Sie den gesamten Track und wählen Sie Aktion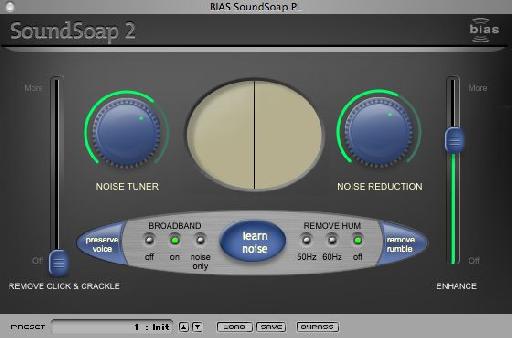 Schritt 7 - Noise Reduction in SoundSoap
Nun traf nur Ihre Leertaste, um die Spitze zu spielen beginnen, und wenn Sie Ihre Lärmbereich zu hören, klicken Sie auf den "Learn Noise"-Taste in der Mitte. Peak wird um den Lärm zu hören und zu erfassen genug, um mit zu arbeiten, dann stoppen die Aufnahme selber. Jetzt, während der Rest der Strecke spielt, passen Sie die Noise Tuner, Noise Reduction und Enhance steuert die Brummen und entfernen und Oberschwingungen. Wie bei Soundtrack Pro, auf das "Noise Only"-Knopf läßt Sie hearand seeonly, was entfernt wird.
Die beweglichen spektrale Darstellung in der Mitte ist hübsch, hat aber auch einen gewissen Wert darauf, Ihnen eine echte Zeit vor-und nach Spektralanalyse, wie das Plugin die Verarbeitung der Audiodaten.
Auch hier werden Ihre eigenen Einstellungen variieren, aber hier sind die, ich kam mit: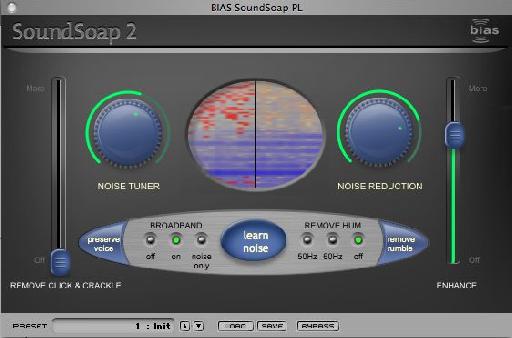 Und es klingt so:
[Audio-id = "6981"]
Auch einen respektablen Job. SoundSoap kann etwas über den Charakter des Klangs bewahrt haben. Und SoundSoap ist sowohl interaktiver und feature-rich als Soundtrack der Noise Reduction-Funktion, so würde ich wahrscheinlich verwenden SoundSoap öfter. Aber zweifellos gibt es Probleme, SoundSoap nicht umgehen kann, dass Soundtrack kann, und umgekehrt. Als Ergebnis sie sind beide wertvolle Werkzeuge zur Verfügung zu haben.
Ich hoffe, Sie finden, dass der Einsatz, und wie immer, zu hören, zu experimentieren, und Spaß haben!
Möchten Sie mehr erfahren? Schauen Sie sich diese Links für weitere Informationen über Soundtrack Pro und über Peak.