Massive is an awesome synth capable of some really impressive patches. What makes these patches sound even better is its flexible effects system. I find that using external and internal modulators to automate the individual effects parameters can create some really unexpected results. Here's how...

Setting Up Some Basic Effects
First up let's get some basic effects going. I've got a simple synth patch that is being triggered by a MIDI sequence in Logic Pro 9. It has a few very subtle effects but I want to do something with reverb here.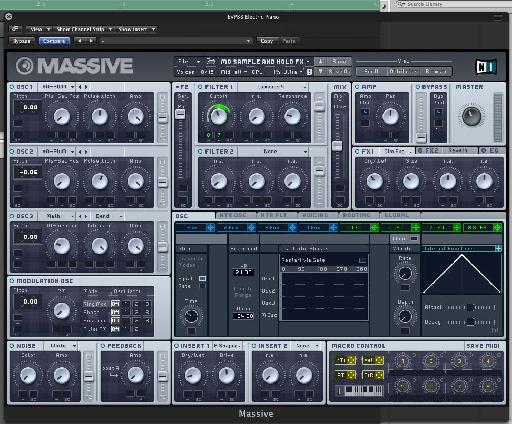 The basic (almost dry) patch we'll be starting with
Massive has a very good reverb unit built right into it and I have used the second effect slot to generate a room sound. You can hear that in its current form the reverb time is pretty short but vertically apparent.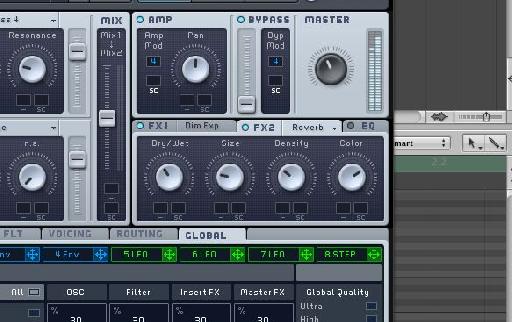 The reverb being applied
The patch with some static reverb:
Let's take a look at a few different ways we can manipulate the effects parameters to create something cool and a little different here...
Macros And External Controllers
The first thing I'm going to do is drag one of the Macro controls (in the lower right hand side of the interface) to the reverb time in the second effects slot. By turning the amount of modulation up I can now control the reverb time with this Macro.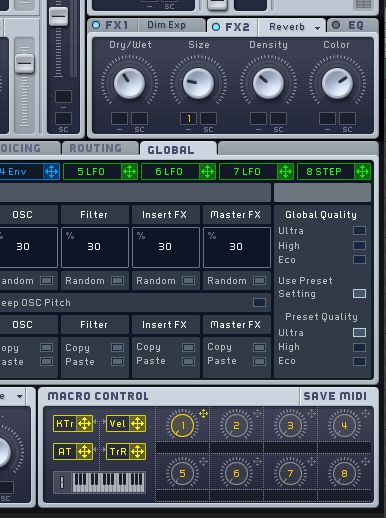 The Macro is linked to the reverb
There are now two ways I can link this macro to an external controller:
If you have a particular knob or slider in mind you can right click on the macro and use the MIDI Learn function.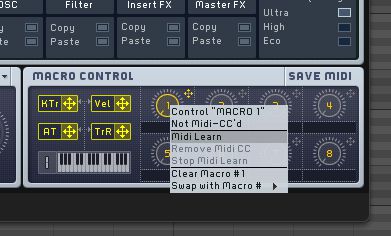 MIDI learn can be used to control any parameter
Alternatively, you can go to the browser page and map the macro to any of the external controllers in the drop-down list. I chose the modulation wheel. I was then able to control the reverb time with the mod wheel directly.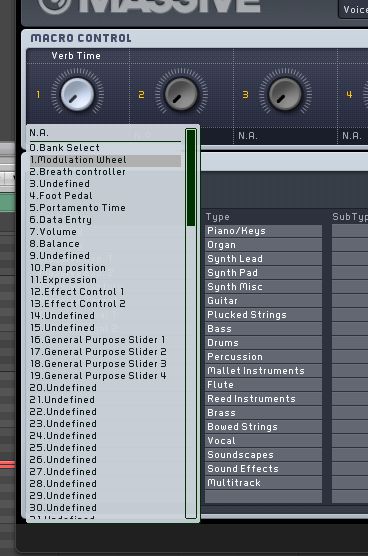 The Macro is named and mapped to the mod wheel
Next I automated a rise with the mod wheel. The nice thing about the reverb time in Massive is that when it's altered in realtime, you get a sort of zipper effect as the algorithm updates. You can hear the effect below!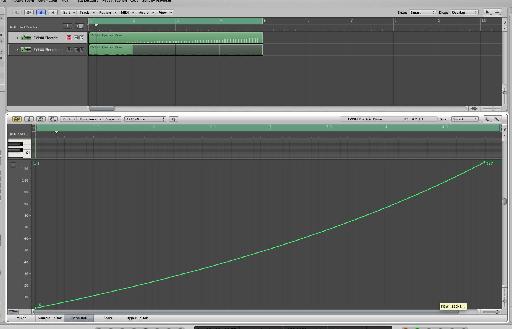 The mapped control is automated in an upward ramp in Logic
The modulated reverb time in action:
Using Internal Modulators
If you fancy using some of Massive internal modulators to alter your effects parameters, you'll be glad to know it's even more straightforward. In this case I decided to use an LFO to modulate some distortion and bit crusher insert effects.
The LFO was simply dragged to the various depth and mix controls in the insert effects to create variation in the patch. Try this yourself by mixing external and internal modulators to control various effects parameters. You might surprised by the results.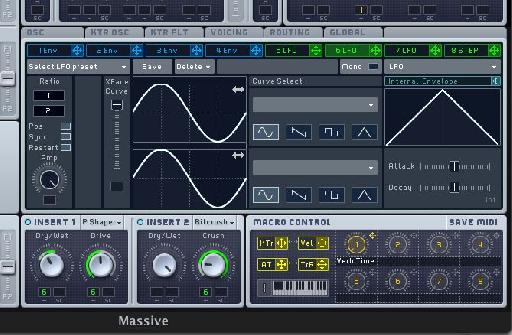 The various distortion parameters being modulated by the LFO
Two reverb and distortion modulation together: