1. NI Battery 4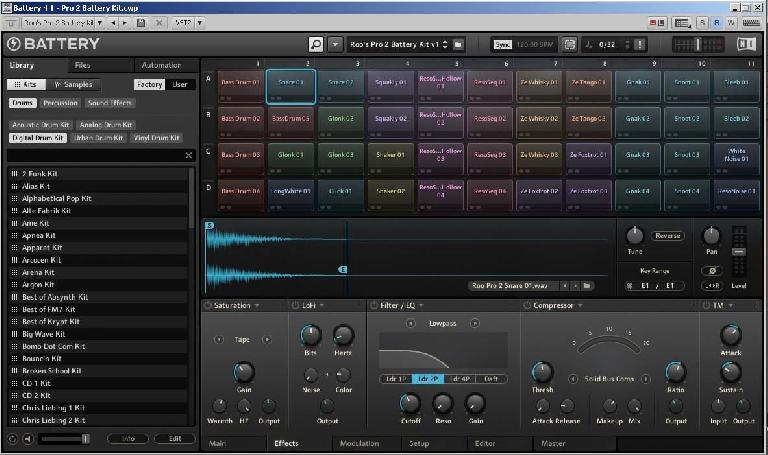 NI's Battery has never attempted to emulate any particular "real" drum kit, but instead provides you with a wealth of sound shaping and processing options, and its ability to load any samples into its cells combined with the many add-on kits and packs that NI makes available mean it truly is a powerhouse of beat production. Unlike some drum instruments, it doesn't really do sequencing internally—that's left to your DAW. But it does provide more sound tweaking options than almost any other instrument. Its cells are colour coded and clicking any cell reveals a fully editable sample section where any aspect of a sample can be modified. There's an insanely powerful effects section that draws on many of NI's standalone effects, advanced modulation capabilities, looping tools and even an internal mixer section with buses. NI's tagging system is supported too, making it easier to manage the many samples in the library and any you add yourself.
2. FXpansion BFD 3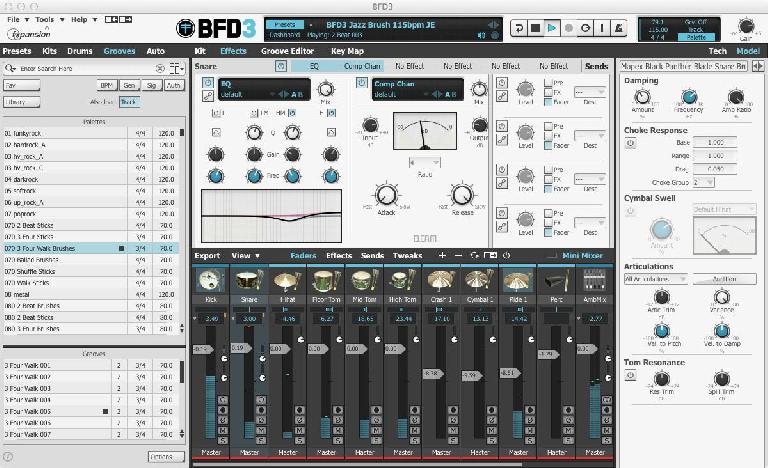 FXpansion's monster drum instrument is truly fearsome: maybe even the ultimate acoustic drum studio. Taking an ultra-modern approach to classic drums it gives you a futuristic view of your kit and you can switch any drum elements from the huge library of professionally recorded samples to build the perfect kit. An advanced mixer lets you not just blend the sounds but also control bleed between channels and many virtual and ambient mics—techniques that are difficult and sometimes impossible to achieve in a real studio. The powerful effects section borrows from the company's suite of audio processors to let you shape your sound, and the audio engine has been designed for maximum efficiency. As well as working as a plug-in, many people like to hook the standalone app up to a MIDI drum kit for maximum playability and flexibility.
3. Superior Drummer 2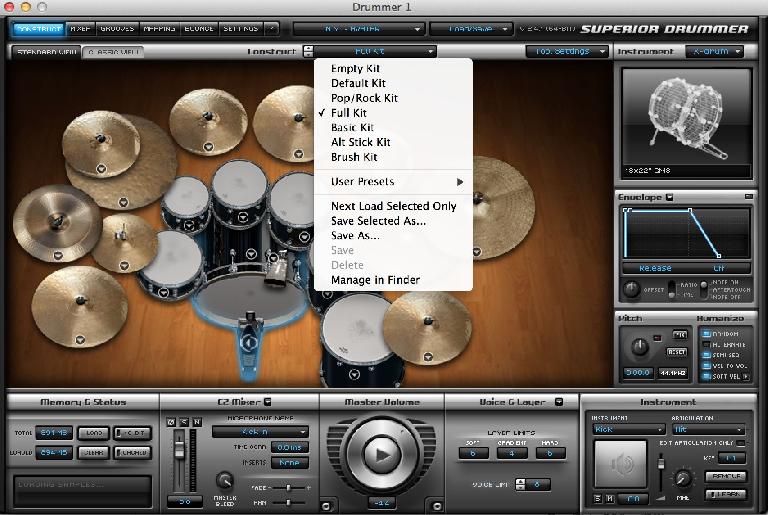 Superior Drummer 2 from Toontrack is perhaps the most drum-like software instrument around as it gives you authentic, realistic views of a real kit while at the same time providing all the capacity to mix and match elements of the kit that you would expect. Take advantage of the many excellent rock, jazz, metal and country libraries available to tailor your setup as you wish, and use the bundled MIDI grooves to get started right away without even having to program anything. You can get down to the nuts and bolts of each sound, even going so far as to change accents on individual hits and, of course, there's a comprehensive effects and mixer section as well. For a more entry-level solution, consider EZDrummer which is a cut-down version with the core features, and which can also load many of Toontrack's drum libraries.
4. Fingerlab DM1 for Mac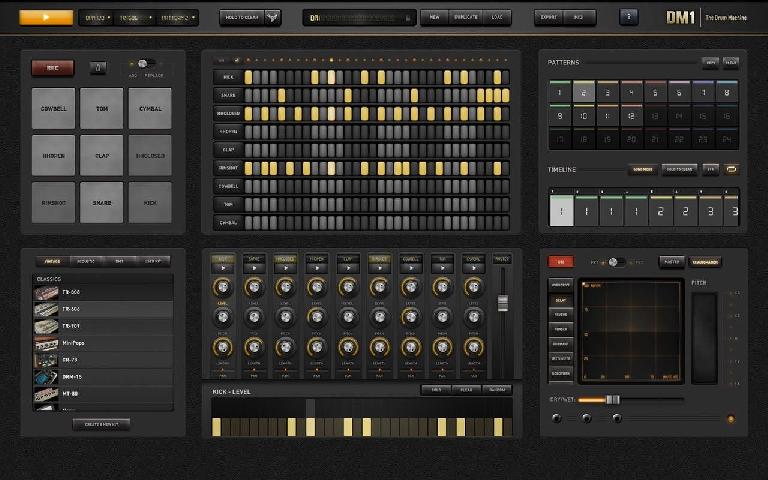 DM1 actually started life as an iOS app and still enjoys great popularity on that platform but has also come to the Mac and in the process gained extra functionality. Although not as technical as some other desktop apps, it places a greater emphasis on playability and being able to knock rhythms and songs together quickly and easily. That doesn't mean it's basic though—far from it. You get 99 vintage and processed kits, full mixing, automation and FX, an FX trackpad, randomizer, song mode and sample import amongst other features. It's significantly more affordable than some other software drum machines and can also exchange patches with the iOS versions of the app, so you can work literally anywhere.
5. NI Maschine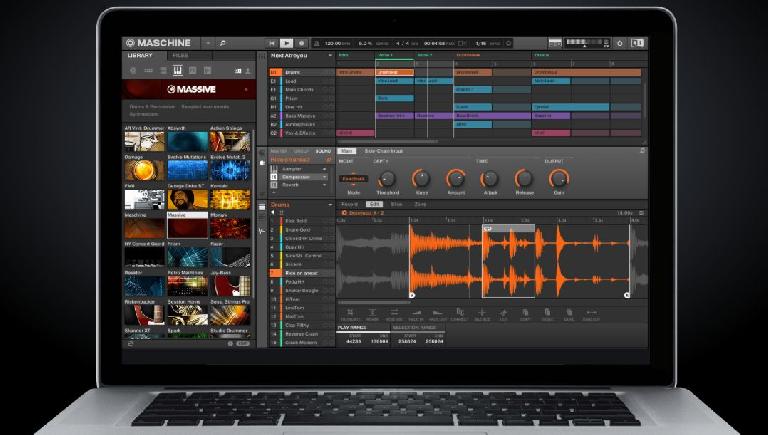 A second entry for NI here, simply because they make two of the biggest beat production tools around. The Maschine software actually works on its own, both as a plug-in and as a standalone app, so you can take advantage of its onboard sequencer and audio routing capabilities as well as the fact that it can load all your third-party effects internally as well, effectively making it a production centre in its own right. Paired with one of NI's dedicated hardware controllers however, it becomes a superb live performance tool as well as something you use in the studio. The Maschine controllers are the obvious choice as they are designed to work seamlessly with the software, but the Komplete Kontrol keyboards also tie into the software nicely—or you can use any MIDI controller you may already own.
6. Groove Agent 4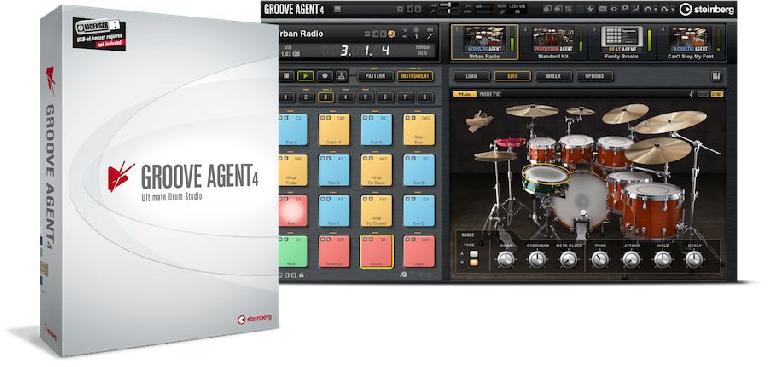 Steinberg's Groove Agent has, almost quietly, become a fantastically powerful drum tool in its own right. If you only know it from the entry-level version that ships with Cubase, the full version will blow your mind. Combine up to four "agents"—different kit types—to build the ultimate beat. As well as tons of sample content and kits you get Steinberg's studio-grade effects and mixer controls borrowed from Cubase itself, as well as a clever Style Player section that lets you quickly create and customize beats and grooves in any style you like. Combined with Cubase, Groove Agent even lets you do advanced things like cutting up loops from the timeline directly to pads in the drum instrument to instantly create playable kits from loops and samples, and drag patterns straight from Groove Agent into a project to create sequences without having to export anything. It's far more than just a drum machine, especially if you are running it inside Cubase.
7. Steven Slate SSD Drums 4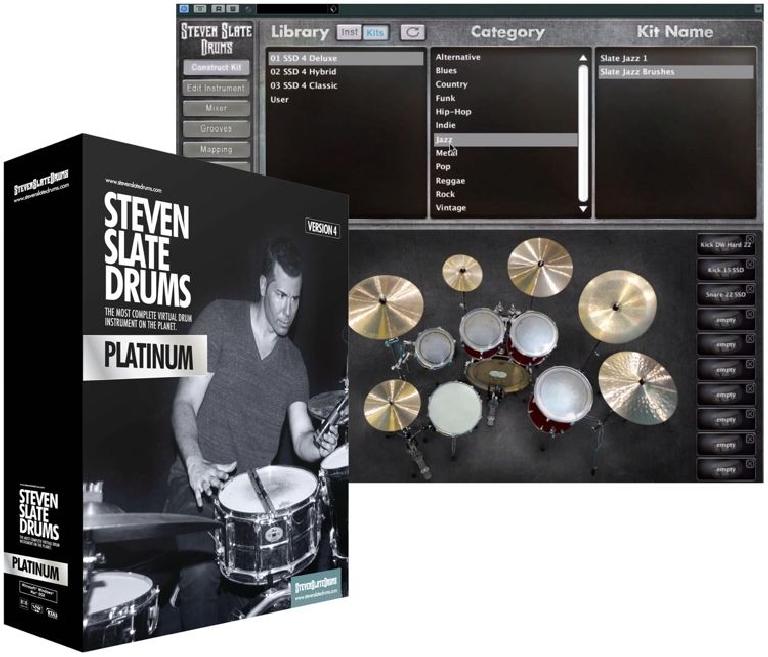 Another great choice for anyone wanting the sound and feel of up to 100 classic drum kits in a single instrument, SSD4 runs as a standalone or plugin and provides full control over customizing kits, mixing, loading and using MIDI grooves and MIDI maps and loading your own samples. Add-on sound packs are available to give you access to new and unique kits, and you're encouraged to hook the instrument up to a real life MIDI drum kit for total playability.