I'm a big fan of the MOTIF series, and was first in line to pick up the Montage when it came out. The sheer power that Yamaha was able to provide in their always evolving workstation line has always impressed - and I'll pull back the curtain here, I wasn't particularly excited to check out the MX88. I have and love my Montage, I own a Korg Kronos and just about every VI under the sun. What could the MX88 possibly offer me that I wasn't getting with my flagship workstations? As is often the case with new technology, you don't often know you need something until you have it and don't want to work without it. This is the case with the MX88. Read on…
Physical Specimen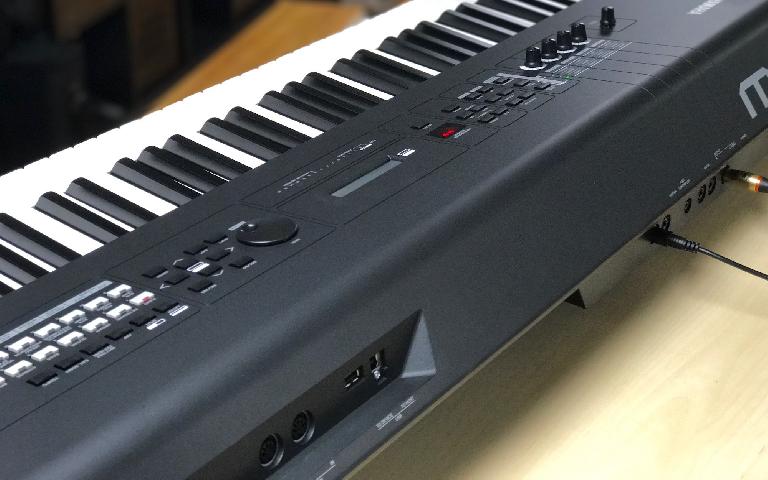 The MX88 is shockingly light. I remember just picking it up out of the box and thinking, 'there's no WAY this is a weighted keyboard'. I've never been so impressed, surprised, and wrong at the same time. Not only is the MX88 weighted, but the action is meticulous and graded well. The bass notes feel beefier, and the upper register just begs for you to play lightning quick runs.
Somehow, Yamaha was able to reduce the weight while maintaining the 'heft'. While the MX88 is easy to pick up, it doesn't feel cheap or flimsy at all. For a plastic keyboard, this thing feels as strong as it gets. The aesthetic is beautiful, and the matte finish doesn't really show fingerprints or smudges. After a long day of playing, filming, and constantly relocating the MX88, it still looks fresh out of the box. The LCD screen displays 2 lines of text, and is very small. The screen is appropriate and functional, no more no less.
Sounding Board
With less than a third of the price point, I was interested to see how many of their 'workstation sounds' Yamaha could cram into the MX88. I can say, without a doubt, they pulled no punches on the piano sound. There are plenty of velocity layers, it's powerful when you want it to be, and subtle when you play lightly. Ditto this sentiment for the Rhodes sounds. Yamaha clearly designed this to be a "keyboardist's keyboard", and the starring roles (patch-wise) have been given to the keyboard sounds.
That's not to say they ignored the other sounds. There are over 1,000 MOTIF sounds ported over. I wasn't able to find any category of instrument that didn't have a patch I would consider usable, and many of them were quite stunning (and, to be fair, I recognized from my MOTIF!).
Feature Rich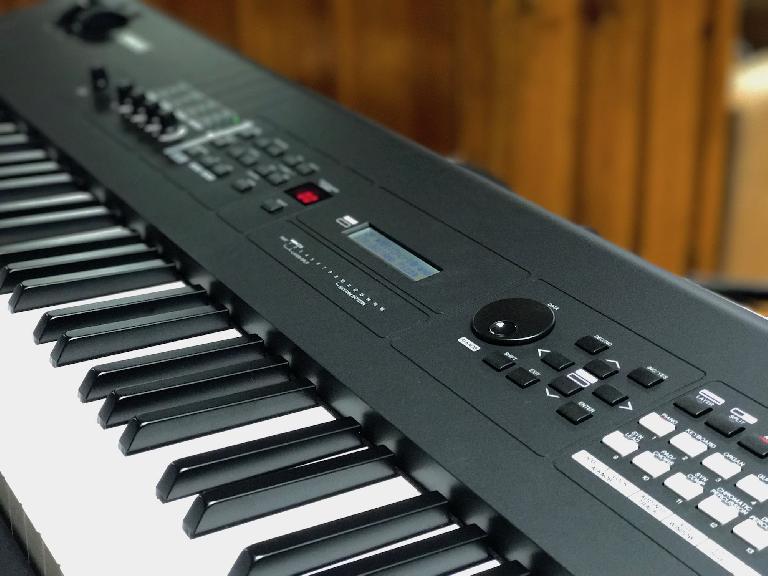 The MX88 is a class compliant USB MIDI and audio interface. It has transport controls for your DAW, includes the Yamaha VCM FX engine with some great modeled effects, and even has an accompanying iOS FM synth app that it 'unlocks' and works with quite nicely. Layers and splits can be created with a touch of a single hardware button, and the split point is easy to set. I'd love to have a hardware split point button, but that's being nit-picky. This keyboard is an excellent piece of gear to add to any gigging pianist's collection. If this is a 'first keyboard' for a fresh face in the performing world, it's an excellent choice. If you own a synth like the Montage and want to have a keyboard that is super lightweight, can call up sounds ultra-quickly, and is dead simple to use, look no further than the MX88.