Hot on the heels of checking out the 510 synth and 505 filter, I couldn't get the Roland 531 Mixer and 555 Modulator modules into my rack setup fast enough. I was already impressed by the sound source and filter options Roland has provided, so my expectations for modulation and mixing were quite high. Away we go!
System 500 555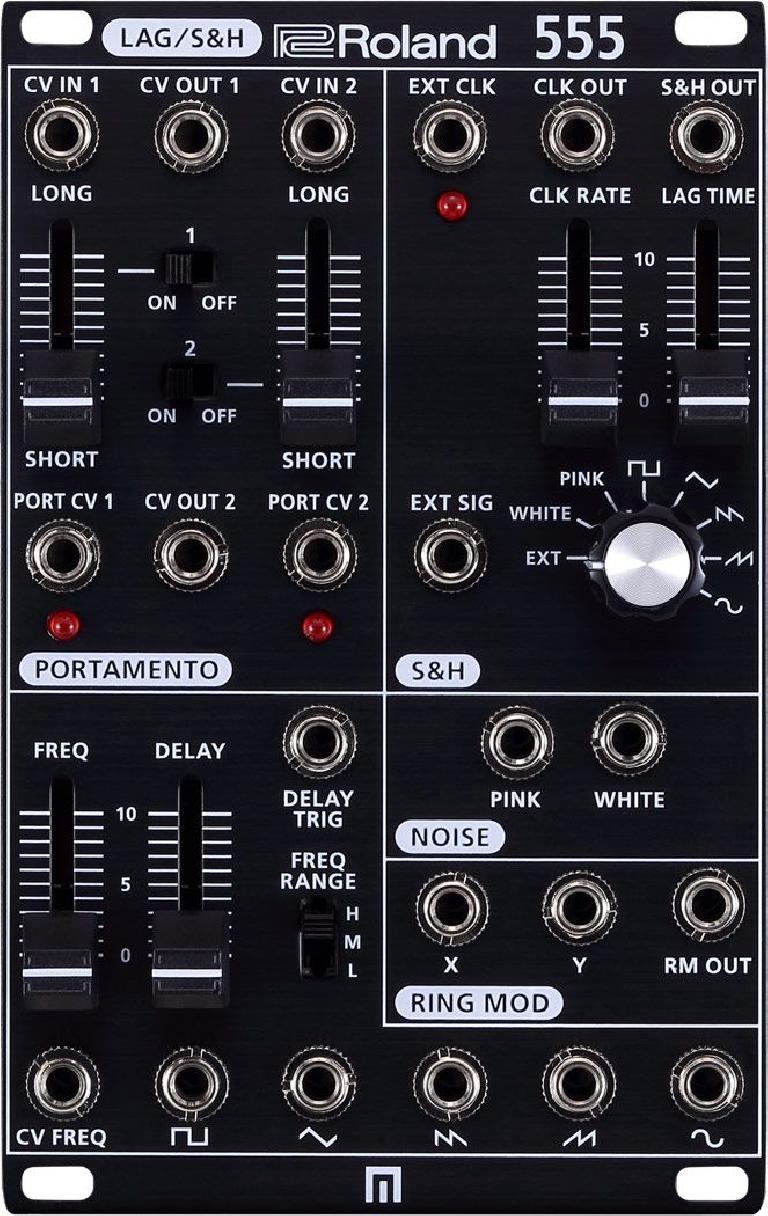 The System 500 555 (henceforth referred to as the 555) module has what can only be called a staggering amount of modulation and controls packed into 16hp. There is a sample and hold section that has 7 different waveforms, an internal lowpass filter, and lag/clock rate adjustments. There is an LFO section with an internal envelope and VCA, and this section has 5 discrete waveform outputs. There are dual CV controllable portamento circuits and a noise generator with pink and white outputs. Finally there is a ring modulator with x/y inputs and a ring mod out for crafting those wild and metallic sounds. Paired up with a sound source like the 510 you can really sculpt your sound into some wild places - but of course the 555 works well modulating anything in your entire rack.
System 500 531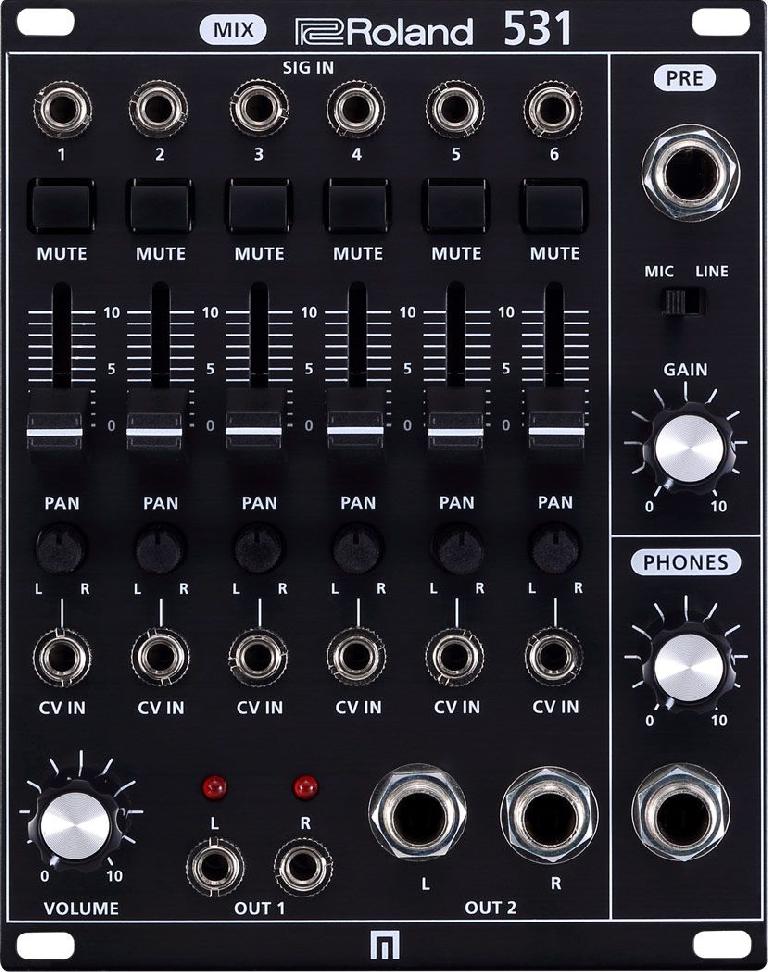 The 531 is a mixer module that just has to be seen to believed. It has 6 inputs, each with a level slider, pan, and CV input to control the pan value. There is a high quality stereo preamp to mix in mic/line level signals, and you can drive that preamp into a pleasing distortion with the gain knob. The dedicated headphone volume and output is welcome, but the main output section of the 531 really shines with 1/8" stereo and 1/4" stereo and an accompanying LED for signal presence indication topping off this impressive package.
In Use
I'm going to be completely honest here, when I was tasked to review the four new modules from Roland, the one I was least excited about was the mixer. I couldn't have possibly been more 'off the mark' in my expectations, because for me, the 531 mixer module really shines. The 531 is a fantastically flexible piece of kit packed into 20hp and it can completely transform your Eurorack workflow. The 531 does the work of three separate modules in a third of the hp space and at a third of the price. The ability to quickly mute any source, pipe in external audio, pan and modulate, and quite simply get your audio to the outside world all packed into one quality unit is nothing to be sneezed at. The 531 is definitely a module that will be the centerpiece of my rack for a long time.
I had a fantastic time with the 555, and the modulation options are truly diverse. The ability to quickly patch in sample and hold to my 510 synth module while simultaneously sending LFO to a percussion module all while outputting some pink noise to my third synth really brought out a ton of functionality to modules I already had. Again, Roland has created a single module that does the work of many, and the 555 does it well.
Conclusion
The 555 and 531 are high quality modules and if you're looking for a modulator you can't really go wrong with the 555. The 531 however is simply a must-have for any Eurorack enthusiast. This mixer unit can really tie your separate modules together and give you an excellent signal path for getting sound in and out of your Eurorack system. Bravo to Roland on great new entries into the Eurosphere!
Price: 555 - $349 / 531 - $399
Pros: Excellent build quality, boutique sound quality, noise free, easy to use, a TON of functionality packed into a small space for both of these modules. The 531 is a 'must have'.
Cons: I'd like to see more discounted combination packages available for purchasing multiple modules. I like all of them, but I don't necessarily 'need' all of them.
Web: https://www.roland.com/global/promos/system-500/
Learn more about modular synthesis: https://ask.audio/academy?nleloc=new-releases