If you're a composer / sound designer / keyboard player, you should definitely be hip to NOVO by Heavyocity. It's a really unique string library that has done for strings what Keyscape did for piano players. I was excited to read that Heavyocity would be adding to the NOVO family with yet another expansion pack, and also curious to know what direction they'd take. I downloaded Rhythmic Textures and gave it a whirl.
It's What's Inside That Counts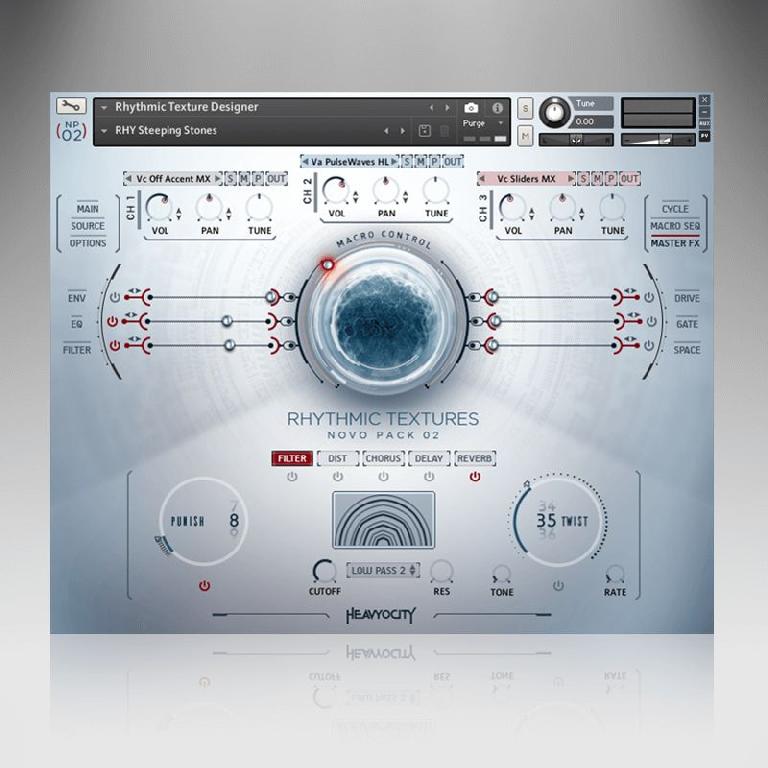 Rhythmic Textures contains 16 different ensemble articulations with over 12 gigabytes of content. Swells, waves, syncopation, staccatos, ostinati… it's all here. There are 10 separate NKI files which contain 221 individual snapshot presets using over 2,400 samples. You don't need the original NOVO instrument in order to run Rhythmic Textures, but I can't imagine using this instrument and not wanting NOVO.
There is a lot going in in terms of control, and if you're not familiar with NOVO, we've got a great review on the engine for you to check out. You have control over 6 different sub pages that encompass Envelope, EQ, Filter, Mix, Performance, and Space. Through those pages you can really craft the final 'sound' of any patch.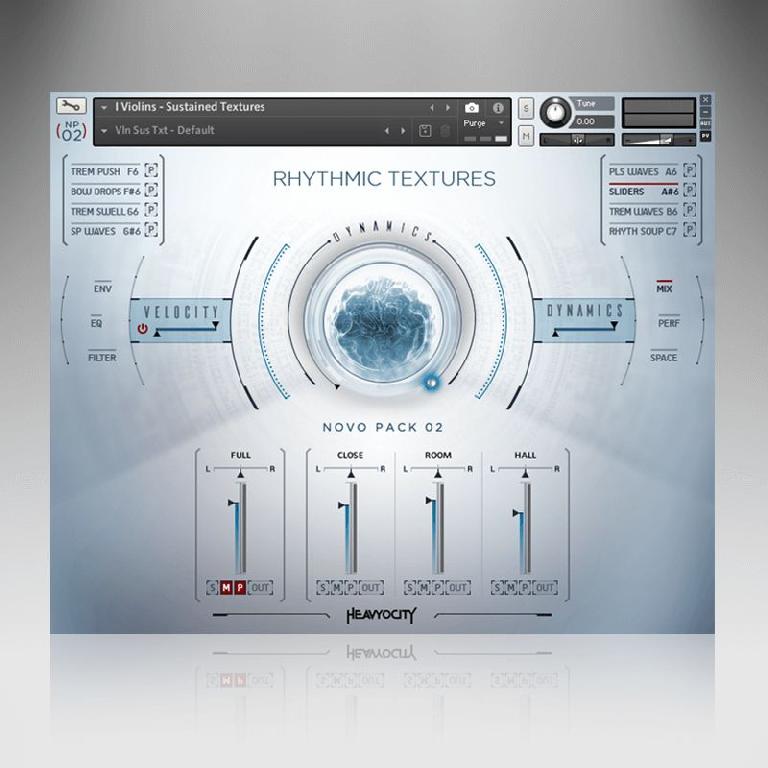 In addition to the snapshot presets, there are also key switches available which will cycle through the various types of motion on the standard textures such as swells, tremolo, slides and the like. They all sound quite beautiful and convincing, but it's almost overwhelming to think that this amount of control is only the very tip of the iceberg, and my favorite part of Rhythmic Textures comes in the form of the Rhythmic Texture Designer.
Hold Your Horses
When you open the Rhythmic Texture Designer NKI file, you're treated to a whole other side of RT. Now you've got a vast array of cleverly designed sounds that use acoustic strings as the 'inspiration', but really twist and warp what strings can sound like to the max. From synths to musical beds, there is so much here to get excited about.

Above is a clip of some organic swells. This uses several of the sections and adds both an ostinato type rhythm as well as a dynamic swell at the same time for some real authenticity. I didn't sequence any of this, this is all right out of the instrument/preset. For me, it hits the perfect 'sweet spot' between pre-sequenced loop and actual playable instrument.
In the 'warp what strings as an instrument means' department, this pad (audio above) starts to add some echoey arpeggiations and filter/envelope movement that makes it sound very synth-like. This instrument provides some of the best motion pads I've ever used.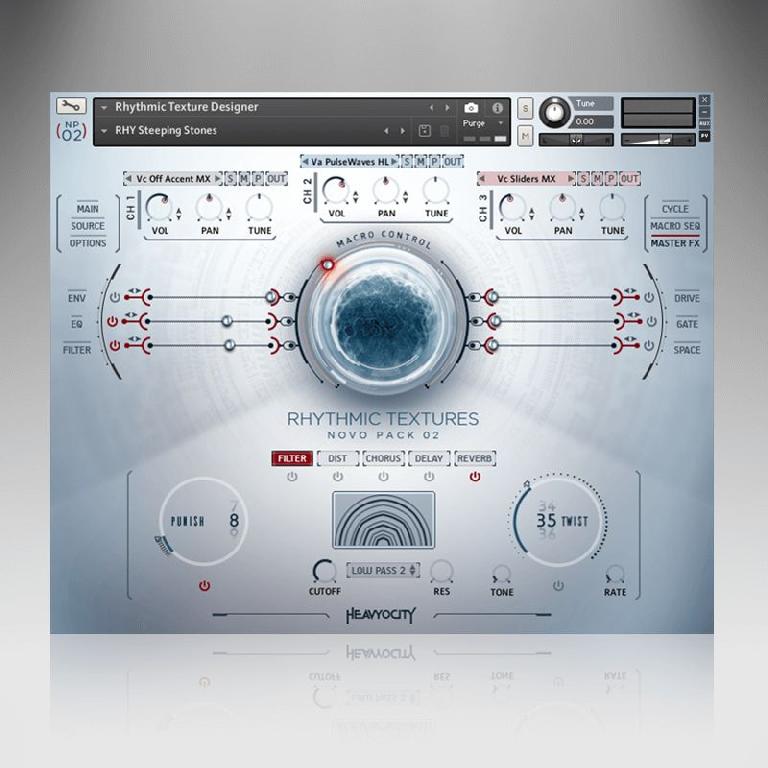 The effects engine includes a filter, distortion, chorus, delay, and reverb - as well as access to the 'twist' and 'punish' knobs familiar to those who use Heavyocity instruments. With this patch above, you can hear some effects of the 'cycle' mini-window as well as the effects engine pushing the delay to the max!
One of my favorite patches found in RT, this arpeggiated patch really shows off the 'soul' of Rhythmic Textures. It's a fantastic sound that's inspired by strings, sounds like strings (sometimes), sounds like a synth (also sometimes), and is just really fun to play. Truth be told, I kind of got lost in the arp category for a while, most of the patches are really a blast to get your fingers on.
Conclusion
Rhythmic Textures is a fine addition to the NOVO family, and the perfect addition to any musician who wants to make music using strings or inspired by strings. Pads with motion, arpeggiations with character, and organic strings with drama round out this awesome library. The fact that it's free with the purchase of Novo right now is the icing on the cake. Two thumbs up, for sure.
Price - $149 USD
Pros - Exquisitely designed sounds, easy to install, huge library of samples, wonderful sound engine, sounds range from orchestral to ethereal.
Cons - Some of the patches trend on the hi eq side, but that's probably a matter of my own taste. It's easily remedied by the on board EQ anyhow.
Web: https://heavyocity.com/product/rhythmic-textures
Learn more about scoring and composition in the Ask.Audio Academy: https://ask.audio/academy?nleloc=new-releases