RME has been known for their audio interfaces ever since bursting on the scene with their original line of FireWire audio interfaces. These interfaces quickly became the gold standard that all others were compared to. Although FireWire may have gone the way of the dinosaur, the newest offering from RME contains technology that is on the cutting edge, allowing connectivity between your interface and just about any other device you can throw at it. I took the Fireface UFX+ for a spin and here's what I found.
Hookup Culture

RME isn't joking when they tell you there is a lot of I/O packed into the UFX+. There are a grand total of 188 channels of audio packed into this single rack space behemoth. You've got 12 analog ins and outs, and 4 of those are digitally controlled mic/instrument preamps. There are 2 ADAT optical ports that can also be configured for S/PDIF connectivity. MADI connectivity is present with up to 64 channels of audio possible depending on the sample rate. AES/EBU is there in the form of a single XLR jack, and there is a BNC word clock port as well.
The analog inputs span the gamut from mic to instrument level, with the proper impedance options available for just about any instrument. There is a single headphone jack on the front, but the analog outputs on the rear can be configured to push out just about any mix you need and connected to a headphone amp as needed. Oh, and you get MIDI I/O to boot!
A Softer Side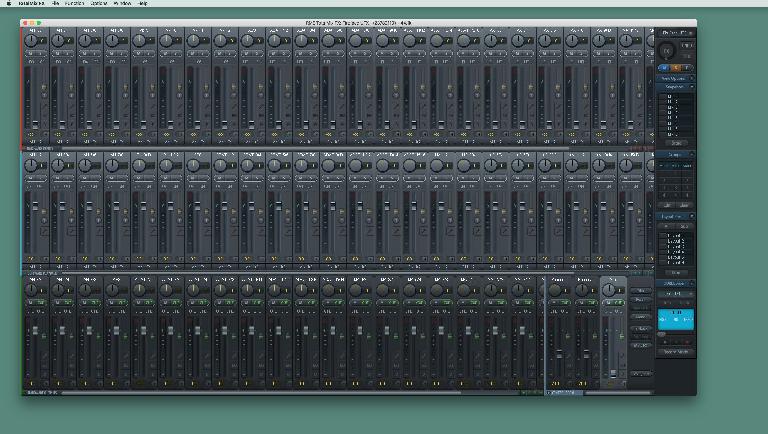 On the software side of things, the UFX+ is controlled by RME's TotalMix FX routing and mixing software. This software is also available for iPad, so you can leave your computer screen open for your DAW while still retaining control of the audio interface. As a bonus, if you want to hook up an ARC USB remote control, it's completely compatible with the UFX+ and gives you a small monitor/mix controller right at your fingertips with assignable buttons and foot switch.
TotalMix FX is a bit of a mixed bag for me.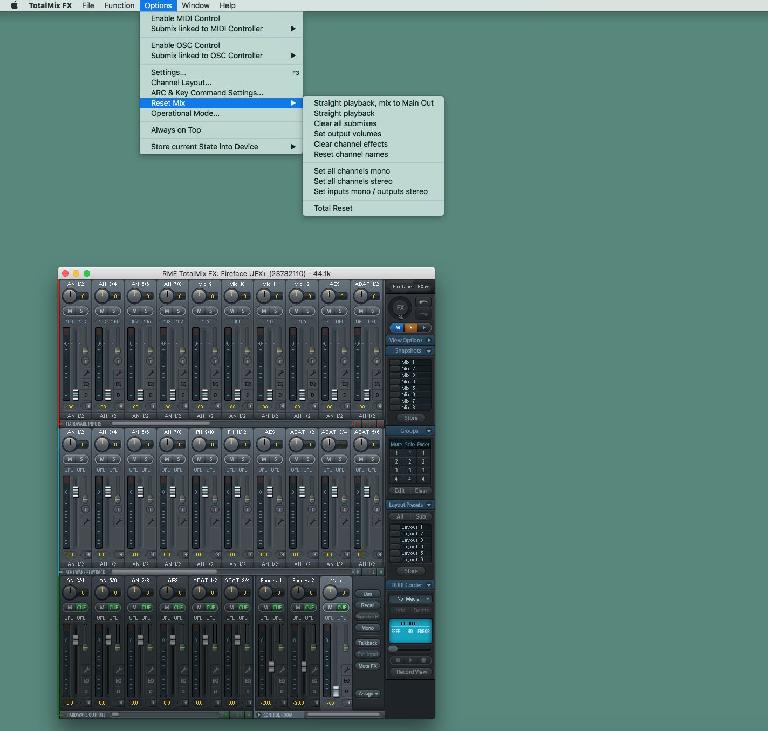 On one hand, there is a LOT packed into this software and I find the layout a little bit convoluted. On the other hand, there are some cool features of TotalMix FX that make it quicker to use than its competition. You can instantly switch to a 'DAW' mode with a single click that kills any monitoring/routing that you might not need during mixdown. You can also easily resize the window, which many other interface mixers don't allow you to do.
What's Cool
There are a bunch of features that I really dug and should point out. The first is the direct USB recording. You can use the UFX+ as a portable recording interface without your computer. Just pop in a USB flash drive and utilize the DURec to record 76 channels direct to USB. You can play back audio from the UFX+ in the same manner. You can send MIDI back and forth via MADI, and not just 5-pin MIDI jacks. The clocking on RME interfaces is always top notch, and the UFX+ is no exception. The included mic pres are SUPER quiet in terms of noise and have a boatload of headroom. Check a few sound samples below:
Conclusion
The RME Fireface UFX+ is one of the best modern interfaces that money can buy. At $2,799 it's definitely an investment, but it's priced competitively. I can recall the days where RME carried a pretty hefty premium for the brand and quality associated with it. The UFX+ is wonderfully built, sounds fantastic, and is priced well. Two thumbs up from us here at AskAudio.
Price: $2,799
Pros: Boatloads of connectivity, sturdy build quality, rock solid clocking, superior audio quality, excellent preamps, pedigree of good support and reliability.
Cons: Software has a bit of a learning curve, screen is a little on the low res side.
Web: https://www.rme-audio.de/en/products/fireface_ufx-plus.php