When I saw that Sample Logic was releasing a library of 'epic cinematic percussion' I had to hold back a little chuckle. Sample Logic is one of the few companies that constantly delivers on how 'big' their instruments are described as. I knew that when I would shortly be testing out Drum Fury, I'd probably have to be careful with the studio monitor volume. Spolier alert: I was right.
Anger Issues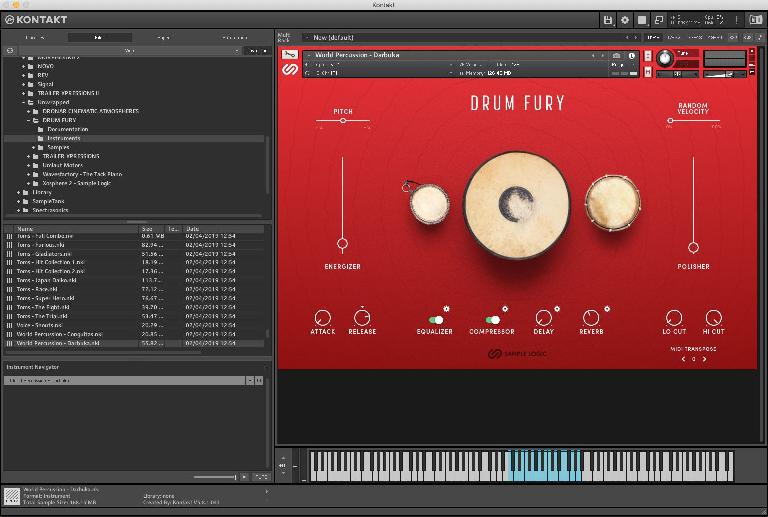 Drum Fury has over 11GB of drum instruments that are focused on delivering a huge, in-your-face, cinematic sound. Sample Logic tosses around words like 'apocalyptic' and 'thunderous' in the description of Drum Fury and they're really not kidding. The very first sound that showed up in the preset library was a concert bass drum. I'm going to level with you a bit here and tell you I can't ever remember thinking 'I need a decent concert bass drum sample'. That was until I tried Drum Fury. Now I'm scouring my upcoming jobs just *drooling* over the idea of using this instrument anywhere I can.
The sounds range from perfectly natural (bass drums, cymbals, gongs, marching drums) to cinematic impacts (crashes, multiple hits, downright explosions of sound). There is also a fair amount of world content in there (Taiko drums, Darbuka, Djambe, etc) that really shines. The content is incredibly easy to navigate and the presets are designed for an extremely high level of impact and polish right from the get-go. You don't need to do much to Drum Fury to bring… the fury.
Sounds Dangerous
It's funny, I use some Timpani in my professional playing life with Mark Wood (a founding member of Trans Siberian Orchestra) and his band. He plays a lot of cinematic 'classical meets heavy metal' type of music. To be clever, in one of my orchestral patches I included some tympani in the lower end. Now, I just snagged the Kontakt default timpani, but it really brought a level of power to my 'full orchestra' keyboard patch that wasn't there before.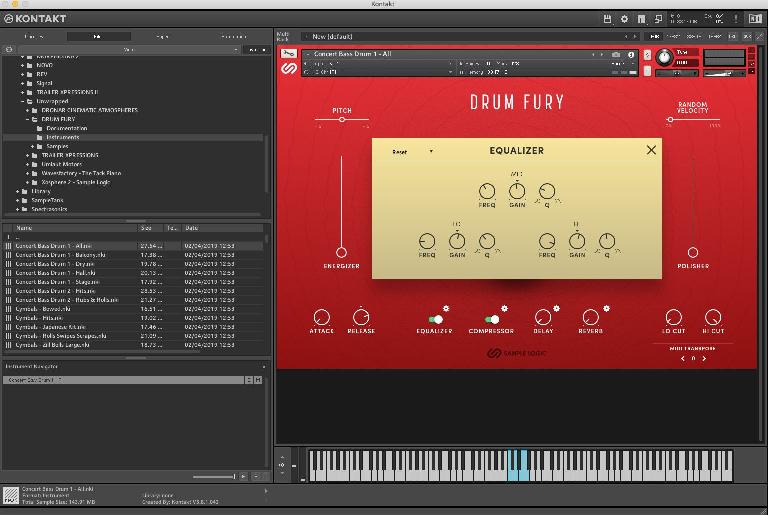 When I tell you that I'm truly embarrassed that I called what I put in there a timpani, I don't think you can ever completely understand my pain. After playing with a timpani from Drum Fury that clearly has more samples than ELP songs have notes, I don't ever want to play an orchestra keyboard patch without Drum Fury again. The level of detail, expression, and pure atmosphere in these patches just makes my old sound design feel like General MIDI in the mid 90's. These sounds make you feel like you live in them, they are so detailed and full. Check out a few samples below.
Sound Samples
The engine is sleek, well designed, and easy to use. There's a simple EQ, compressor, delay, and reverb. To the left is an energizer which I felt was very akin to a sonic enhancer - it brought the detail in the sound to the front, sometimes with punishing dynamics and energetic distortion. The polisher really gave it more of a stereo spread feel, and keep the dynamics in line. Really, though, I generally didn't even want to touch any of the presets. They all felt expertly designed and pretty much perfect as they were.
Conclusion
This instrument is damn near perfect. I didn't even know I needed it until I tried it, and now I'm embarrassed that I ever used anything else and deigned to call it 'percussion'. If you have *any* need at all for thunderous drums, look no further. This library is an absolute unit.
Price: $199 (intro price of $99)
Pros: Spectacular sound, fantastic presets, impeccable quality of samples, simple and elegant design.
Cons: I'd love a few more marching band-type snare drums to choose from, but really, they market this library as 'huge drums'. I guess now that I've heard what they do with huge drums I want them to make some small ones too!
Website: www.samplelogic.com