Ecco come No Dough descrivere il loro ultimo pacchetto di campioni, Reel to Reel - Ritmo :
Questo pacchetto è stato il nostro tempo per ottenere davvero scendere e sporco con la Studer Reel to Reel Tape macchina.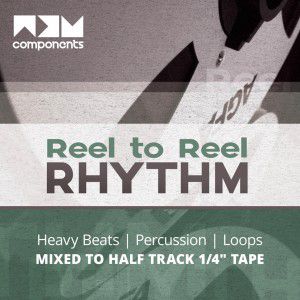 Reel to Reel - Ritmo.
L'idea alla base di questo pacchetto era catturare il suono dei re-mixer e campionatori che hanno moltiplicato la loro attività nei primi giorni, ri-campionamento tracce su nastro e tagliare fuori colpisce direttamente dalla bobina. Così abbiamo creato i nostri ritmi e loop di percussioni e mixato su nastro, ma non abbiamo fermiamo lì abbiamo poi sapientemente stiamo provato colpisce di nuovo dai passanti li ripulito la giusta quantità, in modo si ottiene anche una collezione di tamburi un colpo con tutto il calore e il carattere in più ci si può aspettare dal campionamento di alcune apparecchiature analogiche assolutamente stupendo.
Come al solito a ND noi non piace fermarsi anche sul nostro pacchetto di componenti che si concentrano su un piccolo elemento. Reel to Reel ritmi doesnt solo dispongono il ritmo loop in molte varianti (si pensi senza calcio, solo cappelli) così li si può lavorare nel progetto con un sacco di flessibilità, abbiamo anche fatto faticosamente file REX per ogni loop, campionato un pacchetto intero di singolo scatti dei loop e inclusi una variazione del compressore più prodotti di loop per chi vuole un po 'più schiaffo.
NDS Componenti Reel to Reel ritmo
Prezzo: 6.9914.99 GBP
Web: Clicca qui per ascoltare i campioni e acquistare il pacchetto .