Here's how No Dough describe their latest sample pack, Reel to Reel - Rhythm:
This pack was our time to really get down and dirty with the Studer Reel to Reel Tape machine. With tape you get such a complex and lovely rounded out of your sound, a smoothing of the highs without diminishing them, the transients become fuller and have more impact, sound less clicky. Often in the past we have offered variations of our drums run through tape, but this time the core sound of the pack is the sound of rhythmic beats and percussion recorded to tape in the most musical way we could. We used fresh NOS Quantegy 456 tape, a freshly calibrated and aligned classic Studer Revox machine and a whole load of skill and care to bring you a pack that's full of loops that were constructed on the Elektron Analog Rytm packed with raw energy that will give your track the engine it needs at its core and re-sampled one shots that have so much character and flair they set any mix on fire.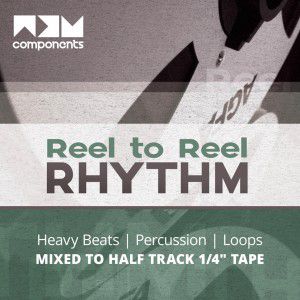 Reel to Reel - Rhythm.
The idea behind this pack was capturing the sound of the re-mixers and the samplers that plied their trade in the early days, re-sampling tracks to tape and chopping out hits directly from the reel. So we first created our beats and percussion loops and mixed them to tape, but we didn't stop there '" we then expertly re sampled hits back out of the loops cleaned them up just the right amount, so you also get a collection of one shot drums featuring all the warmth and extra character you can expect from sampling from some utterly gorgeous analogue equipment.
As usual at ND we don't like to stop short even on our components pack which focus on one small element. Reel to Reel Rhythms doesn't just feature the rhythm loops in many variations (think no kick, just hats) so you can work them into your project with lots of flexibility, we also painstakingly made REX files for each loop, sampled a whole pack of single shots from the loops and included a more produced compressor variation of the loops for those who want a little more smack. In this tool kit you get all you need to put together some beefy beats, fully analogued up with super lush re-sampled tones. This is THE analogue rhythm toolkit for the DAW user.
NDS Components '" Reel to Reel Rhythm
Price: £6.99'"£14.99 GBP