Voici comment Aucune pâte décrire leur dernier pack de l'échantillon, un magnétophone à bobines - Rhythm :
Ce pack est notre temps de vraiment descendre et sale avec le Studer Reel to Reel machine à bande.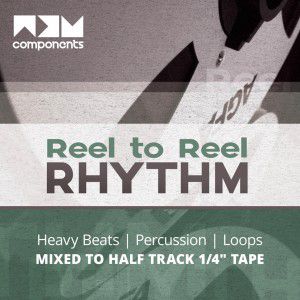 Reel to Reel - Rhythm.
L'idée derrière ce pack était capturer le son des re-mixeurs et les échantillonneurs qui naviguaient sur leur commerce dans les premiers jours, ré-échantillonnage des pistes à bande et hacher les frappe directement à partir de la bobine. Nous avons donc créé nos beats et boucles de percussion et les mixtes pour bande, mais on na pas arrêter là nous avons ensuite habilement Re échantillonné frappe de retour sur les boucles les nettoyé juste la bonne quantité, de sorte que vous obtenez également une collection de tambours one shot avec toute la chaleur et le caractère de plus vous pouvez vous attendre de l'échantillonnage de certains équipements analogiques absolument magnifique.
Comme d'habitude chez ND nous ne voulons arrêter court même sur notre paquet composants qui se concentrent sur un petit élément. Reel to Reel Rythmes juste ne disposent le rythme des boucles dans de nombreuses variantes (ne pensez coup, à seulement chapeaux) de sorte que vous pouvez les intégrer à votre projet avec beaucoup de souplesse, nous avons également bien pris la peine fichiers REX pour chaque boucle, échantillonné un paquet entier de simple coups de boucles et inclus une variation de compresseur plus produit des boucles pour ceux qui veulent un peu plus de claque.
NDS Composants Reel to Reel Rhythm
Prix: 6.9914.99 GBP
Web: Cliquez ici pour écouter des extraits et acheter le pack .