Hier ist, wie No Dough beschreiben ihre neuesten Probepackung, Reel to Reel - Rhythm :
Dieses Paket war unsere Zeit, um wirklich nach unten und schmutzig mit dem Studer Spulenkassettenmaschinenrolle.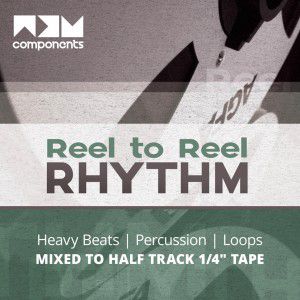 Reel to Reel - Rhythm.
Die Idee hinter diesem Paket war die Erfassung der Klang der Wieder Mischer und die Sampler, die ihr Handwerk in den frühen Tagen gefachte trifft Neuabtastergebnissignal Spuren auf Band und Zerkleinern direkt von der Rolle. Also zuerst erstellt haben wir unsere Beats und Percussion-Loops und mischte sie auf Band, aber wir haben nicht dort halten wir dann fachmännisch neu abgetastet schlägt zurück aus den Schlaufen putzte sie sich genau die richtige Menge, so erhalten Sie auch eine Sammlung von einem Schuss Trommeln mit all die Wärme und zusätzlichen Zeichen, das Sie von der Probenahme von einigen ganz herrlich analogen Geräten erwarten.
Wie üblich bei ND wir nicht gerne kurze sogar auf unsere Komponenten Packung, die auf einer kleinen Element den Fokus zu stoppen. Rolle zu Rolle Rhythms nicht gerade verfügen der Rhythmus-Loops in vielen Variationen (denken keinen Schwung, nur Hüte), so können Sie sie in Ihrem Projekt mit viel Flexibilität arbeiten wir auch akribisch gemacht REX-Dateien für jede Schleife, abgetastet eine ganze Packung von Einzel Aufnahmen aus den Schlaufen und beinhaltete eine mehr produziert Kompressor Variation der Schleifen für die, die ein wenig mehr klatschen möchte.
NDS Components spulen Rhythm
Preis: 6.9914.99 GBP
Web: Hier klicken, um die Proben zu hören und kaufen Sie die Packung .