Il ya peu de doute dans mon esprit que Kong est l'une des machines à tambour le plus puissant sur le marché aujourd'hui. La qualité même des sources sonores disponibles est l'un des principaux points forts c'est l'infirmière et le Rex lecteur de boucles est certainement parmi les moments forts ici.
When playing back slices of Rex files in Kong you need to be intimately familiar with the Nurse Rex's playback methods, two of these are chunk and slice trigger modes. Let's quickly cover these now.

Étape 1: Obtenir des fichiers REX en-Kong
Avant d'entrer dans des modes de lecture Kong nous devons d'abord obtenir l'initié et charge de nos fichiers. Rex. Nous faisons cela en chargeant un patch totalement vierge en-Kong, puis en sélectionnant l'infirmière Rex lecteur de boucles comme le générateur de sons pour le nombre pad.
Grâce à notre Rex infirmière installée, nous pouvons aller de l'avant et de charger n'importe quel fichier Rex en frappant simplement sur l'icône de chargement dans la partie supérieure de l'interface du Rex infirmière. Avec nos fichiers Rex chargés, nous pouvons commencer à réfléchir à des modes de lecture différents.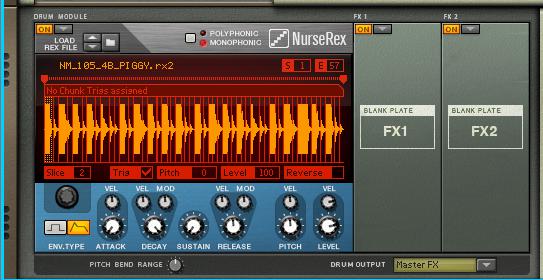 Chargement d'un fichier. Rex dans le lecteur de l'infirmière Rex
Etape 2: Utilisation du mode Chunk Trig
Avec l'infirmière Rex placés sur pad, il est automatiquement placé en mode «butoir». Cela signifie que la boucle entière sera lue sur frappant le pad, mais il ya effectivement trois autres modes qui peuvent être utilisées ici.
Les modes en question sont "morceau TRIG», «tranche TRIG» et «stop». Première place nous allons jeter un oeil à TRIG morceau de mode.
La vraie beauté de Kong est que la source sonore même chose peut être attribué à un certain nombre de ses raquettes et ceci est une caractéristique essentielle quand il s'agit d'utiliser différents modes de Rex infirmière.
Pour ce faire passer à un pad blanc et utiliser le numéro d'affectation du tambour qui se rapporte à l'infirmière d'origine Rex. Dans ce cas, j'ai déménagé à coussin 2 et utilisé le numéro de l'affectation du tambour 1. Cet ensemble signifie que les deux pads sont déclenchant le même générateur.
Maintenant, changez les deux plaquettes pour segmenter TRIG mode. Vous noterez la boucle est alors divisé en deux au sein de l'affichage principal du Rex infirmière. C'est la clé pour segmenter le mode TRIG car elle permet de déclencher différents pads individuels «morceaux» ou des sections de votre boucle.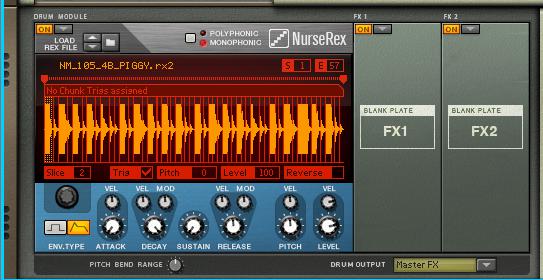 Nos coussinets sont désormais mis à TRIG morceau en mode
Les coussinets plus vous affecter à l'Rex infirmière dans ce mode, les morceaux plus la boucle sera divisé en mais la boucle peut également être manuellement découpé en changeant les longueurs morceau. C'est un mode idéal pour déclencher vos boucles à travers un certain nombre de plaquettes et il est relativement facile à mettre en place.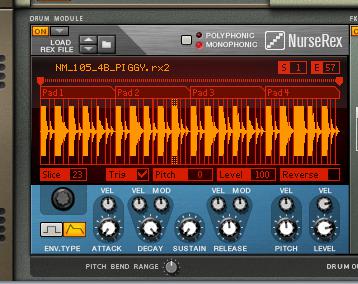 L'infirmière Rex écran affiche maintenant la boucle divisée en morceaux
Étape 3: Utilisation du mode Slice Trig
Sinon, vous pouvez essayer d'utiliser "Slice TRIG« mode. Cela peut aussi être utilisé dans n'importe quel nombre de plaquettes, mais au lieu de déclencher des «morceaux» de votre boucle, il fait maisons sur des tranches individuelles du fichier. Rex.
C'est très bien pour le déclenchement frappe seul tambour au sein d'une boucle ou un effet dans une boucle de l'instrument. En fait, vous choisissez les tranches que vous voulez déclencher en sélectionnant la tranche dans l'interface du Rex infirmière et en cochant la case tranche.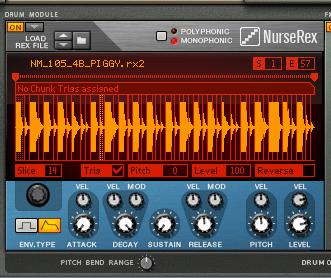 Cochant la case tranche détermine tranche sera déclenchée
Si vous sélectionnez plus d'une tranche à ce stade les tranches choisie sera déclenchée afin que vous frappez le pad. Vous pouvez faire de grands remplit en sélectionnant vos tubes préférés dans une boucle et la programmation d'un rouleau ou un motif continu.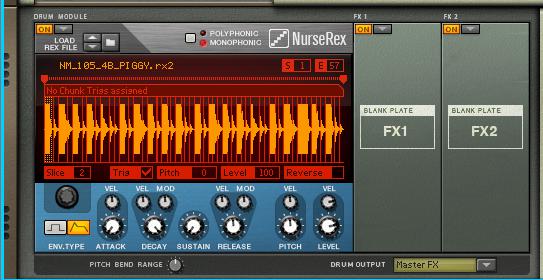 Nos coussinets sont désormais mis à TRIG morceau en mode