Há pouca dúvida em minha mente que Kong é uma das mais poderosas máquinas de tambor no mercado hoje. A qualidade das fontes sonoras disponíveis é um dos principais pontos fortes é a enfermeira e Rex jogador loop é certamente um dos grandes destaques aqui.
When playing back slices of Rex files in Kong you need to be intimately familiar with the Nurse Rex's playback methods, two of these are chunk and slice trigger modes. Let's quickly cover these now.

Passo 1: Arquivos em Getting Rex Kong
Antes de chegarmos em modos de reprodução Kong primeiro precisamos obtê-lo iniciado e carregar nossos arquivos. Rex. Fazemos isso por carregar um patch completamente em branco Kong e selecionando a enfermeira Rex jogador laço como o gerador de som para almofada de número um.
Com a nossa enfermeira Rex instalado podemos ir em frente e carregar qualquer arquivo Rex, basta bater o ícone de carga no topo da interface do Rex enfermeira. Com nossos arquivos Rex carregado, podemos começar a pensar em diferentes modos de reprodução.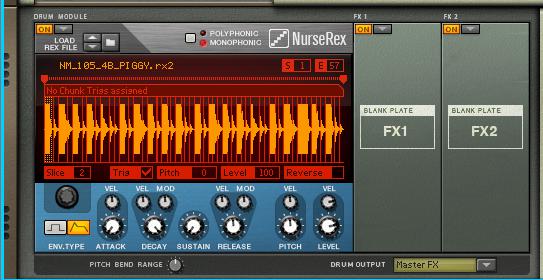 Carregando um arquivo. Rex no Nurse Rex jogador
Passo 2: Usando o Chunk Modo Trig
Com a enfermeira Rex colocado em um pad que é automaticamente colocado no modo 'Loop trig. Isto significa que o ciclo inteiro vai ser reproduzidos em bater no pad, mas na verdade existem três modos de outros que podem ser usados ​​aqui.
Os modos em questão são "pedaço trig ',' fatia trig 'e' stop '. Primeiro, vamos até dar uma olhada no modo de trig pedaço.
A verdadeira beleza do Kong é que a fonte sonora mesmo pode ser atribuído a um número de pastilhas e que é esta é uma característica crucial quando se trata de usar vários modos o Rex da enfermeira.
Para fazer esta mudança para uma almofada em branco e usar o número de atribuição de bateria que se relaciona com o original Nurse Rex. Neste caso eu me mudei para preencher 2 e usou o número do cilindro atribuição 1. Este conjunto significa que ambos os blocos estão provocando o mesmo gerador.
Agora, mudar ambas as almofadas para o modo de trig pedaço. Você vai notar que o loop é então dividido em dois dentro da tela principal Rex enfermeira. Esta é a chave para o modo de trig pedaço, pois permite almofadas diferentes para acionar individuais 'pedaços' ou seções de seu loop.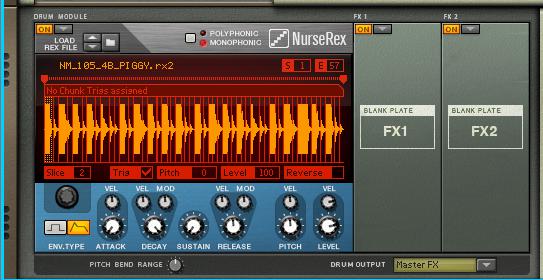 Nosso almofadas são agora definida para o modo de trig pedaço
As almofadas mais que você atribui ao Rex Nurse neste modo, os pedaços mais o laço será dividido em loop, mas também podem ser fatiados manualmente alterando os comprimentos pedaço. Este é um modo excelente para o seu desencadeamento loops através de um número de pastilhas e é relativamente fácil de configurar.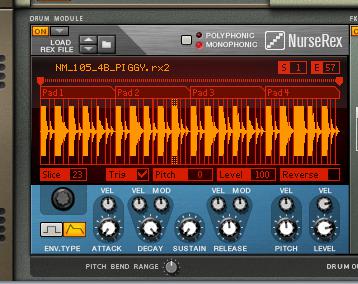 A enfermeira Rex mostrar agora mostra o circuito dividido em pedaços
Passo 3: Usando a Slice Modo Trig
Alternativamente, você pode tentar usar "Slice trig 'modo. Isso também pode ser usado em qualquer número de almofadas, mas ao invés de desencadear 'pedaços' de seu loop ele realmente em casas em fatias individuais do arquivo Rex..
Isso é ótimo para provocar batidas graves única dentro de um loop ou um efeito de um loop de instrumento. Você realmente escolher as fatias que você deseja acionar, selecionando a fatia na interface do Rex enfermeira e assinalando a caixa de fatia.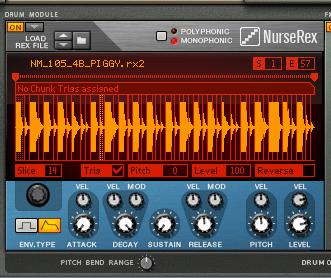 Assinalando a caixa fatia fatia determina qual será acionado
Se você selecionar mais de uma fatia nesta fase as fatias escolhidas será desencadeada de forma que você bater o bloco. Você pode fazer grande enche selecionando seus hits favoritos em um loop e um rolo de programação ou padrão contínuo.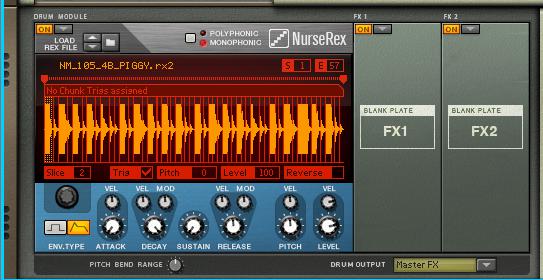 Nosso almofadas são agora definida para o modo de trig pedaço