Non c'è dubbio nella mia mente che Kong è una delle drum machine più potente sul mercato oggi. La qualità pura delle sorgenti sonore disponibili è uno dei suoi principali punti di forza e il giocatore infermiera Rex loop è sicuramente tra i punti salienti qui.
When playing back slices of Rex files in Kong you need to be intimately familiar with the Nurse Rex's playback methods, two of these are chunk and slice trigger modes. Let's quickly cover these now.

Fase 1: Per i file in Rex Kong
Prima di entrare in modalità di riproduzione Kong abbiamo prima bisogno di ottenere ha avviato e caricare i nostri file. Rex. Lo facciamo caricando una patch completamente vuoto nella Kong e poi selezionando il giocatore Infermiera Rex ciclo come il generatore di suoni per il tastierino numerico uno.
Con la nostra infermiera Rex installato possiamo andare avanti e caricare qualsiasi file Rex semplicemente premendo l'icona di carico nella parte alta dell'interfaccia del Rex infermiere. Con i nostri file caricati Rex possiamo cominciare a pensare a diverse modalità di riproduzione.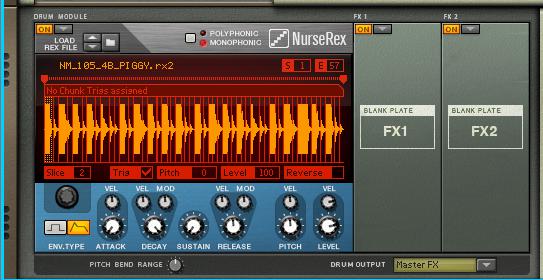 Caricamento di un file. Rex nel Nurse Rex giocatore
Fase 2: Utilizzo della modalità Chunk Trig
Con l'infermiera Rex immessi sul pad uno è automaticamente posto in modalità 'Loop trig'. Ciò significa che l'intero ciclo verrà riprodotto a colpire il pad, ma in realtà vi sono altri tre modi che possono essere utilizzati qui.
Le modalità in questione sono 'pezzo trig', 'fetta trig' e 'stop'. In primo luogo fino daremo uno sguardo al modo pezzo trig.
La vera bellezza di Kong è che la fonte del suono stesso può essere assegnato a un numero del suo pad e questa è una caratteristica cruciale quando si tratta di utilizzare il Rex infermiere vari modi.
Per fare questa mossa a un pad bianco e utilizzare il numero di assegnazione del tamburo che si riferisce al Nurse Rex originale. In questo caso mi sono trasferito a pad 2 e assegnazione dei numeri utilizzati tamburo 1. Questo insieme significa che entrambi i pad sono innescando il generatore stesso.
Ora entrambi i pad per cambiare la modalità pezzo trig. Noterete che il ciclo viene poi diviso in due nel display principale di Rex infermiere. Questa è la chiave in modalità pezzo trig in quanto consente pad diversi per far scattare i singoli 'pezzi' o sezioni del vostro loop.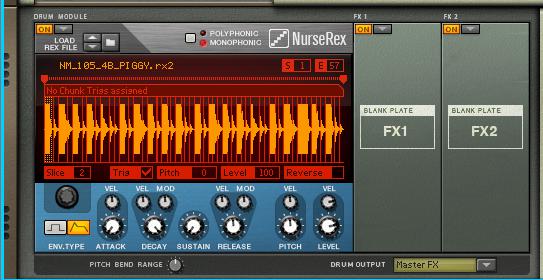 Le nostre pastiglie sono ora impostato sulla modalità pezzo trig
Le pastiglie più assegnato al Rex infermiera in questa modalità, i pezzi più il ciclo sarà diviso in, ma il ciclo può anche essere tagliato manualmente da cambiando le lunghezze pezzo. Questo è un grande modo per innescare il vostro loop in un certo numero di pattini ed è relativamente facile da configurare.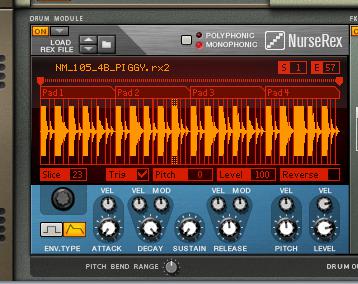 L'infermiera Rex display mostra ora il ciclo diviso in blocchi
Fase 3: utilizzando la modalità Slice Trig
In alternativa si potrebbe provare ad usare 'Slice trig' modalità. Questo può anche essere utilizzato su qualsiasi numero di pastiglie, ma invece di innescare 'pezzi' del tuo ciclo in realtà case in su singole sezioni del file. Rex.
Questo è grande per innescare colpi di batteria singola all'interno di un loop o un effetto da un ciclo strumento. In realtà scegliere le fette si desidera attivare selezionando la fetta nell'interfaccia del Rex infermiera e spuntando la casella fetta.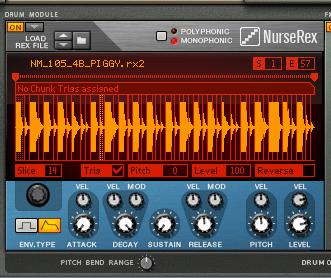 Spuntando la casella fetta determina quale fetta verrà attivato
Se si seleziona più di una porzione a questo punto le fette scelto verrà attivato in ordine come si colpisce il pad. È possibile effettuare grandi riempie, selezionando la tua brani preferiti in un ciclo di programmazione e un rotolo o un pattern continuo.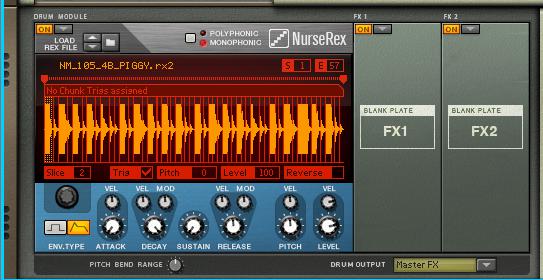 Le nostre pastiglie sono ora impostato sulla modalità pezzo trig