Cambridge, MA (20. November 2014) - iZotope, Inc., ein führender Audio-Technologie-Unternehmen, hat soeben die neueste Version des Sample-basierten Synthesizer, Iris. Iris 2 ist ein Sichtinstrument, das die Leistung von einem Abtaster mit der Flexibilität eines modularen Synthesizer verbindet.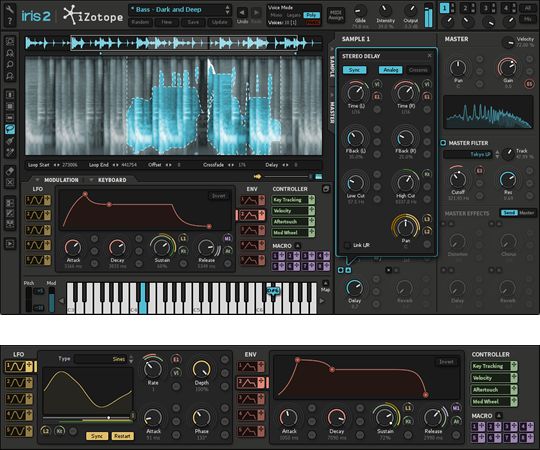 Neue Features umfassen eine robuste Modulationssystem, Probenpools, die beide Proben und klassischen Oszillatorwellenformen laden können, eine völlig neu gestaltete Benutzeroberfläche mit umfangreichen Visualisierungen und Dosierung, verbesserte Effekte und Filter, und frische Flecken, um Kreativität zu begeistern.
Iris 2 ist so gebaut, dass die neuen Sounds können direkt aus der Box entdeckt zu werden, einschließlich steigenden Leads, Knurren Bässe, klassischen Synths und perkussiven Effekten. Mehr als 350 Patches mit intuitiven Bedienelementen sind enthalten, so dass die Nutzer leicht erzeugen und führen durch Musik, die sie optimiert und angepasst haben.
"After listening carefully to feedback from hundreds of musicians, producers, and sound designers, it became clear that Iris is a one-­of­-a-kind tool in their craft," says iZotope Product Manager Bradford Swanson. "We've designed Iris 2 to help inspire musicians with new possibilities and sounds that are easy to access and tweak, but still totally unique."
Der Kern der Iris 2 Kreativmotor ist die Möglichkeit, Proben Schicht. Endlose Kombinationen können durch Mischen erfolgen über einen integrierten Sammlung von analogen Oszillator-Wellenformen, ein 11 GB Sound Library von Proben und eigenen Audio-Dateien der Benutzer. Dynamische Tremolo-Effekte, ausdrucks Vibratos, und radikale Filterverläufe können über bis zu fünf einstellbarer Curve ADSR-Hüllkurven, sowie fünf LFOs mit Dutzenden von Morphing-Wavetable-Optionen erzielt werden. Iris 2 erfolgt über mehrere Effekte abgerundet, wie acht Verzerrungen, einem klassischen Synthesizer-Chorus, digitale und analoge Delay-Optionen und einem warmen Plattenhall-Emulation.
iZotope preisgekrönten spektralen Filtertechnologie trägt zur Iris Erfahrung. Benutzer können zu visualisieren und ihren Sound zu bearbeiten mit unglaublicher Präzision, indem, der Auswahl und Isolierung Schallkomponenten von jeder Probe Schicht.
Siehe Iris 2 in Aktion:
Höre die Töne der Iris 2:
Erfahren Sie mehr unter: www.izotope.com/iris
Verfügbarkeit
Iris 2 ist jetzt bei www.izotope.com/iris und bei ausgewählten Einzelhändlern erhältlich.
Preise
Iris 2 ist zum Verkauf für $ 199 USD ($ 99 USD Upgrade) bis 11. Dezember 2014. Nach diesem Datum wird Iris 2 zum regulären Preis von $ 299 USD ($ 149 USD Upgrade) zur Verfügung stehen.
Für internationale Kunden, Sie bei Ihrem Händler vor Ort für Iris 2 Preisgestaltung.
Kompatibilität
Iris 2 läuft als Plug-In oder als eigenständige Anwendung.
Betriebssystemanforderungen:
Fenster: 7, 8
Plugin-Formate:
32/64 Bit Audio Units, VST, VST3, AAX, und RTAS
Plugin-Host-Kompatibilität:
Web: www.izotope.com/iris