Cambridge, MA (20 de novembro de 2014) - iZotope, Inc., uma empresa líder em tecnologia de áudio, acaba de lançar a nova versão do seu sintetizador baseado em samples, Iris. Iris 2 é um instrumento visual que combina o poder de uma amostra com a flexibilidade de um sintetizador modular.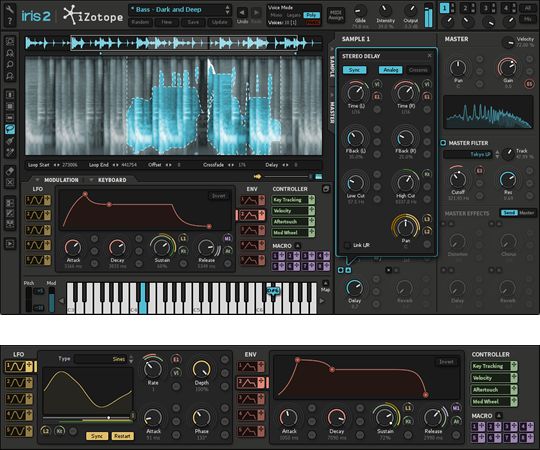 Os novos recursos incluem um sistema de modulação robusta, pools de amostras que podem carregar ambas as amostras e formas de onda de osciladores clássicos, uma interface completamente redesenhada com visualizações extensas e medição, efeitos e filtros avançados, e os remendos frescos para inspirar a criatividade.
Iris 2 é construído para que novos sons podem ser descobertos para a direita fora da caixa, incluindo leads altos, baixos rosnar, sintetizadores clássicos, e efeitos percussivos. Mais de 350 patches com controles intuitivos são incluídos, de modo que os usuários podem facilmente produzir e executar a música que eles têm refinado e personalizado.
"After listening carefully to feedback from hundreds of musicians, producers, and sound designers, it became clear that Iris is a one-­of­-a-kind tool in their craft," says iZotope Product Manager Bradford Swanson. "We've designed Iris 2 to help inspire musicians with new possibilities and sounds that are easy to access and tweak, but still totally unique."
O núcleo do motor criativo de Iris 2 é a capacidade de sobrepor amostras. Infinitas combinações podem ser feitas através da mistura de um built-in coleção de formas de onda analógicas oscilador, uma biblioteca de sons 11 GB de amostras, e próprios arquivos de áudio dos usuários. Efeitos dinâmicos de tremolo, vibratos expressivos, e varreduras de filtro radicais pode ser alcançado através de até cinco envelopes curva ADSR ajustáveis, bem como cinco LFOs com dezenas de opções de morphing wavetable. Iris 2 é arredondado para fora com vários efeitos, como oito distorções, um synth coro clássico, opções de atraso digitais e analógicos, e uma placa de emulação reverb quente.
tecnologia de filtragem espectral premiado da iZotope contribui para a experiência Iris. Os usuários podem visualizar e editar o seu som com incrível precisão pelo desenho, seleção e isolar componentes sonoras de cada camada da amostra.
Veja Iris 2 em ação:
Ouvir os sons de Iris 2:
Saiba mais em: www.izotope.com/iris
Disponibilidade
Iris 2 está disponível agora em www.izotope.com/iris e em revendedores selecionados.
Preço
Iris 2 está à venda por US $ 199 USD (US $ 99 atualização USD) a 11 de dezembro de 2014. Após essa data, Iris 2 estará disponível ao preço normal de R $ 299 USD ($ 149 USD upgrade).
Para os clientes internacionais, verifique com seu revendedor local para Iris 2 de preços.
Compatibilidade
Iris 2 é executado como um plug-in ou como um aplicativo independente.
Requisitos do sistema operacional:
Windows: 7, 8
Formatos de plugin:
Áudio Units 32/64 bit, VST, VST3, AAX, e RTAS
Compatibilidade de acolhimento Plugin:
Web: www.izotope.com/iris