Cambridge, MA (20 Nov 2014) - iZotope, Inc., una società leader di tecnologia audio, ha appena rilasciato la nuova versione del proprio sintetizzatore a campione, Iris. Iris 2 è uno strumento visivo che combina la potenza di un campionatore con la flessibilità di un sintetizzatore modulare.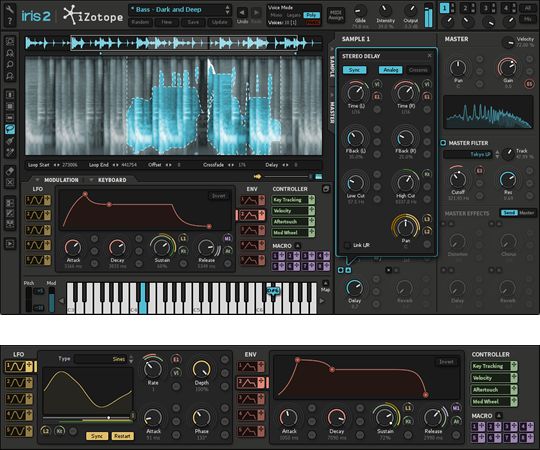 Le nuove caratteristiche includono un sistema di modulazione robusto, pool di campioni che possono caricare entrambi i campioni e le classiche forme d'onda dell'oscillatore, un'interfaccia completamente ridisegnata con ampie visualizzazioni e dosaggio, effetti avanzati e filtri, e patch freschi per ispirare la creatività .
Iris 2 è costruito in modo che i nuovi suoni possono essere scoperti a destra, fuori dalla scatola, tra cui cavi impennata, bassi ringhiosi, sintetizzatori classici ed effetti percussivi. Più di 350 le patch con controlli intuitivi sono inclusi, in modo che gli utenti possono facilmente produrre ed eseguire musica che hanno ottimizzato e personalizzato.
"After listening carefully to feedback from hundreds of musicians, producers, and sound designers, it became clear that Iris is a one-­of­-a-kind tool in their craft," says iZotope Product Manager Bradford Swanson. "We've designed Iris 2 to help inspire musicians with new possibilities and sounds that are easy to access and tweak, but still totally unique."
Il nucleo del motore creativo di Iris 2 è la capacità di sovrapporre campioni. Infinite combinazioni possono essere fatti mescolando un built-in insieme di forme d'onda analogiche oscillatore, una libreria di suoni 11 GB di campioni, e di propri file audio degli utenti. Effetti dinamici tremolo, vibrato espressive, e spazza filtro radicali possono essere raggiunti attraverso un massimo di cinque buste curva ADSR regolabili, così come cinque LFO con decine di morphing opzioni wavetable. Iris 2 si completa con molteplici effetti, come otto distorsioni, un classico coro synth, opzioni delay digitali e analogici, e una emulazione caldo piatto di riverbero.
premiata tecnologia di filtraggio spettrale di iZotope contribuisce all'esperienza Iris. Gli utenti possono visualizzare e modificare il loro suono con incredibile precisione disegnando, selezionando, e isolando i componenti sonori da ogni strato del campione.
Vedere Iris 2 in azione:
Ascoltate i suoni di Iris 2:
Per saperne di più su: www.izotope.com/iris
Disponibilità 
Iris 2 è già disponibile presso www.izotope.com/iris e presso i rivenditori selezionati.
Prezzi
Iris 2 è in vendita per $ 199 USD ($ 99 USD aggiornamento) attraverso 11 dicembre 2014. Dopo tale data, Iris 2 sarà disponibile al prezzo normale di $ 299 USD ($ 149 USD aggiornamento).
Per i clienti internazionali, verificare con il rivenditore locale per Iris 2 prezzi.
Compatibilità 
Iris 2 funziona come un plug-in o come applicazione standalone.
Requisiti di sistema operativo:
Finestre: 7, 8
Formati Plugin:
32/64 bit Audio Units, VST, VST3, AAX e RTAS
Compatibilità dell'host Plugin:
Web: www.izotope.com/iris