Cambridge, MA (20 de noviembre de 2014) - iZotope, Inc., una empresa líder en tecnología de audio, acaba de lanzar la nueva versión de su sintetizador basado en muestras, Iris. Iris 2 es un instrumento visual que combina la potencia de un sampler con la flexibilidad de un sintetizador modular.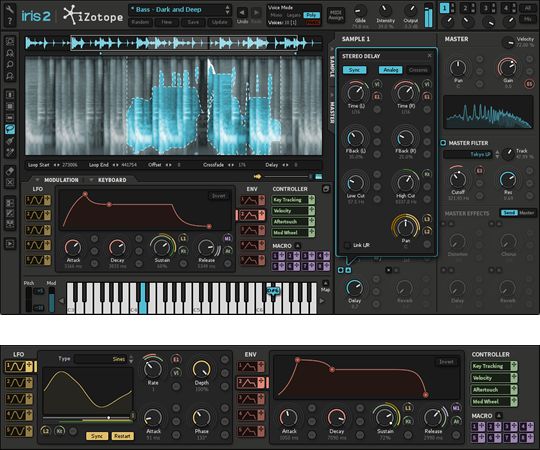 Las nuevas características incluyen un sistema de modulación robusta, pools de muestras que pueden cargar ambas muestras y formas de onda del oscilador clásico, una interfaz completamente rediseñada con amplias visualizaciones y dosificación, efectos mejorados y filtros, y parches frescos para inspirar la creatividad.
Iris 2 está construido para que los nuevos sonidos se pueden descubrir nada más sacarlo de la caja, incluyendo cables elevados, bajos gruñidos, sintetizadores clásicos y efectos de percusión. Más de 350 parches con controles intuitivos se incluyen, por lo que los usuarios pueden fácilmente producir e interpretar música que se han ajustado y personalizado.
"After listening carefully to feedback from hundreds of musicians, producers, and sound designers, it became clear that Iris is a one-­of­-a-kind tool in their craft," says iZotope Product Manager Bradford Swanson. "We've designed Iris 2 to help inspire musicians with new possibilities and sounds that are easy to access and tweak, but still totally unique."
El núcleo del motor creativo de Iris 2 es la capacidad de la capa muestras. Un sinfín de combinaciones se pueden hacer mezclando una colección integrada de formas de onda analógicas de osciladores, una biblioteca de sonidos 11 GB de muestras y archivos de audio propios de los usuarios. Los efectos dinámicos de trémolo, vibratos expresivas y barridos de filtro radicales se pueden lograr a través de hasta cinco sobres curva ADSR ajustables, así como cinco LFO con docenas de morphing opciones de tabla de ondas. Iris 2 se completa con múltiples efectos, como ocho distorsiones, un coro de sintetizador clásico, digitales y analógicas opciones de retardo, y una cálida emulación de reverberación de placa.
La tecnología de filtrado espectral galardonada iZotope contribuye a la experiencia Iris. Los usuarios pueden visualizar y editar su sonido con una precisión increíble dibujando, seleccionar y aislar componentes sonoros de cada capa de la muestra.
Ver Iris 2 en acción:
Escucha los sonidos de Iris 2:
Obtenga más información en: www.izotope.com/iris
Disponibilidad
Iris 2 está disponible ahora en www.izotope.com/iris y en tiendas selectas.
Precios
Iris 2 está en venta por $ 199 USD ($ 99 USD actualización) hasta el 11 de diciembre de 2014. Después de esa fecha, Iris 2 estará disponible al precio regular de $ 299 USD ($ 149 USD actualizar).
Para los clientes internacionales, consulte con su distribuidor local para Iris 2 precios.
Compatibilidad
Iris 2 funciona como un plug-in o como una aplicación independiente.
Requisitos del sistema operativo:
Ventanas: 7, 8
Formatos de plugin:
Audio Units 32/64 bits, VST, VST3, AAX, y RTAS
Compatibilidad anfitrión Plugin:
Web: www.izotope.com/iris