ROLI has entered a new phase with its acquisition of FXPansion. First out of the blocks are, well, Blocks! But what exactly are they? Read on to find out'¦
ROLI has been one of the success stories of recent years, growing seemingly exponentially thanks to products like the Seabord and RISE keyboards, which took a new approach to expressive performance. Earlier in 2016 the company acquired London-based FXPansion, and in the process gained a wealth of software development experience. Blocks is the first fruit of this new relationship and an intriguing glimpse of what might be to come in future.
Hands-on With Apps
It's generally accepted that iOS devices are capable of some pretty heavy lifting nowadays when it comes to music. Early, gimmicky apps have long since given way to much more serious and useful software in all kinds of categories from DAWs and DJ apps to synths and more unusual software based around the touch interface. One problem remains however with Apple's hardware: the touch interface is limited in significant ways as far as expression goes. 3D Touch is only really the equivalent of right clicking, and space is still an issue on even the largest iPhone when you're trying to cram in lots of functionality.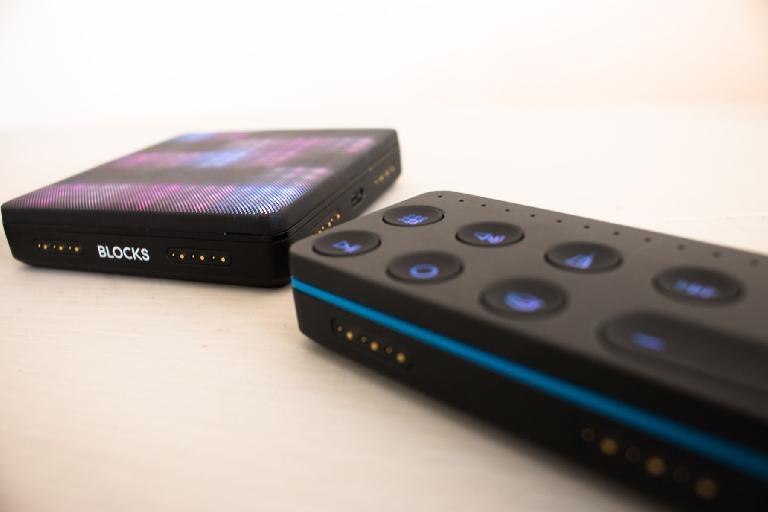 Blocks are an ingenious solution to both these problems. The issue of how to control iOS apps has become key to unlocking their creative potential, and the answer is inevitably external hardware, with Bluetooth generally considered the way to go since the fewer cables you have to use, the better. One of the many ways in which Blocks are different to regular app controllers is that they use a modular system to communicate with your iPhone 6, iPad Air or newer device. The core is the Lightpad Block and there are additional Live and Loop Blocks for greater control, which we'll look at in turn. They work with ROLI's Noise app though it's not inconceivable that they may in future be made to work with other apps, from ROLI or other developers.
Look and Feel
The hardware units are beautifully made with rubberized undersides to stop them sliding around. The Lightpad is the core Block and charges over USB using the bundled USB-C cable. The other Blocks connect magnetically to it in more or less any shape or combination you like, and charge while doing so. Each Block has its own Bluetooth connection to your device so they can operate alone if preferred, but you will need a Lightpad Block to charge the others. You can connect more than one Lightpad Block, and since the modules magnetically snap together like dominoes, I'd not be surprised to see the system and ROLI's future app ecosystem expand with new modules in future.
The simplest setup is a Lightpad Block connected to the Noise app, with the Block's function button letting you switch between instruments in the app. The 15x15 pad grid is made up of 225 LEDs with full colour backlighting. The playing surface is smooth but slightly soft, meaning it responds to pressure and movement very naturally. The display updates to reflect whatever instrument and scale is active in the app and clever light trails are used to help you learn how to interact with the hardware.
A lot of work has clearly gone into making this much more than a standard MIDI triggering experience. The Lightpad Block behaves almost like an X/Y pad as well so if you press a note gently you get one sound, pressed more firmly you get another and struck hard, yet a third. Hold and swipe up or down on a note and you get different effects like filtering, and move side to side to pitch bend. With beats, different kinds of tapping and swiping result in both sound morphing and different kind of pattern repeats.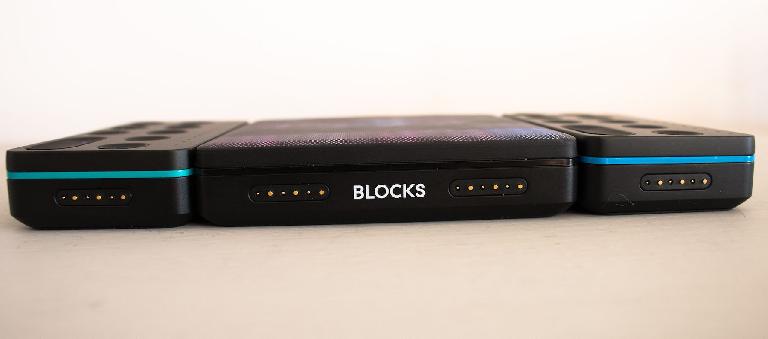 Live and Loop
All of this performance can be recorded in the app of course, but to spend more time away from your iOS device you will want to add one or both of the other Block types. These tie into the many other functions and tools available in the Noise app and make fully hands-off performance a reality. The Live Block provides buttons that correspond to the performance controls inside the app such as scale and octave switching, triggering chords and arpeggios and sustaining notes. Like the Loop Block, it has Mode and Volume buttons as well as data up and down buttons for general control of app functions.
One particularly nice touch on the Live and Loop Blocks is a row of tiny coloured LEDs that display values. So you can see battery level, volume level and things like chord shapes and arpeggio patterns without looking at the iOS app. It's a small touch but really enhances usability a lot. The Loop Block shares some common controls with the Live Block, but its focus is on composition. So you get buttons for activating a click, quantizing loops, Undo, Play, Record and Learn, which shows you a demo of how to get the most out of any given sound.
In Practice
If you're new to the Noise app and its workflow there's a gentle learning curve at first, since this is a fairly non-traditional way of composing (even if performing might come more naturally to the uninitiated). But it is very quick to pick up, and soon becomes second nature. The Blocks hardware greatly enhances the app in all sorts of ways: performance is far more intuitive and expressive using the Lightpad, switching between performance controls like scales, chords and arpeggios and recording and quantizing are more fun and accessible with the Live and Loop Blocks. Although the iOS hardware is doing all the heavy lifting, it becomes all but invisible when all three Blocks are in use. Even with just the Lightpad, performing is way more fun and expressive compared to using the app alone.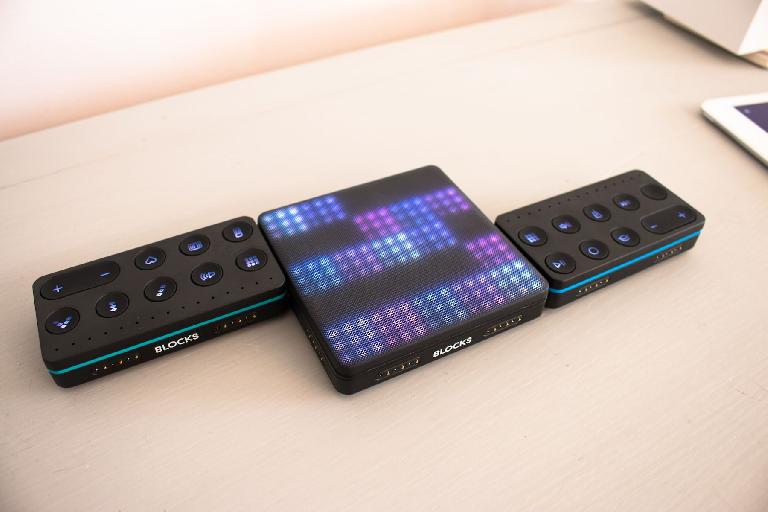 The Start of Something?
These devices are well-rounded and beautifully integrated with the software, though at the same time they do feel like the start of a new journey. The hardware does support more generic MIDI output: connect the Lightpad over USB or any of the three devices over Bluetooth to a computer and they can trigger MIDI in any MPE-compatible synth. The smaller blocks send simple CC messages but the Lightpad Block is more expressive, switchable into different trigger modes and retaining its pressure sensitivity and pitch bending capabilities. This makes it a nifty MIDI trigger for many different kinds of software instrument. It's relatively limited for now but seems like something that will get more flexible as it develops. You can read much more about it here.
As a concept you can see that Blocks are very promising indeed, especially given their modular nature. It's not hard to imagine a bigger range of controllers, working with a wider spectrum of software. For now though, Blocks are a powerful but also a fun way to perform and make music.
Price: Lightpad Block £169.95 / $214. Live and Loop Blocks £69.95 each / $88 each
Pros: Very clever modular design. Charging via the Lightpad Block. Connect in any configuration. Highly expressive pressure sensitive playing surface. Visual feedback via LED strips. No lag in Bluetooth communication with iOS. With all 3 Blocks, access virtually all the app's functions. Can MIDI trigger other software synths, albeit with fixed function at present.
Cons: No battery indicator on Lightpad Block. Noise app not able to export audio – yet.
Web: www.roli.com