Who doesn't want a Moog synthesizer? Exactly! We all want one... Rishabh Rajan got his hands on the new Moog Mother 32 which captures the imagination even more than we expected and is eurorack ready.
Acquiring a Moog modular has always been a dream for many analog synthesizer lovers like myself. With the recent re-issues of the Model 15, System 35 & System 55 this dream has become a reality for some. Unfortunately for many, affordability is still a major issue with the cheapest system costing 10,000 USD (not including a keyboard) and a more full-featured system going up to 35,000 USD. So, purchase a Moog modular or put in the downpayment for an apartment? Many would select the latter.
Introducing the Moog-Mother 32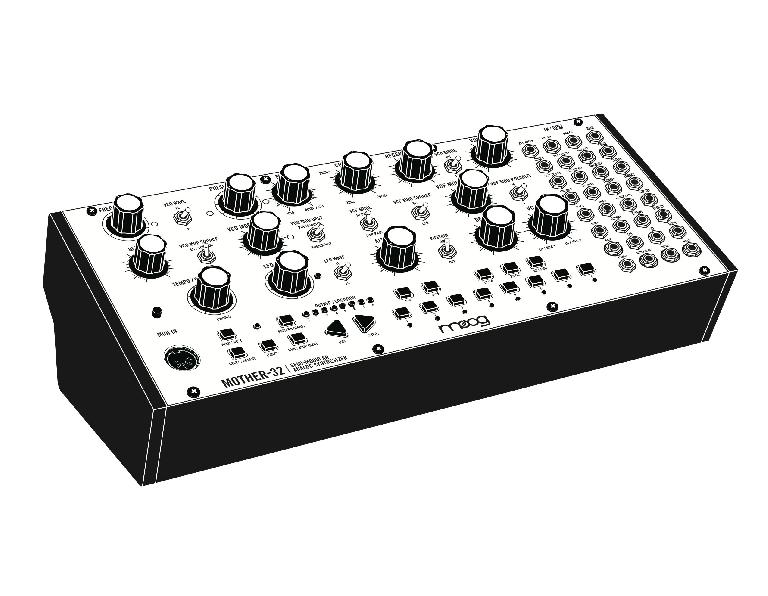 Watch the Moog Mother-32 in action:
Now with the introduction of the Mother-32, you don't have to get a bank loan to procure a Moog Modular. Yes, the Mother-32 is nowhere as close to what you get with those large modular systems but you can get very close to it and also have the ability to put it in your backpack and travel with it.
This synth also lets you make sounds without any patch cabling, very similar to the Korg MS-20, but sonically very different.
The Mother-32 works as a single voice, semi-modular tabletop synthesizer. This synth has 32 3.5 mm patch points that give you a wide range of modular possibilities but the semi-modular aspect of this synth also lets you make sounds without any patch cabling, very similar to the Korg MS-20, but sonically very different from the MS-20 as you get the Moog design with the venerable Ladder Filter.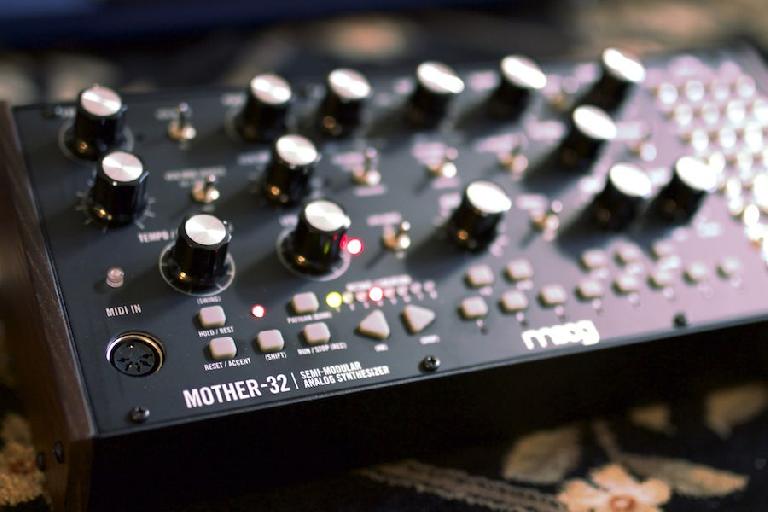 Just like any other Moog synth (with the exception of the Werkstatt), with the Mother-32 you can expect the usual high-quality build with the sturdy large knobs and wooden side panels. It has 20 push buttons which are made of rubber and have a very smooth touch. The synth has a single 1/4" output that can work as a headphone out or a line level signal for connecting to speakers or recording. It runs on a +12V DC adapter (included) and has a very low power consumption at 2.8W. You also get a pack of five 6-inch patch cables—to get you started with some modular patching right out of the box—and a calibration tool to make any adjustments to the tuning of the VCOs, if required.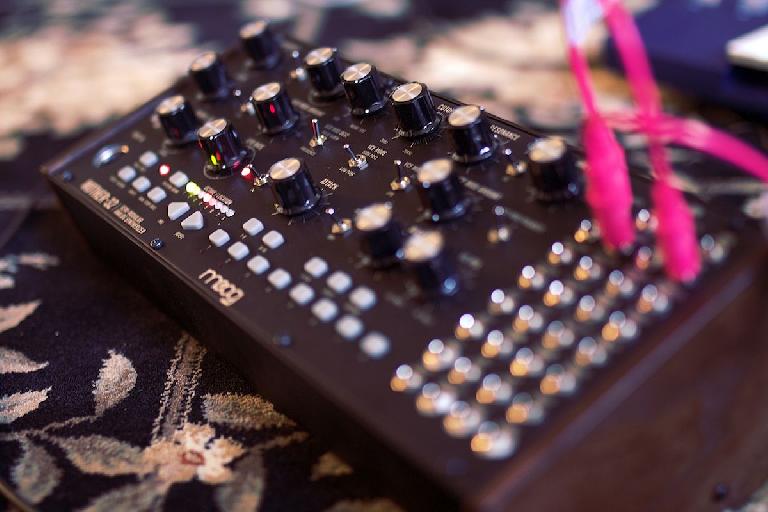 Eurorack Friendly
Probably the more exciting and talked about aspect of this synth is the fact that with the Mother-32, Moog has finally stepped into the Eurorack ecosystem. In fact, the Mother-32 can be easily removed from its housing and placed into a Eurorack case taking up 60 HP and drawing a maximum current of 230mA. Moog is selling a 2 tier (49 USD) and a 3 tier (69 USD) rack kit to let you stack up to 3 of these synths together to give you more sonic possibilities, but they are also selling an empty 60 HP Eurorack case (88 USD) if you want to use your own third-party modules. Though the case does not come with a power module.
What's Inside?
Lets talk about the synth architecture. Here is what you get:
1 VCO (Pulse/Saw)
Noise Generator/External Input
1 Filter (Switchable Low Pass/High Pass)
1 LFO (Square/Triangle)
1 VCA (Attack, Decay & Sustain ON/OFF)
Internal Sequencer and 13 pad keyboard
32 Patch Points
Having just one VCO may seem like an issue but the patch points give you simultaneous access to both waveforms (Pulse & Square). Patching one of the waveforms to the External Audio IN will let you blend the two waveforms together using the MIX dial. Another issue of having just one oscillator is that you can't get that detuned chorus type thickness that is so common on multiple voice analog synths. An alternative to that is to use the Pulse wave and modulate the Pulse Width using an LFO. Interestingly this creates a similar chorusing effect.
If you find it odd to trigger the synth using the rubber pad keyboard, an external CV controller like the Keith McMillen QuNexus connected to the VCO 1V/OCT input could be a better solution.
MIDI & CV
The synth also has a 5-pin MIDI DIN connection that makes it easy to integrate existing MIDI keyboard controllers. The MIDI implementation is pretty extensive with support for standard MIDI note ON/OFF messages and access to Velocity, Pitch bend, Channel Pressure and MIDI CC 1, 2, 4 & 7 data via the patchbay. The Mother-32 can also receive clock messages via MIDI and then the tempo control knob acts as a clock divider. Unfortunately there isn't a USB connector for MIDI over USB.
The 32 patch points have various Voltage Control inputs and outputs for almost all parameters of the synth, including the step sequencer. There is a Mult section for taking a single voltage source and sending it to two independent locations. There is also an interesting VC MIX dial with corresponding patch points that allows for two different CV or audio signals to be combined and patched to a new location.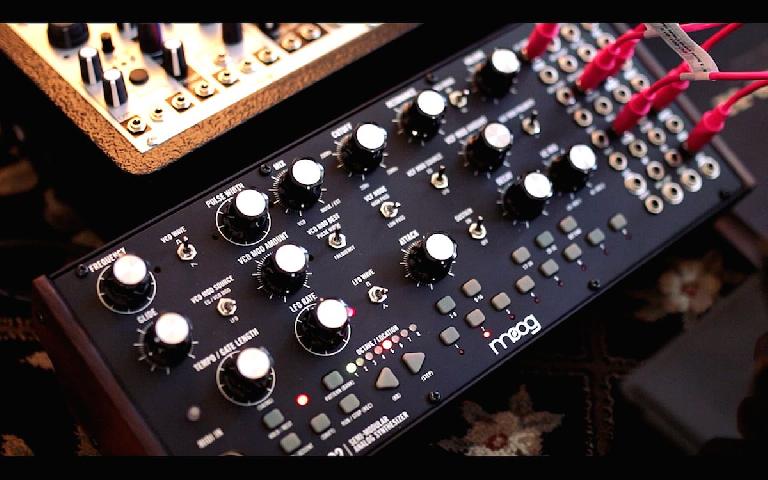 The sequencer might take some time to wrap your head around but has some really cool features. It has two modes of operation, keyboard mode and step mode. You can create up to 32 step sequences and store 64 of these patterns in memory. The sequencer has, glide, accent, rest & the very cool ratcheting function that lets you create up to 4 subdivided note repeats per step. There are also some performance related controls like re-start sequence, step hold, realtime mute & realtime ratcheting.
The Mother-32 is going to force existing Eurorack module manufacturers to re-consider their pricing structure.
Personally I feel the Mother-32 is going to force existing Eurorack module manufacturers to re-consider their pricing structure. A similar single voice Eurorack synth would cost approximately $1000, not including the casing and patch cables. This may not be a fair comparison as the Eurorack modules will probably have more capabilities but considering the price difference between buying existing Eurorack modules and the Mother-32, there's quite a stark difference. Some individual modules can go up to 500 USD while the Mother-32 is a complete semi-modular synth priced at 600 USD. Not to mention, these are all handmade in the Moog factory in Asheville, NC. It will be really interesting to see if Moog continues to develop more products in this format.
Despite the consequences for Eurorack manufacturers, the Mother-32 is going to make it that much easier for people to get into modular synthesis without having to compromise on sound quality. If you have always been intrigued by the whole Eurorack world, the Mother-32 would be a great step into this ecosystem and you can eventually dive deeper by expanding your system with standalone modules from other manufacturers.
Price: $679 USD / £499 GBP
Pros: Excellent build quality. Legendary Moog sound. Very powerful sequencer. Plays well with other Eurorack modules.
Cons: Only two VCO waveforms and two LFO wave shapes. Sequencer can be a bit difficult to work but documentation is very detailed on its use.
Web: http://www.moogmusic.com/products/semi-modular/mother-32