If I'm brutally honest, I've always seen mini keyboards as a bit of a gimmick. This doesn't mean that I'm not interested in them, quite the opposite, I've been looking for one that can perform on the road for quite some time. As my quest continued, I came across the QuNexus and after speaking to the nice folks over at Keith McMillen they swiftly shipped one over to me for this review.
Rather selfishly, I'll first be checking out if this can replace a '˜real' keyboard whilst on the move. We'll also dig into the devices rather extensive feature list and explore the less traditional ways this miniature controller can be incorporated into portable and studio setups.
1 - First Impressions
When the first ads and press releases for the QuNexus started finding their way into my stream, I simply assumed another fiddly mini keyboard was on its way, but as soon as I saw the guys at Keith McMillan throwing it out of a window strapped to a Melon, I thought again.
A mini keyboard that can be thrown out of a window, sprayed down with a super soaker and driven over with a car is more than enough to get my attention. I like to do this to most of my kit on a regular basis, but unfortunately nothing has survived so far.
When the QuNexus arrived, it was neatly packaged and came with a decent length USB cable. As it's bus powered, it's more or less plug and play out of the box, so if you want to get going straight away, all you'll need is a computer with your DAW loaded. If you want to use this with iOS devices, you may need a few other bits but we'll touch on this later.
2 - Build Quality And Feel
'¨On getting the QuNexus out of its neat little box, I was pleasantly surprised by its overall sturdiness and its rubberized finish. First up, when I say this thing is sturdy I don't mean bulky or heavy, it simply doesn't creak, crack or bend when you hold it. Anyone who owns another mini controller will probably know what I mean here. It almost feels as if it is made from a single piece of material.
The soft touch rubber material used is very welcome here as it seems to naturally reject fingerprints. It also feels more robust than, now slightly passé, glossy finishes. The buttons feel equally bulletproof and have a nice resistance to them. Every button is illuminated and they display a number of colors.
It's worth mentioning that the size of the QuNexus is probably as ideal as it gets for the moving MacBook-based musician. The width and depth mean that it fits almost perfectly in front of a 15-inch MacBook Pro. I'm sure this was no accident. All round this feels like a unit that will withstand some punishment.
3 - Installation And Operation
As I mentioned at the start of this review, the QuNexus is pretty much plug and play. I found that within 2 minutes of unboxing this little keyboard, I was able to use it in Logic Pro X, Ableton, Reason, Cubase and ProTools.
No drivers were needed in any of these apps, but it's worth remembering that I tested all of these in OS X. It appears that a basic installation is required for Windows, but of course this is nothing new!
Once installed I found that the keyboard played very well considering it's diminutive stature and the velocity sensitivity and illuminated keys were a nice touch. This sort of feedback was refreshing in a mini controller and made the experience a little closer to that of a full-size keyboard.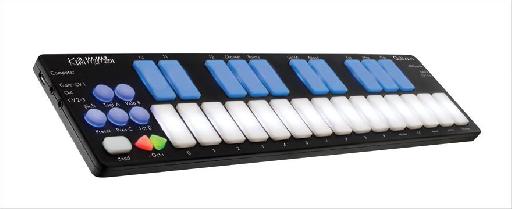 After a quick read of the manual, I soon realized that I could customize the operation of the QuNexus using the Editor app on their site. I grabbed the app and started to take a look. In the next section, I'll look at the possibilities here and other more advanced features of the QuNexus.
4 - Features And Applications
Aside from being a simple mini keyboard, the QuNexus has quite a few tricks up its tiny sleeves. For one, it can be used as a CV/Gate controller. Using the specially design cables, you can actually control your old CV equipment with this thing and although I didn't test this aspect myself (due to lack of CV gear) I hear it works very well indeed.
You can also connect a straight MIDI interface to the QuNexus and control more modern MIDI-based hardware. iOS apps are not left in the cold either, via an iOS midi interface or camera kit connector, the QuNexus can be hooked up to iPad and iPhone music apps.
Even though this is all really impressive, the real money shot is that the pads are not only velocity-sensitive, but they can also sense whether you are moving your fingers up and down or from side to side. These movements can be assigned to anything you like. So you could have filter cutoff and reverb depth being controlled by these gestures.
All in all, the feature set is nothing short of impressive and certainly got my attention.
5 - Final Thoughts'¨
The QuNexus is well built, attractive and packs some very innovative features. It's also very competitively priced and fits nicely in a laptop bag. If you're in the market for a compact controller and can live without real keys, you probably don't have to look any further. This is certainly the best example of the breed I have seen yet.
There are a few things that could be improved upon, the velocity sensitivity seems to be a bit strange with light touches sometimes missed and the pitch bend '˜button' just didn't really work for me. Maybe these can be adjusted by software, and more time with the unit may reveal a fix for these minor grumbles, but bar that... I'm keeping it! '¨