I seem to be reviewing a lot of products that I did not think I needed. Another sampled piano? Ho-hum, I have good ones up the wazoo, what do I need another for? The answer is because this one is damned good, featuring maybe the nicest tone I have heard. I have several libraries from Embertone and generally like their efforts so my mind was open to listening and what I heard in the demos on their website impressed me.
What You Get
Embertone sampled a 9 foot vintage Steinway D. It has 10,000 release samples, dedicated staccato samples and is available with just one mic position or all six. If you buy the "Lite" single mic version (12 GB download) you can purchase additional ones a la carte for the very reasonable price of $15 each. The "Full" (34 GB download) has all six included plus Una Corda. Both versions however also have sostenuto and re-pedaling simulation. Each mic position has 34 GB of samples. Since a picture is worth a 1,000 words, here is all you need to know about the mics used.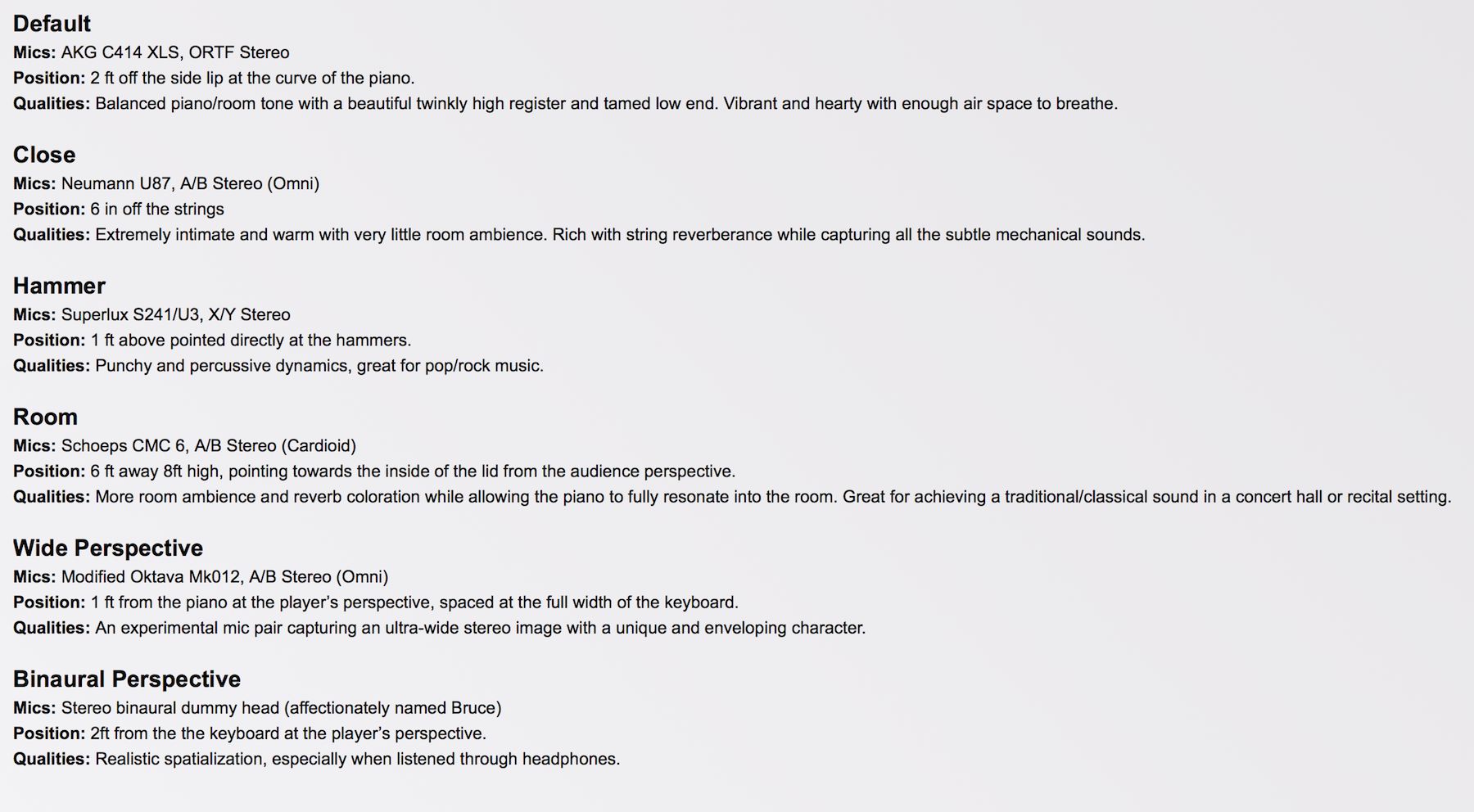 You also get NKS support, which is great if you are using the Complete Control keyboard controller.
Getting Started
In all truth, things got off to a rocky start. For downloading, Embertone has chosen the Connect app by Continuata and for some reason the download insisted on creating a Mac OSX folder as well as the Walker 1955 Steinway D folder. It also seemingly stalled a couple of times. Also, the included authorization instructions mentioned using Native Instruments' Service Center, and that is simply out of date. Now it uses Native Access for serial number entry.
Hopefully this will all have been resolved by the time you read this review.
This library works with either the Kontakt Player or full version of Kontakt, so it can be added to your Library pane in Kontakt. I began with the Main mic.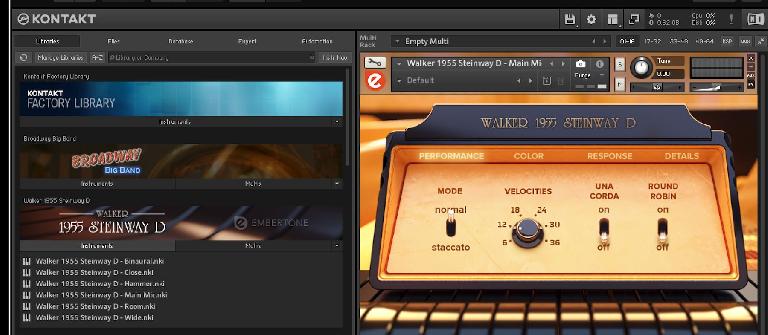 I started to play it and man, the sound is lovely. I played a little Debussy, some Mozart, the theme from "The Summer Of '42", all sounded gorgeous. I do wish there was support for half-pedaling, although the re-pedaling support works well.
I found the default pedal noise a little loud for me. No worries, you can change it.
As you see there are setting for Performance, Color, Response and Details.
The Response Page
I guessed that Response was what I was looking for and sure enough, there is a pedal noise knob to dial it back.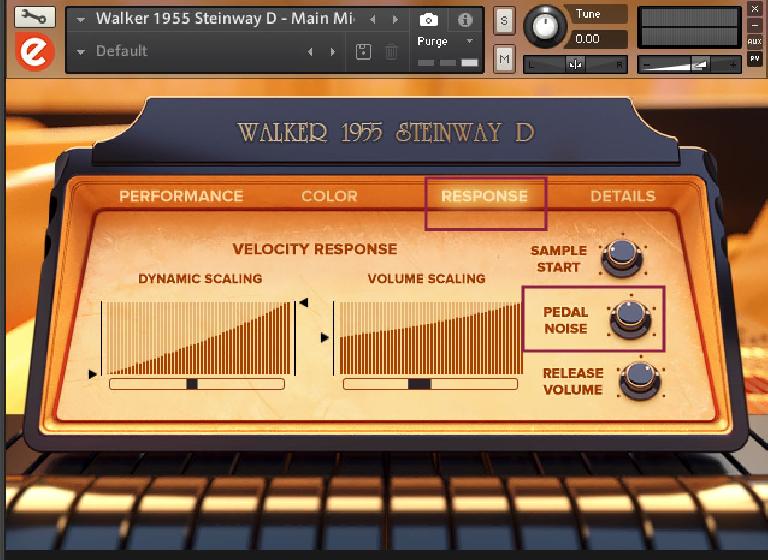 This page also gives you control of the sample start, release volume, dynamic scaling and volume scaling. Depending on your keyboard controller, the latter two could be important.
The Performance Page
Returning to the Performance page, you have control over the number of velocity levels, una corda (one string) and turning on round robin for repeated notes. You can also change to staccato mode, which plays all the notes in a very precise staccato.
Presets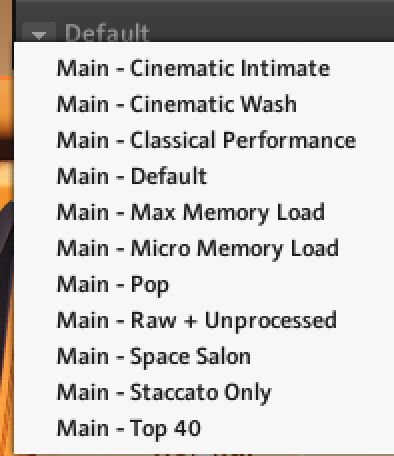 The default setting is great for some things but not others. But for each mic position, there are a number of presets. If you are a fan of the piano sound frequently used by Thomas Newman in his scores , Cinematic Intimate and Cinematic Wash may be what you are looking for. Want some Elton John sound? Check out Pop. (But the Close mic for the former and the Hammer mic for the latter are even better.)
The Color Page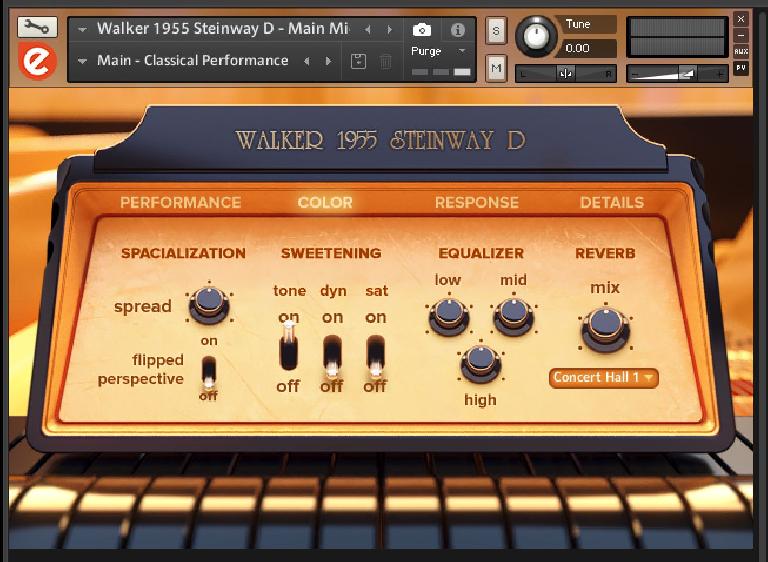 This page gives you lots of useful control. In the Spacialization menu you can switch from the player perspective to the audience perspective and control the stereo spread. In the Sweetening menu if Tone is on, it enables the EQ that is in the Equalizer menu next to the Sweetening menu. Turning it off quickly reveals that it is getting rid of some low mud. Dyn is a compressor, as you might expect, and Sat a tape simulation.
There are a number of reverb presets and a mix button for the reverb, but I always turn off the built-in reverbs in sample libraries and use others, not that these do not sound nice, because they do. Finally, there's the Details page, which gives you a place to purge samples you do not want and assign MIDI CCs to various pedal settings and the staccato.
The Additional Mics
These all sound great to me and I have not yet locked in on favorites but at $15 a pop, what the heck. You can hear them in Alex's walkthrough.
I did have one little surprise that confused me at first, since there is no user manual. There is a "Blank Multi" that is supposed to facilitate creating instruments with multiple mic positions but apparently it is broken, as acknowledged by Embertone's admission on a forum I am on.
Conclusion
I think this is now my "go-to" piano library. It does so many things well. And I thought I was done acquiring more piano libraries! You really should check this one out.
Price: 1955 Steinway D $99
1955 Steinway D + Full Mic Collection $149
Additional Mic Positions $15

Pros: Gorgeous sound, good for almost any genre, great control and flexibility, NKS support, Una Corda and re-pedaling support, Staccato only instruments. Reasonably priced, additional mics at a bargain price (early bird pricing that may no longer be available by the time to read this, though.)
Cons: Installation and authorization was a bit of a pain, no half-pedaling, no user manual.
Web: https://embertone.com/instruments/steinwayD.php
Learn more about keyboard skills: https://ask.audio/academy?nleloc=new-releases