Editor's Note – 16 June 2020: Cubasis is now available for Android! Find it on the Android Store.
The development of serious music apps for iOS is intertwined with the development of iOS itself and also Apple's hardware. As Apple refines and improves its hardware and software, developers are better able to bring the desktop DAW experience to your phone or tablet. Steinberg's Cubasis was a revelation when it was released - more professional than GarageBand and more user-friendly that Auria, one of its few competitors. But it still had limitations compared to Cubase on the desktop. Now with version 3, many of those limitations are gone. You will find an exhaustive feature list on Steinberg's website so I'm not going to list them all - rather, I will look at the bigger picture.
Ground-Up
Cubasis 3 has actually been rewritten from the ground up, though its look and feel remain familiar. It's now a Universal app, running on any iPhone as well as iPad that will run iOS 13. While this might not sound like a huge deal, the skill required to take a program this capable and make it work well on a phone screen, even a larger one, is considerable. There are display presets for different sized devices, though realistically you're likely to want to run it at maximum resolution in most cases. Throughout the app, clever design means different sections, editors and windows slide in and out easily, and everything is easy to follow. It's a triumph of interface design.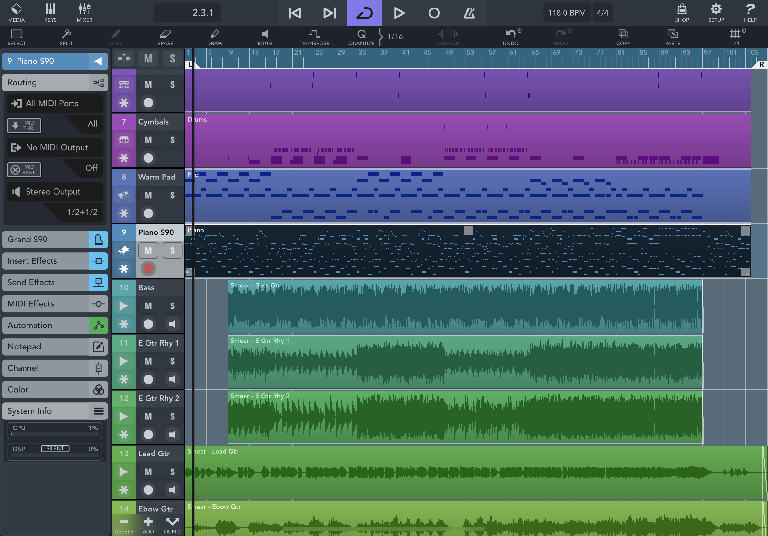 Unlimited audio and MIDI tracks are available as before, and track freeze is configurable to save system resources. A DSP monitor helps you keep track of your system's performance. It can record sound from any connected interface and MIDI from a wired or wireless device. The Apple Pencil is supported though at the time of writing, improved performance is promised for a forthcoming update. Touch works really well - a combination of draw, select and other tools with cut, copy, paste, split and other functions mean Steinberg makes good use of every part of the screen. But for tasks like drawing automation, an Apple Pencil would really come into its own.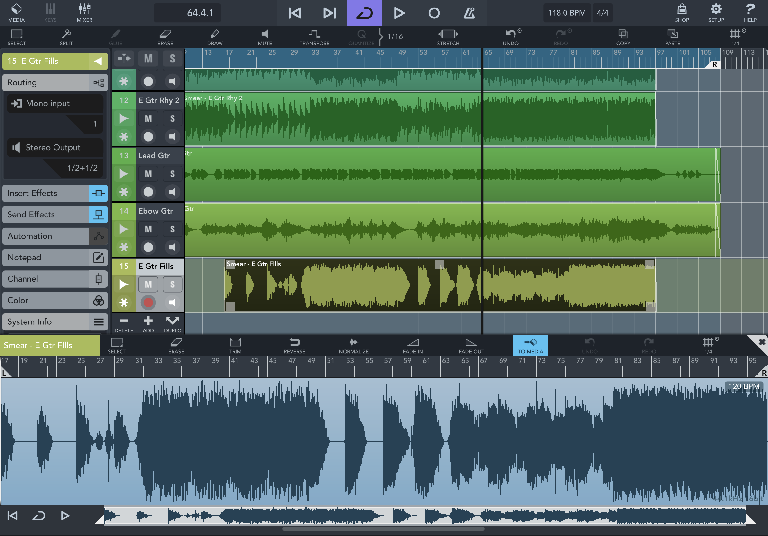 Mega Mixer
The mixer is one area where great strides have been made, and as well as having several sizing presets it can be made full screen, turning your whole device into a mixing pad. Group tracks are now available with a few taps, so you can submix and control multiple tracks easily. Each audio track now has access to up to 8 insert and send effects and these can be rearranged by dragging them. You get 17 native effects covering everything from reverb and compression to DJ spin effects, and excellent instruments including Micrologue, MicroSonic and MiniSampler that lets you create your own sampled instruments. The instruments and FX have all had a makeover and feel and sound very professional while still being easy to use. Audio Unit, Audio Unit MIDI, Inter-App Audio and Audiobus 3 are all supported and there are optional in-app purchases of Waves plug-ins and extra presets for other FX and instruments.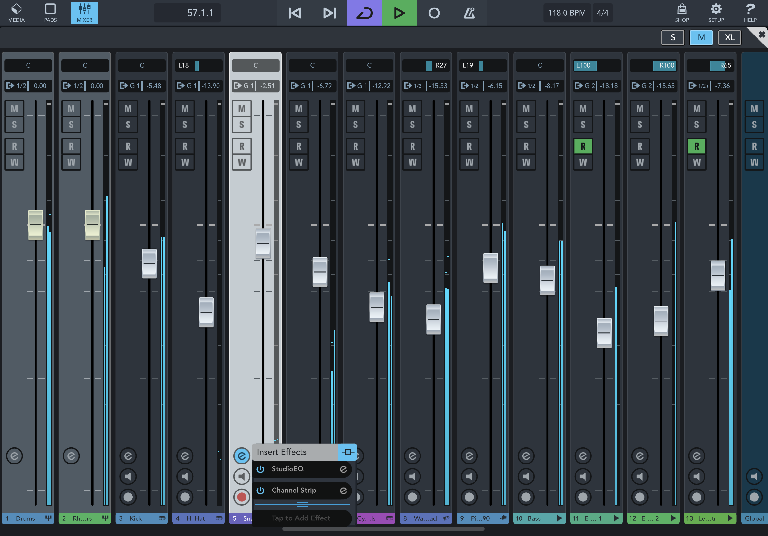 Bundled Content
You get over 550 MIDI and time-stretchable audio loops and these are managed, like projects, from the MediaBay area which again is clear and easy to work with. From here you can create, modify and share projects and mixdowns, Import and export audio and whole projects using cloud services, email and more, and transfer raw projects to Cubase on your Mac or PC.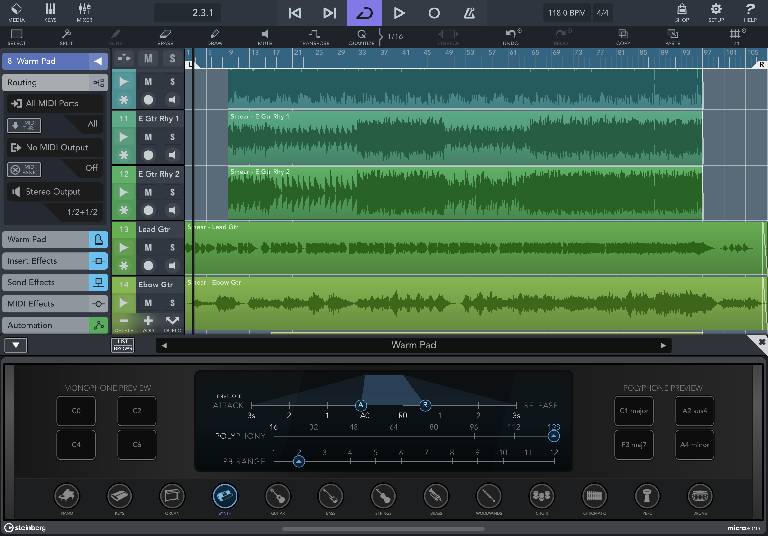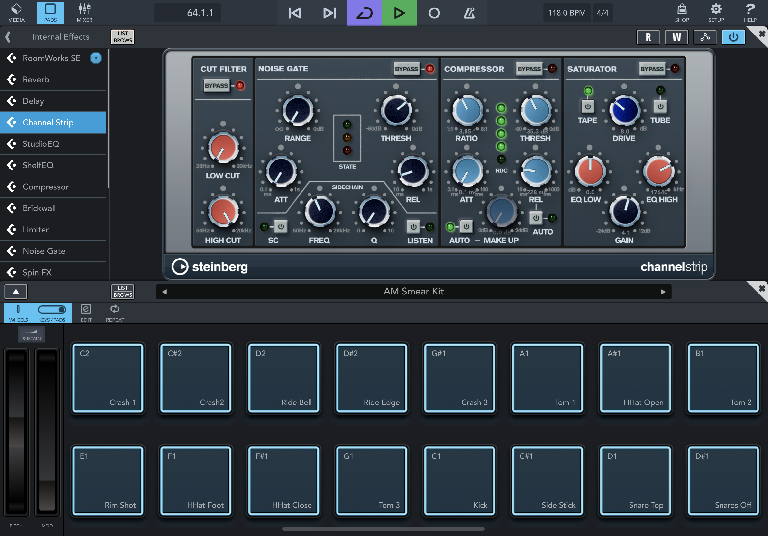 The audio engine runs at up to 24 bit, 96 kHz and the app supports up to 24 simultaneous audio ins and outs, which is helpful for tracking via an iOS-compatible interface like Steinberg's own UR-C series. Setting levels and tracking is straightforward, and MIDI input can be performed via wired or wireless devices, or using the onscreen keys, pads or chord buttons which can be edited. Once imported or recorded, Cubasis uses the same editing approach as Cubase. Select data in a project and tap on it to open the editor in the lower part of the window. There's now 960 PPQN MIDI resolution which makes for very precise editing, and time stretching and audio editing, like MIDI editing, are controlled using the tools and grids in the editor section. There's now also good Undo support, with a history list allowing you to jump back to earlier points in a project. The automation editor has been revised and is now much more fluid to work with, and this is one of many workflow enhancements that overall make Cubasis 3 feel incredibly smooth and intuitive. Helpfully, in-app purchases made in Cubasis 2 can be carried over too, which is great news for existing users.
Conclusion
After a relatively slow start, it does feel like we are now at a point where the combination of Apple's newer iOS devices and a really committed developer - Steinberg of course in this case - can bring a proper recording and editing experience to iOS. Cubasis 3 is far and away the most powerful and user-friendly mobile DAW around. Auria will naturally have its fans too, but next to this it feels long in the tooth. It's also roughly the same price - a price, incidentally, that is fair for an app of this quality. We are hopefully at a point where users recognise that the development required to create an app this capable warrants a slightly higher price. For years people expected to pay just a few dollars for apps but at the same time those apps were very limited. Cubasis 3 certainly is not.
If your experience of mobile DAWs has been one of frustration or compromise, Cubasis 3 will make you think again. Steinberg should be applauded for not going down the subscription route - I, like most people, don't much like it. It's a shame that there isn't a time-limited demo available but Apple makes this fiddly, though perhaps this is something they will consider. Despite that, this is a fantastic mobile music-making system and closer than anyone has yet come to bringing the desktop DAW experience to the mobile world.
Editor's Note – 16 June 2020: Cubasis is now available for Android! Find it on the Android Store.
Price: $49.99
Pros: As pro a feature set as you can find in an iOS DAW. Highly flexible layout and workflow. Easy to use. Excellent bundled instruments and FX. Expandable with IAA, AU and more. Works great on iPhone as well as iPad. Slick and powerful. Multitrack recording. Clever resource management features.
Cons: Apple Pencil support is being improved over time. No demo version.