22 Avril, 2015Modartt libère Hohner Collection pour Pianoteq, autorisé par Hohner. Le Clavinet D6, qui Modartt Pianoteq libéré pour en 2010, est maintenant rejoint par deux autres membres de la famille d'instruments Hohner Electra-piano et de l'Pianet T.

Trois célèbres instruments à clavier Hohner
L'Electra-piano, l'Pianet T et le Clavinet D6 sont pianos électro-mécaniques, fabriqués par Hohner du début des années soixante jusqu'au début des années quatre-vingt. Ils sont apparus dans de nombreux albums à succès de cette période, y compris Shes pas là par The Zombies, Stairway to Heaven de Led Zeppelin et Superstition de Stevie Wonder.
Dans le Piano Electra, fourches sont frappées par des marteaux et leurs vibrations convertis sont transmis électroniquement à un amplificateur à transistors.
Dans le Pianet T, les roseaux sont pincées par des tampons de caoutchouc de silicone et les vibrations qui en résultent sont convertis en signal électrique par un pick-up électro-magnétique.
Dans le Clavinet, cordes sont frappées par des conseils petits en caoutchouc et pressées sur une enclume. Deux micros permettent l'amplification des vibrations des cordes.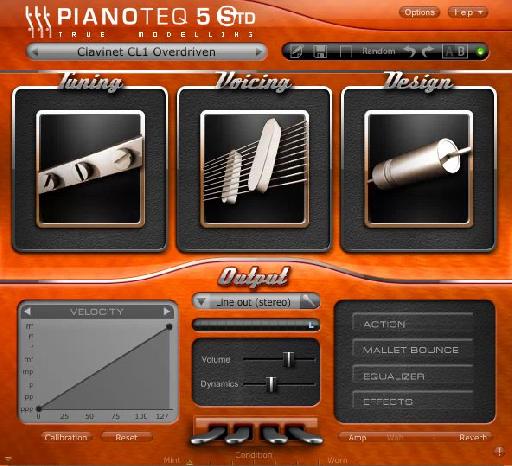 Interface Pianoteq Clavinet.
Ajout de fonctionnalités avec Pianoteq
Les copies virtuelles pour Pianoteq profit de son moteur de modélisation physique la plage d'octaves est étendue à sept octaves, une pédale de sustain est ajouté pour le Pianet T et le Clavinet D6, et les propriétés physiques des instruments peuvent être modifiés.
Autorisé par Hohner
La Collection Hohner pour Pianoteq est testé et autorisé par Hohner. Hohner est une marque déposée de Mt. Hohner GmbH.
Télécharger
La Collection Hohner, vendu comme un pack d'instrument, nécessite la dernière mise à jour 5.2 de Pianoteq. La collection est gratuit pour tous les clients de Pianoteq avec une licence du pack d'instruments Clavinet. La collection est disponible pour l'évaluation dans la version d'essai gratuite de Pianoteq qui peut être téléchargé à partir du site www.pianoteq.com .