22. April 2015Modartt Mitteilungen Hohner Kollektion für Pianoteq, von Hohner zugelassen. Das Clavinet D6, die Modartt freigegeben für Pianoteq im Jahr 2010, wird nun durch zwei weitere Mitglieder des Hohner-Instrument Familie der Electra-Piano und die Pianet T. beigetreten

Drei berühmte Tasteninstrumente Hohner
Die Electra-Piano, das Pianet T und das Clavinet D6 sind elektromechanische Pianos, von Hohner aus den frühen sechziger Jahren hergestellt, bis Anfang der achtziger Jahre. Sie erschienen in vielen Hits der damaligen Zeit, darunter Shes nicht da von The Zombies, Stairway to Heaven von Led Zeppelin und Superstition von Stevie Wonder.
In der Electra Piano sind Gabeln von Hämmern angeschlagen und ihre elektronisch umgewandelt Schwingungen auf einer Transistor-Verstärker übertragen.
Im Pianet T werden Schilf Silikongummi-Pads gezupft und die daraus resultierenden Schwingungen werden über ein elektromagnetischer Aufnehmer in ein elektrisches Signal umgewandelt.
Im Clavinet, werden Zeichenfolgen von kleinen Gummispitzen geschlagen und drückte auf den Amboss. Zwei Aufnahmen ermöglichen die Verstärkung der Saitenschwingungen.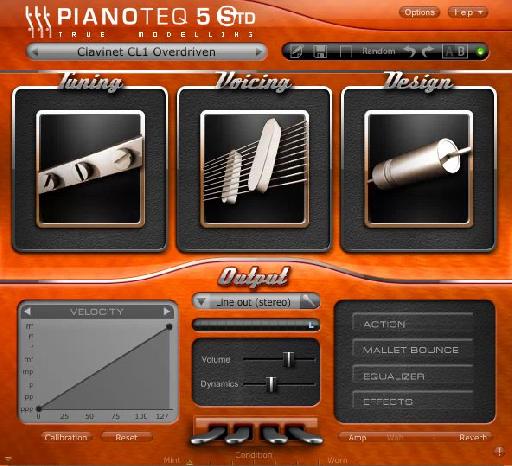 Pianoteq Clavinet-Schnittstelle.
Zusätzliche Funktionen mit Pianoteq
Die virtuellen Kopien für Pianoteq profitieren von der physikalischen Modellierung Motor die Oktaven auf sieben Oktaven erweitert, ein Sustain-Pedal wird für die Pianet T und dem Clavinet D6, und die physikalischen Eigenschaften der Instrumente hinzugefügt kann geändert werden.
Von Hohner Autorisierte
Die Hohner-Sammlung für Pianoteq ist getestet und von Hohner zugelassen. Hohner ist ein eingetragenes Warenzeichen der Matth. Hohner GmbH.
Herunterladen
Die Hohner Collection, als Instrument Packs verkauft, muss die aktuelle Update 5.2 Pianoteq. Die Sammlung ist für alle Pianoteq Kunden mit einer Lizenz des Clavinet Instrumentengruppe. Die Sammlung ist für die Auswertung in der kostenlosen Testversion von Pianoteq, die von der Website heruntergeladen werden können, zur Verfügung www.pianoteq.com .