My favorite new feature in the latest SONAR update is the Mix Recall Feature. This allows you to create different mixes of your song within one project and you can quickly jump between the different mixes to compare them. It works seamlessly. Let's take a look at how Mix Recall works and how you can use it in your projects.
Where Is It Found?
The great power you have with Mix Recall is the flexibility to jump between different mix settings almost instantaneously. Before this feature, I would save each change to the mix as a new project. And this can get a bit cluttered with numerous different versions of the project. Now let's see how much easier this is with SONAR's Mix Recall. So go ahead and mix your track. Then when you're happy with it, let's see how it can be remixed with Mix Recall.
The Mix Recall panel resides as a module in the Control Bar. There's a camera icon looking button in the module.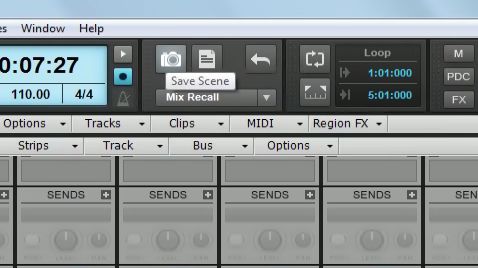 If you don't see it, or you have closed it, you can add it again by right-clicking on the Control Bar, navigating down to Modules, and choosing Mix Recall.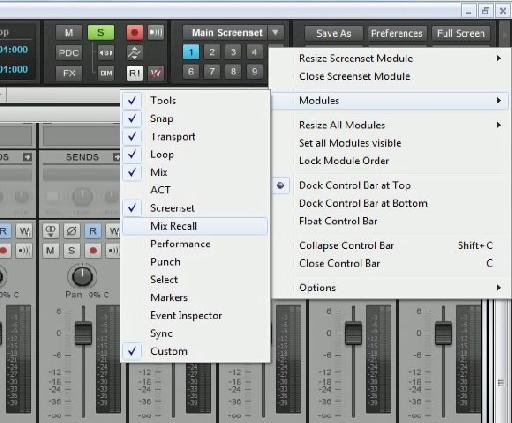 If you click on the Mix Recall tab, this launches the Mix Recall options dialog box. Navigate down and choose Mix Recall Settings, and then click on the Advanced button to show the advanced settings.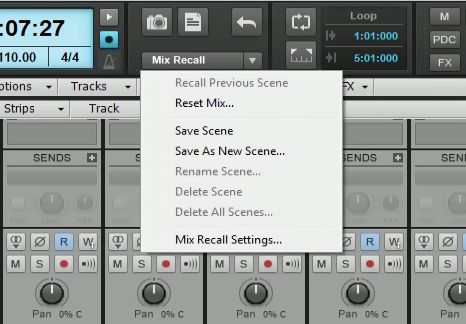 Here choose what you want to save in each Mix Recall scene. By default, all the parameters are ticked. But if you only want to save changes to specific items, you can tick/untick them here. For example maybe you don't want to include changes to the Track FX in your mix.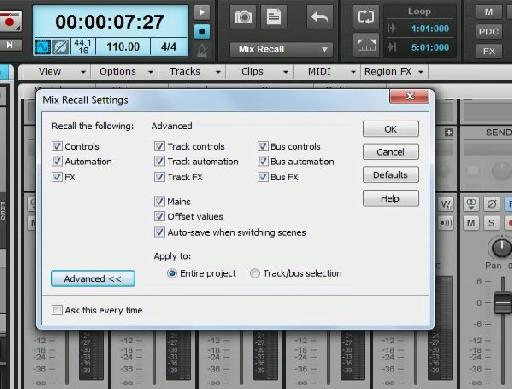 Saving a Scene
Now let's save the mix as it currently is. You can click on the Camera icon in the Mix Recall module. This is the Save Scene icon. A dialog box opens, and you can give the scene a name. I'm going to call mine: Original Mix. You've saved your first scene! Now let's say you want to create an alternate mix of your song. Maybe you want to change the mix of the vocals, and maybe drop the guitars.
Saving a New Scene
Now make the changes to your mix, and then when you're happy with the new changes, click on the button next to the Save Scene icon'"this is the Save As New Scene button. Call this: Alternate Mix.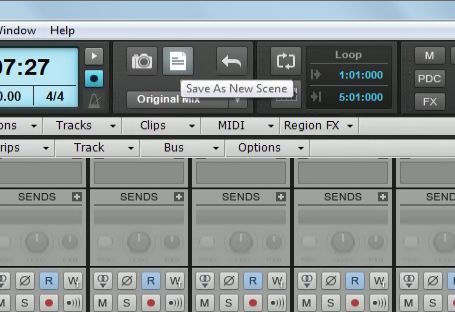 Let's A/B the mixes. If you click on the Mix Recall drop-down menu, you can choose the different scenes you've saved. Jump back to the Original Mix, and then back to the Alternate Mix. Take a listen to each one to hear your mix changes, and also take note of how fast it jumps between each scene. That's much faster than closing the project and opening an alternate project with a different mix. You can also click on the backwards-facing arrow to jump between the scenes. This will jump between your current and the previous scene. And what's even better is that you can jump between scenes while the song is playing back. The song will stop while it quickly loads up the scene, but once loaded it will continue playback from where it last was.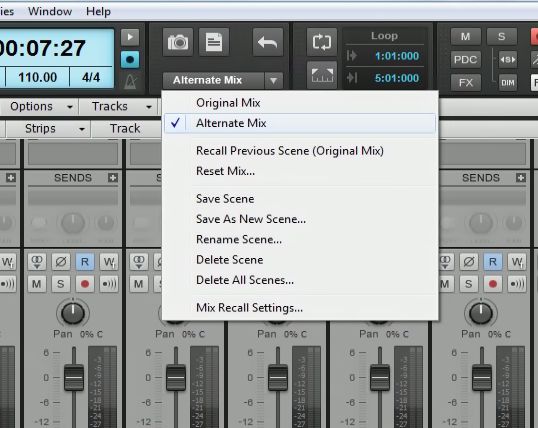 Conclusion
That's how to use SONAR's Mix Recall feature. A great tool to use in the mixing process when you want to compare and A/B your mixes against each other in real time. The load times are super fast between each scene, and the amount of detail that can be saved in each scene is quite extraordinary. I'd highly recommend checking out this feature for your future music productions.