Are you just starting to make your own drum patterns in Reason? You could do a lot worse than checking out my video tutorial on Beat Design Basics but in the meantime let me share with you a handy technique on applying tape compression to your new patterns...

Step 1 - It's All On Tape
Personally I think Reason has really come of age and it maybe one of the best beat making tools out there right now. With Kong, OctoRex and ReDrum at your fingertips there isn't a huge amount more the modern beat maker could need to hit the ground running.
Even if you have made an awesome beat in Reason there's no doubt that a touch of the right processing can push things right over the edge and give you something truly epic. I find that the Scream 4 is the perfect tool for the job.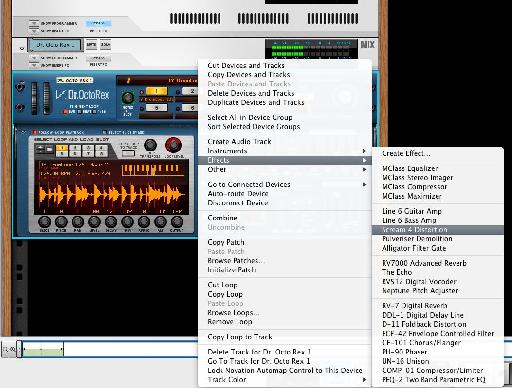 Loading the Scream 4.
It's not just any old preset from Scream 4 that works for me, some of them are really far too extreme to strap across a whole drum buss, you can end up with plain noise doing this. I find that the tube and tape settings are awesome though.
The tape compression / saturation algorithm setting is really my favorite. I think it produces some of the best tape emulation I've heard and it hardly hits your CPU. Let's take a look at how to get it going on a simple loop.
Step 2 - Setting Up The Effect '