Review: Modal Electronics SKULPT
4 true polyphonic voices of synthesis, a stack of I/O and one of the most portable yet huge-sounding synths we've ever tested. Could Modal's SKULPT be too good to be true?
We are definitely fans of Modal Electronics, Bristol U.K-based developers and designers of synthesisers including the CRAFT range and the larger 002 and 008 family of instruments. You can read our review of the CRAFTrhythm here: https://ask.audio/articles/review-modal-craftrhythm. After a successful Kickstarter campaign, the company is now selling its latest model and the first in a new family of instruments, the SKULPT synthesizer. According to Modal it's "based on the innovative voice architecture of the ground breaking Modal CRAFTsynth, and provides four true polyphonic voices of synthesis" Ultra-portable and insanely cute to look at, it's nonetheless a powerful and great-sounding synth. We were excited to put it through its paces.
Look And Feel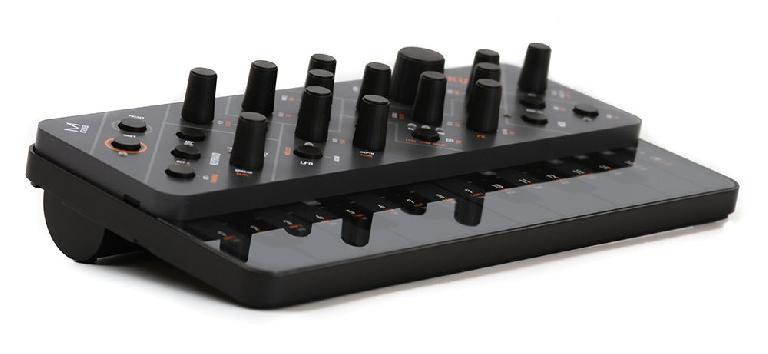 It's tiny - weighing less than 1KG, even with batteries fitted, but feels well-built and robust. As well as being powered by 6xAA batteries it can accept power via USB, which also carries MIDI signal when connected to a Mac, PC, iOS or Android device. Modal claims up to 12 hours of battery life and USB chargers are so ubiquitous these days you can simply use one of the many you probably have lying around. It's absolutely small and light enough to be carried with your laptop or iPad, and its profile such that the knobs should be relatively safe from damage - a protective lid is supplied which also functions as a stand.

Around the back there's an impressive selection of I/O for such a small unit. As well as two mini USB ports for power and MIDI there's mini DIN in and out plugs, mini jack headphone and line out ports and analogue clock sync in and out configured to the KORG / Teenage Engineering specification. It's possible to chain up to four units together for up to 16 voices.

The layout of the top surface takes a little getting used to, since the controls and their labels are at unusual angles. This is likely a combination of a desire to make it look striking, and a way to group together control sections of different sizes in a way that makes best use of the small surface area. The 16 key pad area allows you to input notes and other data, with primary and secondary functions being denoted using contrast colours, as they are on the main control surface. Controls are split between 13 encoders - the filter cutoff dial is larger than the others since it's so frequently used - and a number of buttons. The SKULPT is class compliant and its controls send MIDI CCs, meaning it can be used to control external MIDI software and hardware as well.
Under The Hood
Internally there's lots going on. There are four virtual analog voices which support multiple keyboard modes, and 8 oscillators per voice making a total of 32 oscillators. There are 8 banks of 16 patches for a total of 128, so you're unlikely to run out of space to store your sounds. It can operate in mono, duo or polyphonic modes and there's a mixer for osc levels with FM, PWM, tuning and Ring Modulation options.

Although it's portable and looks cool, and calling up presets is simple, this is far from being a toy. It's actually a serious synthesizer, and I'd recommend reading through the manual - at least the parts that tell you where all the relevant controls are - before trying to get down to any kind of serious sound design. Of course you can just go ahead and start, but at some point you'll want to know where everything is so you can make sure you're getting the most out of it.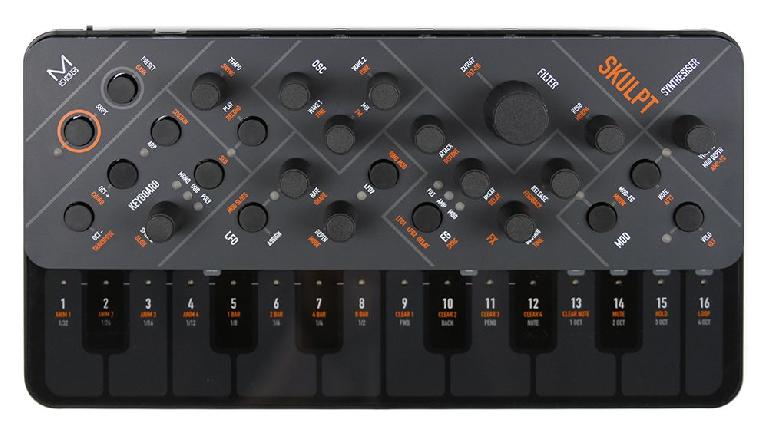 As an example, there's the option to use unison / spread to detune the 32 oscillators to create a really harmonically rich sound. You'll discover an 8-slot modulation matrix with 8 sources and 37 destinations, as well as envelope generators for filter, amplitude and modulation and two audio rate LFOs. There's a powerful built-in arpeggiator with multiple modes, and pattern programming comes in the form of a 256-note and 4-parameter built-in sequencer. You get delay and distortion effects onboard to fatten up and dirty up the sound, as well as a morphable resonant filter for really squelchy results.

Sonically, SKULPT is a really interesting beast. It sounds far bigger than it looks, with its multiple oscillators and voices as well as modulation, detune and other onboard effects letting you quickly bend, fatten and shape the sound. In terms of movement the arpeggiator can easily bring things to life, while sequencing patterns using the 16 keys is fun and simple to do. Manipulating sounds in real time becomes natural quite quickly too, and when you learn your way around the controls you almost certainly won't miss any kind of readout - rarely found on such portable units anyway.
Computer Friendly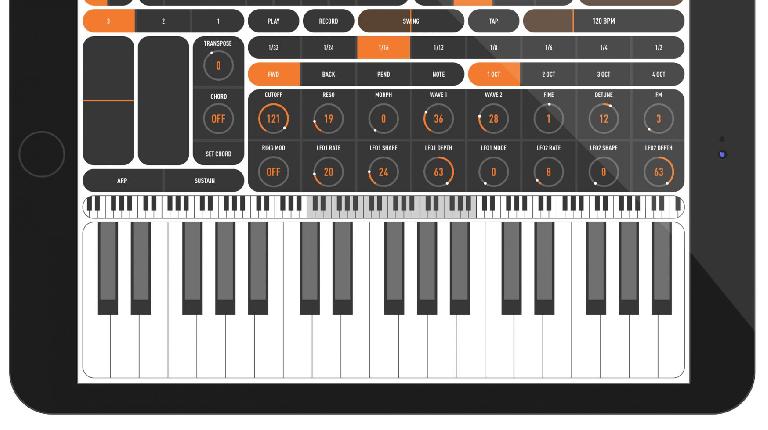 A very useful companion to SKULPT is the MODALapp, a software application for iOS, Mac, Windows and Android that provides visual, screen and mouse / touch-based access to the synth's controls. As well as being a handy way to manage your patch library, the app means you're not solely limited to operating it by hand. And since it works both on the desktop and on mobile devices, nobody will be left out in the cold. I actually found the app to be incredibly useful in terms of understanding how signal flows inside the synth, since it offers a more conventional view of the instrument's design. Purists may prefer to stay entirely hardware-based and that's fine too, but it's nice to have this option. The developer has just added VST and AU compatibility as well.
Conclusion
Modal has a winner on its hands with SKULPT. it's at once a fun and portable synthesiser and a really serious instrument capable of some enormous sounds, and with a real depth of sound shaping and editing capabilities. There's solid I/O and computer / mobile integration, synth tweaking features that will please even more advanced users, and it comes in at a price that will be accessible for most people. If you're looking tor a portable powerhouse that can make great sounds and also teach you something about synthesis, Modal's SKULPT is well worth a look.
Price:
£269.99 / $299.99
Pros:
Supremely portable. Sensible power options including battery. Amazing, huge sound. Plenty of voices and oscillators. Great interoperability with other gear. More advanced sound creation and sculpting than you may expect. Companion app is multi platform and very useful. Good value.
Cons:
A slight learning curve to master the interface.
Web:
http://www.modalelectronics.com/skulpt/