It was only a matter of time before the first big review of the now infamous Minimoog clone from Behringer got its own in-depth review. And this one comes to us in the form of a 30 minute video from Sweetwater. There's plenty of demos during the review to listen to. So sit back get comfortable with your headphones / in front of your studio monitors and enjoy.
OR... if you want to watch a video comparison between the Behringer D and a real Moog Minimoog, jump to here.
Here's what Sweetwater say about their video review:
"It's all there. Sweetwater's Daniel Fisher demonstrates the three punchy oscillators, classic 24dB/octave voltage-controlled filter with resonance, envelopes, LFO, portamento, and more. All instantly familiar — only smaller. The Behringer D is a Eurorack-sized reincarnation of the legendary analog monosynth that started it all. From fat pulsing basses to searing leads to celestial pads: the Behringer D puts a world of musical expression under your fingertips."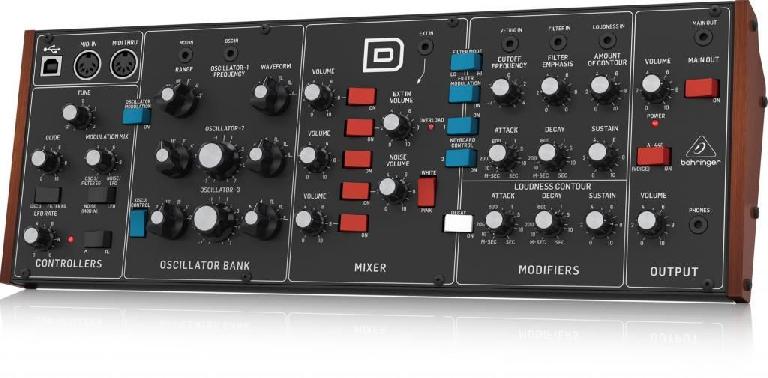 Behringer Model D Main Features:
3 punchy-sounding voltage-controlled oscillators
Classic 24dB voltage-controlled filter with resonance (Emphasis)
Filter selectable for lowpass or highpass
Noise generator (selectable between White and Pink Noise)
Overdrive circuit
USB-MIDI plus 5-pin DIN In and Thru
CV connectivity
Glide (portamento)
External audio input
Low-output and high-output 1/4" outs
Behringer's 3-year warranty
The Behringer D was available to pre-order via Sweetwater but now isn't. The pre-order price via was $299. There has been some talk that the official price of the Behringer D will be $100 more expensive once it's released. We'll have to wait and see...
We'll bring you more videos, tests, demos and news on the Behringer D and other synths as we hear about them. And with the analog mono, minimoog-style synth war hotting up you may be interested in the Roland / Studio Electronics SE-02 which sounds great and includes a step sequencer. Watch our SE-02 demo and review here.