Behringer Model D Synth Now Available To Pre-Order For $299!
After almost two months of silence from Uli Behringer on the forums, the Behringer D, analog Minimoog synth clone, is available to pre-order and for a full $100 less than expected!
The dust hasn't even settled since Roland stunned the synth community with their SE-02 monophonic, Minimoog-style synth soon to be available for $499. And Behringer have replied with their Minimoog clone, the Behringer Model D, showing up on Sweetwater to pre-order for a pleasingly low $299 USD.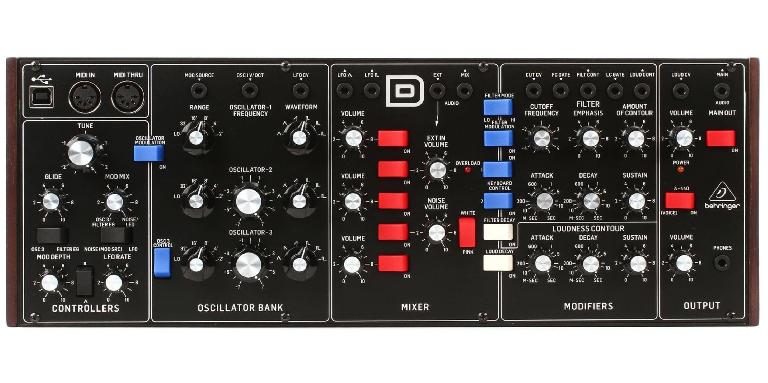 Yes, that's a paltry $299.99 for the 3-oscillator Behringer D Analog Synthesizer! An awesome $100 lower than we thought it would be.
So there appears to be a price war erupting around us with mono analog synths. We'd highly recommend, as a result, getting both the Behringer D and the Roland SE-02. Why not? Both together would set you back less than $800. Not bad!
Anyway, this article is about the Behringer D and hats off to Michael Black Feather who tipped us by email and has already pre-ordered one himself.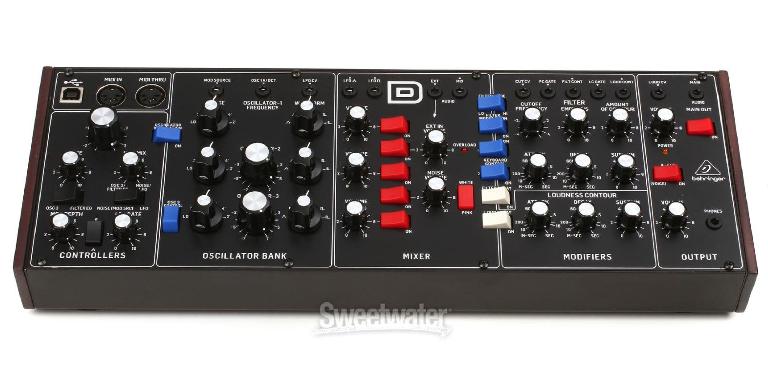 And if you missed the audio demos of the Behringer D by Rob Belcham, here's the audio demos (post-Superbooth):
Remember we saw an early, early prototype of the Behringer D (which is also eurorack compatible) at Superbooth in April 2017? Here's the video to prove it! But remember... this was an early prototype and not even the representatives from Behringer present had had a chance to play with it for more than 2 minutes.
Behringer D Analog Monosynth Module Features:
3 punchy-sounding voltage-controlled oscillators
Classic 24dB voltage-controlled filter with resonance (Emphasis)
Filter selectable for lowpass or highpass
Noise generator (selectable between White and Pink Noise)
Overdrive circuit
USB-MIDI plus 5-pin DIN In and Thru
CV connectivity
Glide (portamento)
External audio input
Low-output and high-output 1/4" outs
Behringer's 3-year warranty
$299.99 for an Minimoog cloned analog synth...? If it sounds as good as we felt it did at Superbooth, it won't matter whether it's exactly like a Minimoog or not, it'll sell like hot cakes. Time to click that pre-order button we think!
Thanks again to Michael Black Feather for contacting us personally by email to let us know about the sudden availability of the Behringer D Minimoog analog synth clone.
Price: $299.99
Availability: September 2017 (expected)