New Sound Demos For Roland SE-02 Analog Synth
Watch and listen to these new audio demos showing what the soon to be released SE-02 from Roland and Studio Electronics is capable of sonically.
Now the dust has settled from the recent announcement of the SE-02 analog synthesizer, an exciting collaboration between Studio Electronics and Roland, some more sound demos are beginning to come online.
First, let's look at this new 3.33 minute video from Roland that goes deeper than previous videos. Note - go to 2:20 to watch the SE-02 process external audio through its filter section!
A lot has been talked about the SE-02 being a potential Minimoog clone. However, while previous Studio Electronics synths have been inspired by the Minimoog, this isn't an out and out clone like the upcoming Behringer Model D for example. Instead, there are similarities, but it will probably bring its own character to the table also.
The most recent track uploaded today, MSR Zenish Smoover, is worth listening to on headphones or good studio monitors, and features some lovely smooth low-bass Moog-ish sounds. Here it is:
These sound demos are being uploaded by Studio Electronics to their SoundCloud playlist, so I'd recommend checking back here or directly in the playlist as they continue to add more demos.
On a side note, we don't expect the SE-02 to be the only synth to come out of this collaboration between Roland and Studio Electronics. It is the debut in the new Roland Designer Boutique series and at $499 USD we'd expect it to sell pretty well considering the excitement it's generated.
The SE-02 Analog Synthesizer features three types of cross modulation (XMOD), a ripping filter feedback loop, a tempo-syncing LFO with nine waveforms, envelope sweeping and inverting, oscillator sync, a noise generator, and a tempo-syncing delay.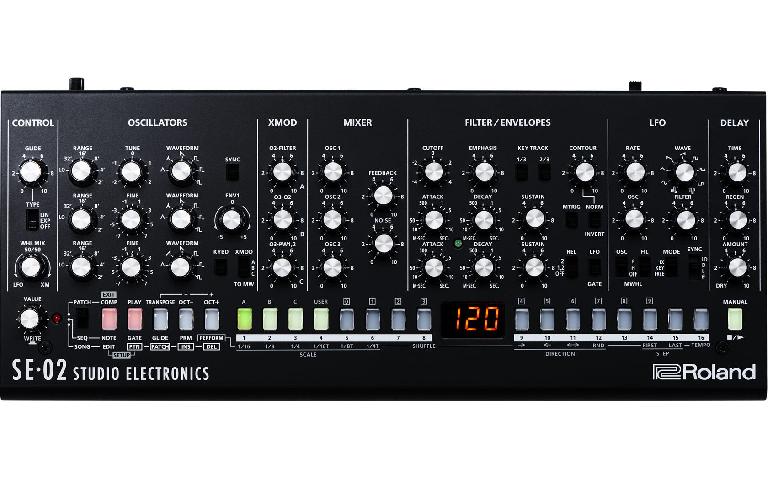 Here's a reminder of the features:
Discrete analog circuitry with knob-per-function interface
Three voltage controlled oscillators with six waveforms
Temperature-stabilized oscillators with automatic tuning
24 dB low-pass filter and dual gain-stage amplifier
Three types of cross modulation (XMOD), feedback loop, and noise generator
Tempo-syncing LFO with nine waveforms
Tempo-syncing digital delay with bypass to maintain analog signal path
Save and recall sounds with 384 preset and 128 user locations
Musical and intuitive pattern sequencer with song mode
Sequence notes, gate time, glide, and synth parameters
CV, VCF CV and gate inputs, plus trigger in/out
External Input for routing audio through the SE-02's filter section
Standard MIDI, USB-MIDI, and USB-Audio
Create a polyphonic synth by using Chain Mode to connect two or more SE-02s together via MIDI