Eowave make instruments, synthesizer modules and controllers. They make interesting, cool stuff. If you haven't already, you might be curious to see our review of their 12-bit synth and ribbon controller here. But today we're going to be looking at the Domino, their new eurorack synth module based on the very capable desktop synthesizer that shares the same name.
The Domino is a redesign of its desktop synth bigger brother. Packing a full-featured synthesizer voice into 10HP, the Domino includes a saw/square wave oscillator, ladder type low pass filter, decay envelope and VCA. A plethora of patching possibilities makes this module a keen choice for portable systems, and those looking for deep sonic crafting within a tight HP space. Pair with a sequencer for instant basslines and acid lead lines, add some modulation to unlock the full sound design potential.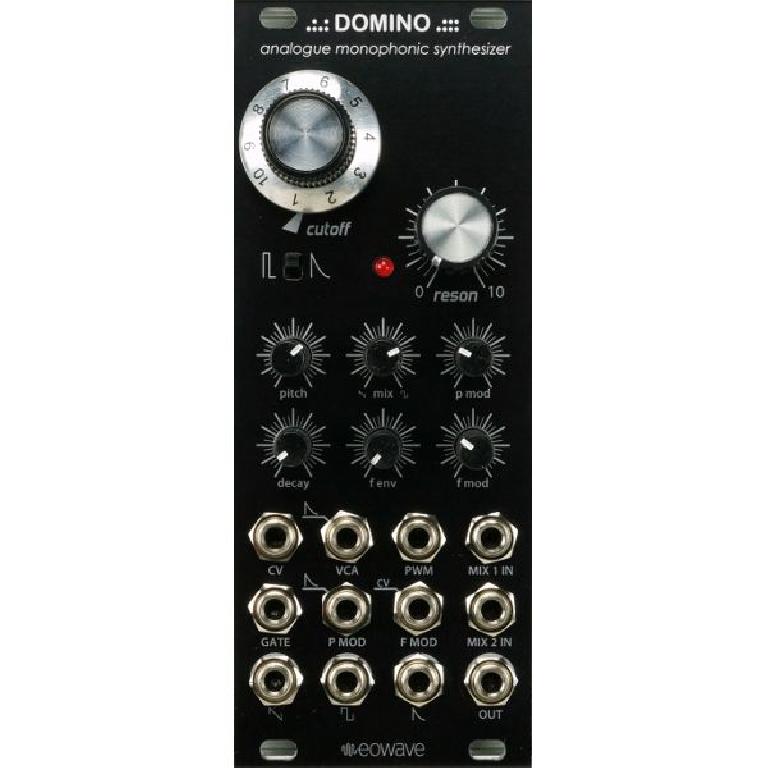 Controls
Cutoff - filter frequency
Res - filter resonance
Switch - switches between gate>VCA to envelope>VCA
Pitch - pitch tuning
Mix - blend saw and square waves
P Mod - pitch modulation attenuator
Decay - envelope decay
Filter Envelope - modulation amount, pre-patched from envelope to filter
F Mod - filter cutoff modulation attenuator
In
CV
VCA
PWM (square wave)
Mix 1 in - input for external oscillator/sound source to replace saw wave
Gate - gate in
P Mod - pitch modulation, pre-patched to envelope
F Mod - frequency modulation for filter cutoff, pre-patched to CV in
Mix 2 in - input for external oscillator/sound source to replace square wave
Out
Saw
Square
Env - envelope output
Out - out from VCA
Pricing and Availability:
Retail price €299 Euro.
Release date 21/11