Paris, June 2nd, 2015 '" Previously exclusive to the Vintage Legends bundle, UVI's ENERGY has been released as a stand-alone instrument with an expanded preset library. An introductory price offer of $29 is available to all who purchase by June 4th (regularly $49). The updated version is also available as a free download to all registered owners of UVI's Vintage Legends and Vintage Vault bundles through the UVI website.

UVI ENERGY offers an extensive sampling of the Digital Keyboards Synergy synthesizer. Released over 30 years ago with a total production run well under 1,000 units, the rare DK Synergy packed a sophisticated digital 32-oscillator additive synthesis engine with 16-stage envelopes capable of producing extraordinarily complex and evolving timbres. Used throughout the TRON score by Wendy Carlos, the DK Synergy's sound signature is decidedly unique with a tonal quality that is simultaneously vintage and futuristic. ENERGY delivers a thorough and inspiring selection of sounds from this rare synth for an incredible price.

ENERGY offers native 64-bit standalone operation through UVI Workstation, comprehensive DAW support (including 64-bit AAX) and support for simultaneous authorization on up to 3 computers or iLok keys.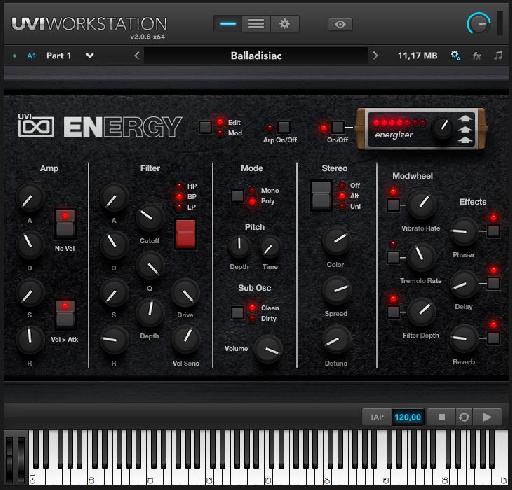 UVI Energy Edit screen.
Pricing and Availability:
ENERGY is available immediately for $29 online and from choice retailers ($49 after June 4th)
Additional information on ENERGY is available at: