Rode Debuts VideoMic NTG On-Camera Shotgun Microphone
Capturing the highest quality audio is essential to creating great videos and movies. Rode's latest on-camera shotgun mic has all the latest technology to help you make it happen.
Rode has introduced the latest addition to its best-selling VideoMic range, the VideoMic NTG. Released fresh off the back of the NTG5, which set a new standard for broadcast shotgun mics, the VideoMic NTG is yet another game changer from RØDE – an incredible-sounding, supremely versatile on-camera shotgun microphone unlike anything else out there.
KEY FEATURES
Revolutionary acoustic design – first introduced with the NTG5 – which delivers unmatched acoustic transparency and a natural, uncoloured sound.
Highly directional supercardioid polar pattern and very flat frequency response – it sounds superb in a wide range of filmmaking, broadcast, and content creation applications.
Unique infinitely variable gain control, allowing the user to precisely adjust the mic's output, from mic level to line level to headphone level.
Auto-sensing 3.5mm output automatically switches between TRS and TRRS to accommodate both cameras (TRS) and mobile devices (TRRS) – no need for adaptor cables.
USB output – turns the VideoMic NTG into a fully-featured USB microphone that can record direct to a computer, tablet, or smartphone.
Headphone output – for seamless audio monitoring (while using the USB output).
Digital switching – controls high-pass filter, - 20dB pad, high frequency boost, and safety channel.
dB peak warning light – to ensure distortion-free audio.
In-built rechargeable lithium-ion battery provides 30+ hours of recording – more than enough for the most demanding shoots. Charges via USB-C in just 2 hours.
High-quality Rycote® Lyre® shock mounting with cable management, plus a sliding rail mount to adjust mic placement on a camera cold shoe.
Lightweight (just 94g) and rugged – aerospace-grade aluminium construction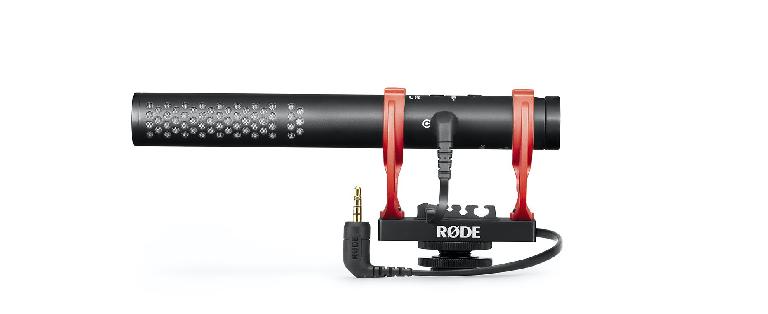 SHOTGUN SOUND, VIDEOMIC SIZE
The VideoMic NTG features the same annular line tube technology as the NTG5, our new broadcast shotgun mic, which employs acoustic perforations along the length of the microphone in place of the linear slots found in other shotguns and on-camera microphones. This revolutionary acoustic design delivers unmatched transparency, and a natural, uncoloured sound.
Add to this an incredibly flat frequency response, highly directional supercardioid polar pattern, and very low self-noise, and what you have is a compact on-camera microphone that contends with the world's best shotgun mics. It sounds simply stunning.
THE MOST FEATURE-PACKED VIDEOMIC EVER
Building on breakthrough developments made with the VideoMic Pro+, the VideoMic NTG serves up an array of powerful tools to ensure users can easily adapt to any recording situation. These include a switchable high-pass filter (at 75Hz or 150Hz) to curtail troublesome low frequencies from wind, traffic, air conditioners, and other environmental noise, plus a high frequency boost to enhance detail and clarity – particularly useful when using a furry windshield. There's a switchable -20dB pad for recording very loud sound sources, and for added security, a switchable safety channel that records a separate channel at -20dB in case the main channel clips – an absolute lifesaver.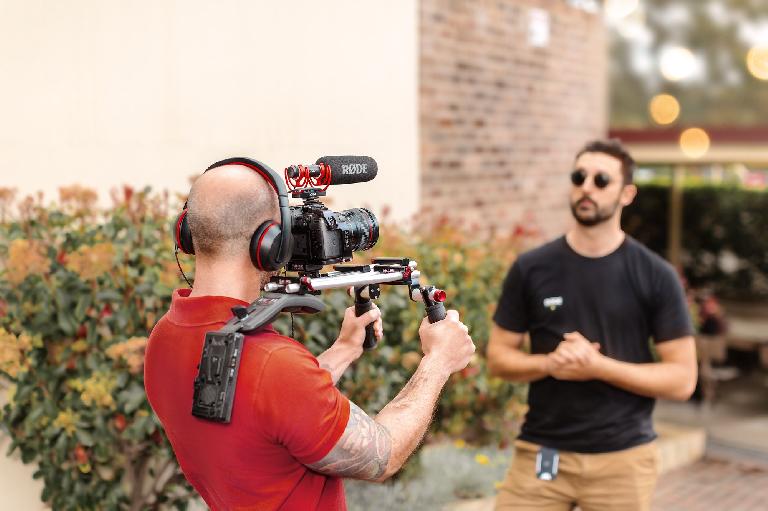 The unique infinitely variable gain control on the rear of the mic allows users to precisely tailor the output level to their recording device. This is an active control that has a greater output range than any other microphone on the market – it can deliver anything from mic level signal all the way to a headphone level output, providing incredible flexibility and improving DSLR sound quality.
An auto-power function automatically switches the mic on when the camera is turned on, ensuring it's always ready to record, and also helps conserve battery life by switching the mic off when it's unplugged or the camera is turned off.
Speaking of battery life, the VideoMic NTG contains a rechargeable lithium-ion battery that provides 30+ hours of recording – more than enough for the most demanding shoots. This is charged via USB-C (empty to full in 2 hours), meaning continuous recording is possible with a power pack.
On top of these features, an auto-sensing 3.5mm output intelligently switches between TRS and TRRS to accommodate both cameras and mobile devices – no need for adaptor cables! Finally, a handy dB peak warning light indicates when the internal preamp is clipping – this is particularly useful when recording loud sound sources. In these situations, the -20dB pad can be quickly engaged to attenuate the incoming signal.
USB CAPABILITY
The VideoMic NTG is also a fully-featured USB microphone. Its class-compliant USB-C output allows users to plug directly into a computer, tablet, or smartphone, turning it into a studio-quality desktop USB mic, perfect for recording voiceovers, podcasts, gaming or livestreaming.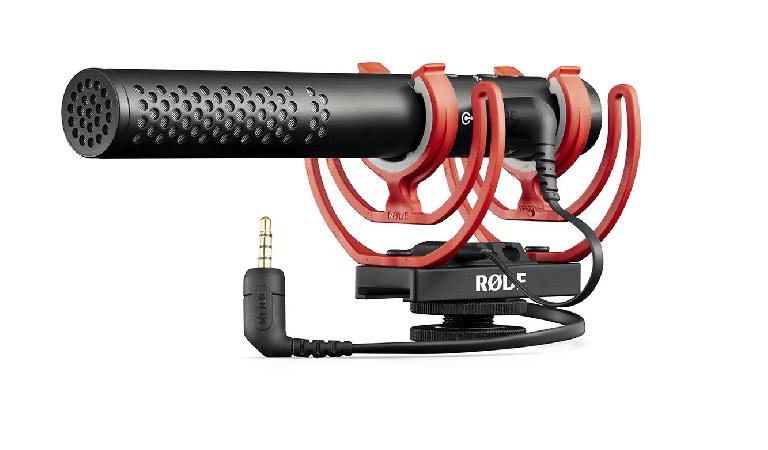 If that weren't enough, headphones can be plugged into the 3.5mm output for seamless monitoring of audio while using the USB output. The headphone level can be adjusted by the variable gain control. This also means the VideoMic NTG can be used as a desktop headphone amp!