Studio furniture is often overlooked but it can make a world of difference to your workflow and general wellbeing when producing. JAde Wii checks out the Output Platform.
If your 'not so fancy' computer desk is due for an upgrade but you can't justify the crazy price tag that most studio desks carry, I would highly encourage you to take a closer look at the new Studio Desk made with Musicians in mind, Platform by Output.
Starting at $549 (wow!) for the Natural Color, you get a very decent sized desk with 9U of Rack Space. For an additional $100 you get the Keyboard Tray, which is a definite must if you consider yourself a keyboard player. I myself don't have any gear that needs to be racked, but the space definitely has not gone unused. It's great for storing things you don't necessarily need to use all the time, giving you easy access to all your gear without having your desk feel overcrowded.
I got a chance to speak with JC Sutherland, the VP of Hardware and had a few questions for him about Platform.
JW: What made you guys want to create a desk for the average musician?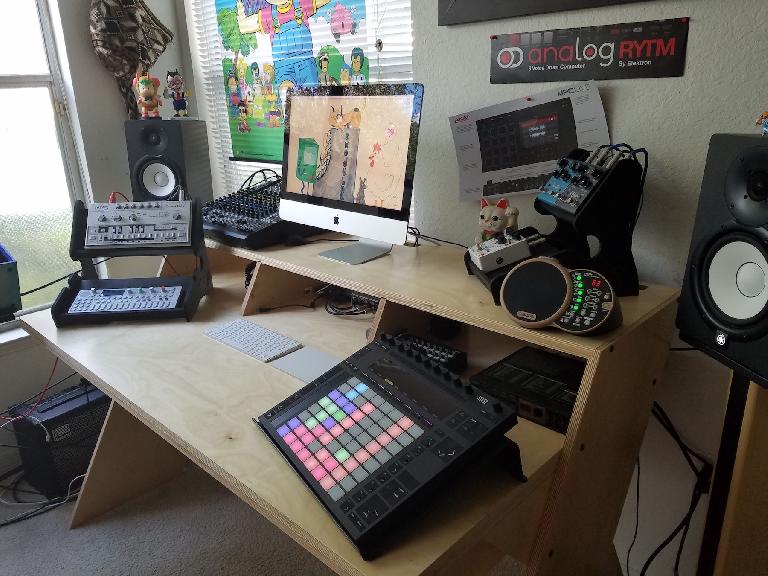 JC: Because there wasn't one. You either had to spend well in excess of $1,000 to get something nice or cheaper options wouldn't be aesthetically pleasing, or you had to hack something together; most people end up opting for the latter. Since we spend so much time at our desks, ergonomic inefficiencies aren't only bad for our bodies, but it wastes time. If every five seconds you have to reorient yourselves to reach your gear as well as working uncomfortably, that adds up. Your desk shouldn't be the machine from the Pit of Despair. Plus, it's nice to be able to show off your gear and nothing kills the wow factor of a studio like cable spaghetti everywhere.
You're absolutely right about there being no options out there, I've been looking for the perfect studio desk for the longest and even the crazy expensive ones didn't spike my interest. There is something special about Platform. I totally agree about the Spaghetti! I use to embrace cables everywhere as form of defeat before my Platform arrived. I had no idea how amazing the cable management was going to be and how much I was going to take advantage of it, but it has definitely become one of my favorite parts about the Desk.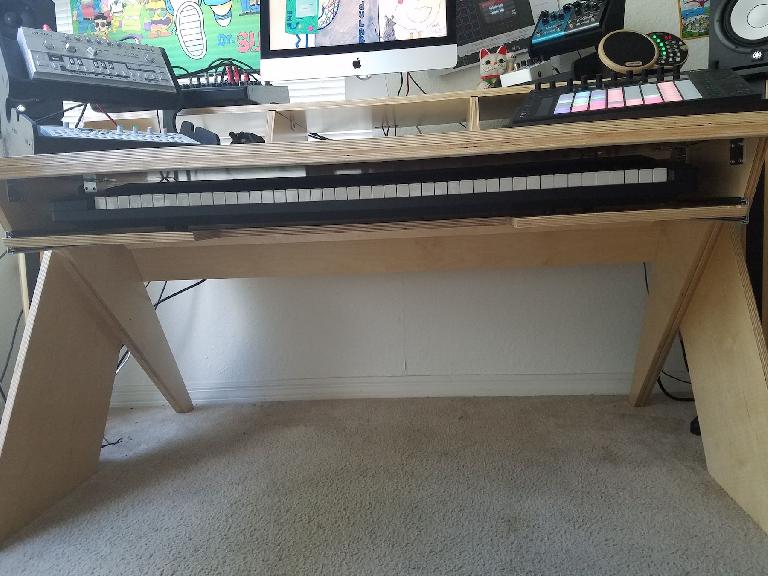 Were there any difficulties along the way when creating Platform?
Even though our design looks simple, it isn't. Designing the aesthetic and ergonomics was a fun challenge, but that paled in comparison to the challenge of making it minimally effortful to ship, put together, and be stable enough to hold thousands of dollars of precious gear.
We had to come up with a look that feels custom and weighed light enough so it could be flat packed. Serious mechanical engineering went into it. We're talking micrometers and nanometers here, so when you screw it together everything just fits and works seamlessly. Sure, you could buy some wood and have at it with your table saw, but the width of the blade could already put you exponentially out of our acceptable tolerances. A dialed in CNC is a magical thing.
When I first saw Platform online it looked so spacious and well built, like a spaceship! I was immediately drawn towards it. I must also say, your Assembly Instructional Video was very helpful as well. The design is simple, yet elegant. I'm glad you guys took the initiative to build something as important as a proper Studio Desk for the average musician.
Besides having solid build quality, Platform is a beautiful piece of furniture. What kind of wood is it made of?
It's made of high grade birch so every Platform desk has its very own fingerprint. We made an effort to find renewable sources for the wood and we also donate back to Ryuichi Sakamoto's More Trees foundation to do our part for the environment.
I love the natural color; it matches my monitor stands wonderfully! It's crazy that at such an affordable price you guys are donating, and to such a noble cause.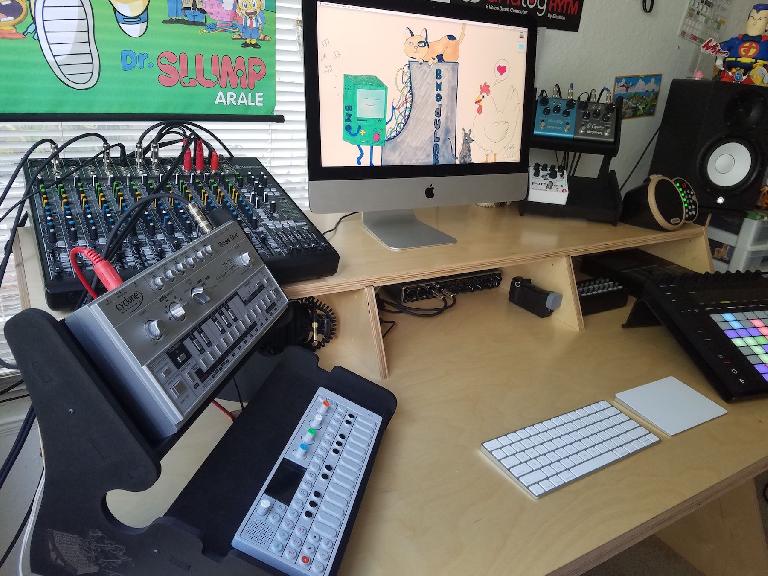 Conclusion
Platform has transformed my studio in such an amazing way, I can't see myself without it. No longer am I constantly rearranging my gear, stacking gear on stands, moving this so it's closer to that, etc. Platform has become the foundation of my setup, and everything revolves around it. Being able to easily pull out my keyboard any time I feel inspired has been great, and having everything at hand ready for recording has made the last step in the chain of production a little sweeter. I know a desk can seem like a big investment, but it's an investment that will be with you for a lifetime, and will not only improve your creation process but make your studio feel more like a sanctuary.
Price: $549 for base model. $699 with keyboard tray.
Pros: Great build quality. Nice and spacious.
Cons: Might be too big for bedroom studios with limited space.