A polyphonic sequencer and arpeggiator that's compatible with iOS and also has CV for incorporating modular synth gear? Rounik Sethi is suitably impressed by Arturia's KeyStep.
MIDI controllers come in all shapes and sizes to suit the needs of performing musicians, studio producers, DJs, etc. But if you want a playable keyboard and a strong step sequencer and arpeggiator you'd probably need to consider two separate controllers.
Arturia's KeyStep combines the two at a price point that must be too good to be true, right? That's what I was keen to find out. Being in the market for a new compact keyboard controller and wanting a step sequencer too I was drawn to a number of options including the Korg SQ-1 and the Arturia BeatStep and BeatStep Pro. In the end I settled on Arturia's all-in-one USB-powered KeyStep. Let's find out if it lives up to the promise.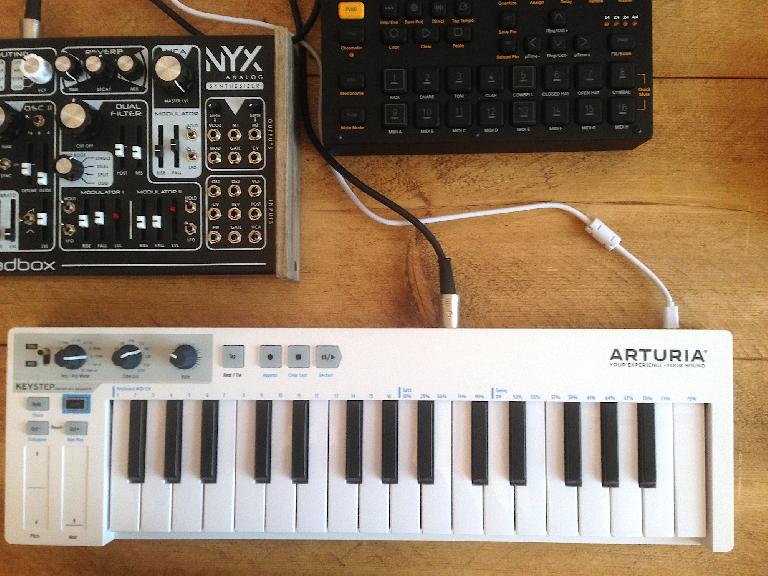 Quality Build On A Budget
For a $119 MIDI controller I wasn't holding my breath when it came to durability and feel but I was very pleasantly surprised. It's solid while still being light enough to remain portable. The controls and buttons are similar in style of those found on other Arturia synths and controllers. They are good quality, feel durable and are capable of some live performance punishment.
The keyboard on the KeyStep is pressure and velocity sensitive and was enjoyable to play for me. While not being much of a "player", the feel of the keys is infinitely better and more satisfying than many other MIDI keyboard controllers in the same price range. Yes, the keys aren't full-size. Arturia calls them Slimkeys. They feel much better than the mini keys you'll find on other synths and are accessible for non-players too. It won't replace a hammer action 88-key controller, but it's not supposed to, especially at this price.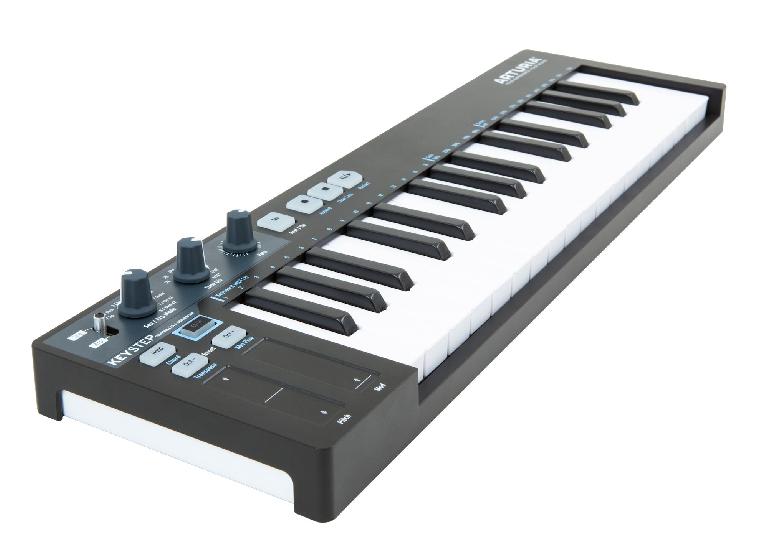 Instead of the traditional wheel dial for pitch and modulation, Arturia have provided two touch strips. These are responsive and easy to use with a few minutes of practice. Their behaviour can be adjusted using the handy included software editor - more on this later.
Sequencer & Arpeggiator
Now on to the prime time features of the KeyStep. A single switch lets you choose between the arpeggiator and sequencer. The sequencer allows for 8 programmed polyphonic patterns. Each sequence can have up to 64 steps and each step can hold up to 8 notes. Using the transport buttons you can record, play, pause and restart a sequence without breaking a sweat.
It's intuitive enough to record sequences in real time. After a bit of manual browsing, programming sequences with rests, though not quite as intuitive, soon became pretty easy also. If you're the kind of musician that prefers to see the steps light up while in play mode you might need a little more time to get the hang of the KeyStep. If you really want flashing buttons and a moving playhead then you might be better of with the BeatStep / Pro. With a bit of practice however, the KeyStep could convince you otherwise.
Arpeggiator mode includes 8 possible playing directions, 8 time divisions from 1/4 to 1/32T on a separate knob, and a Rate knob which allows you to adjust the tempo even if you've already set the global tempo using the Tap Tempo button. It makes it possible to create interesting tempo changes when performing live.
Should you wish to play a melody or add to an arpeggiated pattern the Hold button will come in handy. If you continue to press at least one existing key you can add to the current pattern. If you release all keys, the pattern continues playing until you press another key which will then start a new arpeggiated pattern. It's also easy to quickly set different gate and swing values for the sequencer and arpeggiator. Holding down the Shift key and selecting the labeled key on the keyboard does the trick.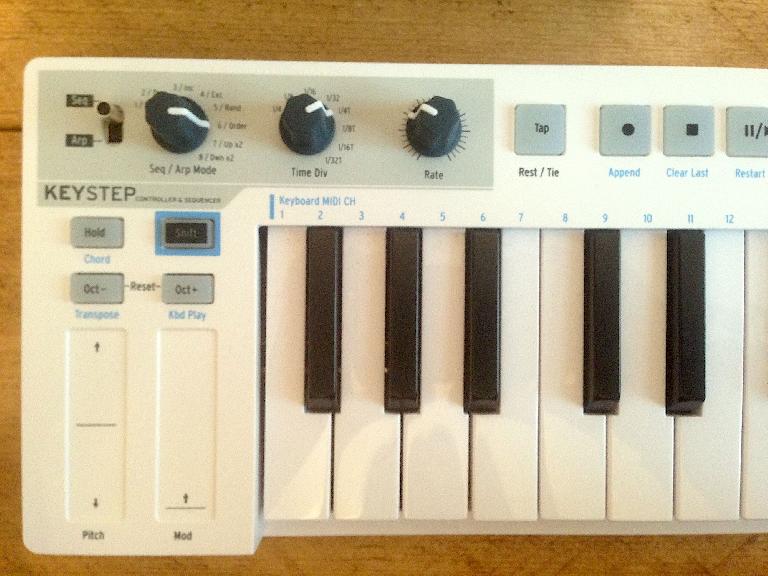 Going Deeper
Chord Mode is one of the unsung features of the KeyStep that deserves a mention. Using Shift in conjunction with the Hold button puts you into Chord Mode which is basically a chord memorizer meaning you can play a complex chord (up to 16 notes) using a single key. Again a useful performance tool. The fact you can use Chord Mode together with the Sequencer and the Arpeggiator is an added bonus too. There are conditions and while I wish setting up Chord Mode was a little easier it's something you can quickly learn to do with a bit of help from the online manual.
Get Connected
The connectivity options are another reason the KeyStep will find itself as the controller of choice for many musicians and producers. The ports are unusual to find in a MIDI controller in this price range. We're talking USB for iPad and computers. It can even be bus-powered by an iPad and camera connection kit. There's real 5-pin MIDI in and out. And let's not gloss over the 3 CV outputs (mod, gate and pitch) for interfacing with all manner of cool hardware synths that really opens up the potential for using KeyStep as the hub for any studio or live set. The Sync selectors are the most fiddly and unsatisfying aspect of the KeyStep for me. You'll need a very pointy fingernail or paperclip to adjust between Internal, USB, MIDI or Sync input modes.

Arturia's MIDI Control Center software supports KeyStep and makes it a doddle to backup your sequences (remember, you're limited to 8 on the hardware) as templates and you can even edit these sequences, including the swing and gate values, in the app's piano roll editor. All the sequences you create in the MIDI Control Center can be exported to the KeyStep. You also have full access to editing the MIDI channel for a parameter, response of the aftertouch and a whole lot more.
Anything Missing?
The Arturia KeyStep is more than the sum of its parts. The price is good and the polyphonic sequencer and arpeggiator are excellent. But if you're looking for a dedicated step sequencer and are not in need of a keyboard then the BeatStep / BeatStep Pro could be better options. KeyStep is not going to rival an in-depth step sequencer like the upcoming Polyend SEQ either (which is almost 5 times the price).
The KeyStep does, however, lack an LED display which would probably push up the price and power consumption. Onboard memory for more than 8 patterns would be useful. It would also be nice if there were visual indicators when sequences were playing back. For some the 32 slim keys might feel limiting, but really these are the most satisfying "mini keys" I've played on a synth or controller to date. The Sync mode buttons on the rear of the machine are fiddly in my opinion. I'd prefer a simple four selection switch. Perhaps a KeyStep Pro with some of the above features and different size keyboards at a higher price point is something Arturia might introduce in the future?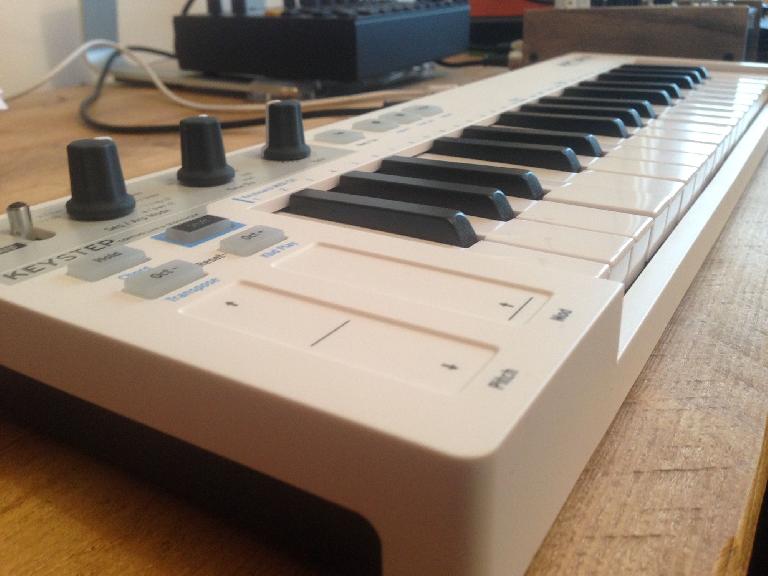 Conclusion
Arturia have obviously put a lot of thought into providing many useful features without overloading the KeyStep with too many controls. Once you get going it's easy to marvel at the streamlined workflow KeyStep facilitates. I haven't personally come across a MIDI controller in this price range with the features and connectivity that rivals the KeyStep. On top of that it's a rugged piece of gear you'd be happy to showcase in your studio yet portable enough to use live. It's no wonder KeySteps are being featured in so many videos demoing modular synths, hardware synths, software on Mac, PC and iPad.
In a nutshell, KeyStep is a remarkably fully-featured keyboard controller, sequencer and arpeggiator with playable slim keys, aftertouch, CV/Gate in and out, a chord memorizer, and a useful editor in the MIDI Control Center. Arturia have set the standard for a MIDI controller with a sequencer and it's hard to see another that can compete at the street price of $119 USD.
Price: $119 USD / €119 EUR
Pros: Polyphonic sequencer and arpeggiator, easy to setup and use, CV/Gate, chord memorizer, playable slim keys, quick and powerful on-the-fly gate and swing editing, can save and load sequences via software.
Cons: more than 8 stored sequencer patterns at one time would be useful, changing sync mode isn't as easy as it could be.