May 06, 2016 - Reaktion Sound introduces VOKALOID - a new REAKTOR 6 Instrument acting as effect processor for audio sources.
VOKALOID is basically a Formant Filter - a special kind of filter with fixed frequencies in the spectrum (formants) that simulate the sound of vowels of the human vocal tract.
VOKALOID can be applied to external audio sources as an effect or can be used with its internal synth engine.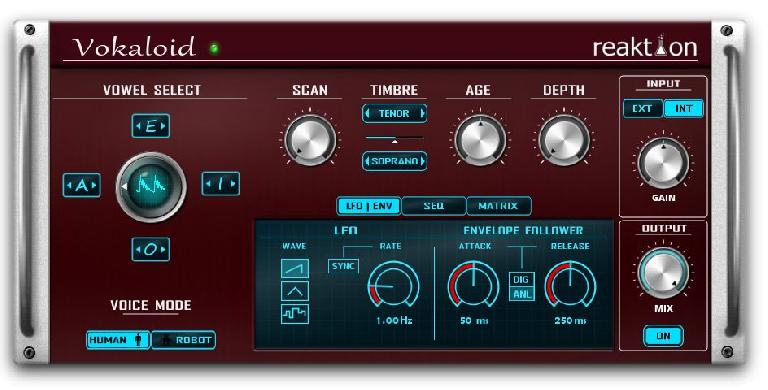 With VOKALOID you can smoothly morph between different vowel sounds and modulate different parameters with different modulation sources.
Five vowel sounds (A, E, I, O and U) in each of the four available slots
SCAN control smoothly fades between vowels
Two different vocal timbres (select from Bass, Tenor, Alto and Soprano) to crossfade between Two different voice modes: "HUMAN" and "ROBOT"
AGE and DEPTH controls to shape the sound
Forman Filter can be applied to an external audio or to the internal synth voice
Synth voice's envelope triggered by MIDI gate or gate signal extracted from audio
Different modulation sources (LFO, Envelope Follower, Step-Sequencer, MIDI messages)
MATRIX section to managing all the modulation routing
Apply vocal textures to any audio source or use the built-in synth voice to create modern talking bass lines.
Pricing and Availability
VOKALOID is available now on Reaktion-Sound website for 29€ Additional information and contents are available at:
http://www.reaktion-sound.com/vokaloid/